How to Play all Day without hurting your Back? Torn between getting that racy and sporty gaming chair or a more ergo office chair? Let's see which gaming chair brands can best prevent you from having a bad back. 
Top 5 Best gaming chairs for back support
Secretlab Titan
One of the best selling points of the Titan is the almost weightless feeling when you are reclined in the chair. It almost feels like a zero-gravity weightless chair. You can recline it up to 165 degrees and you'll still feel amply supported. 
The chair itself is sufficiently huge and wide so it pretty much is very accommodating for bulkier gamers. And with the hefty construction that comes along with any Secretlab chair, you don't have to worry about face-planting or falling to the ground while you are fully rested.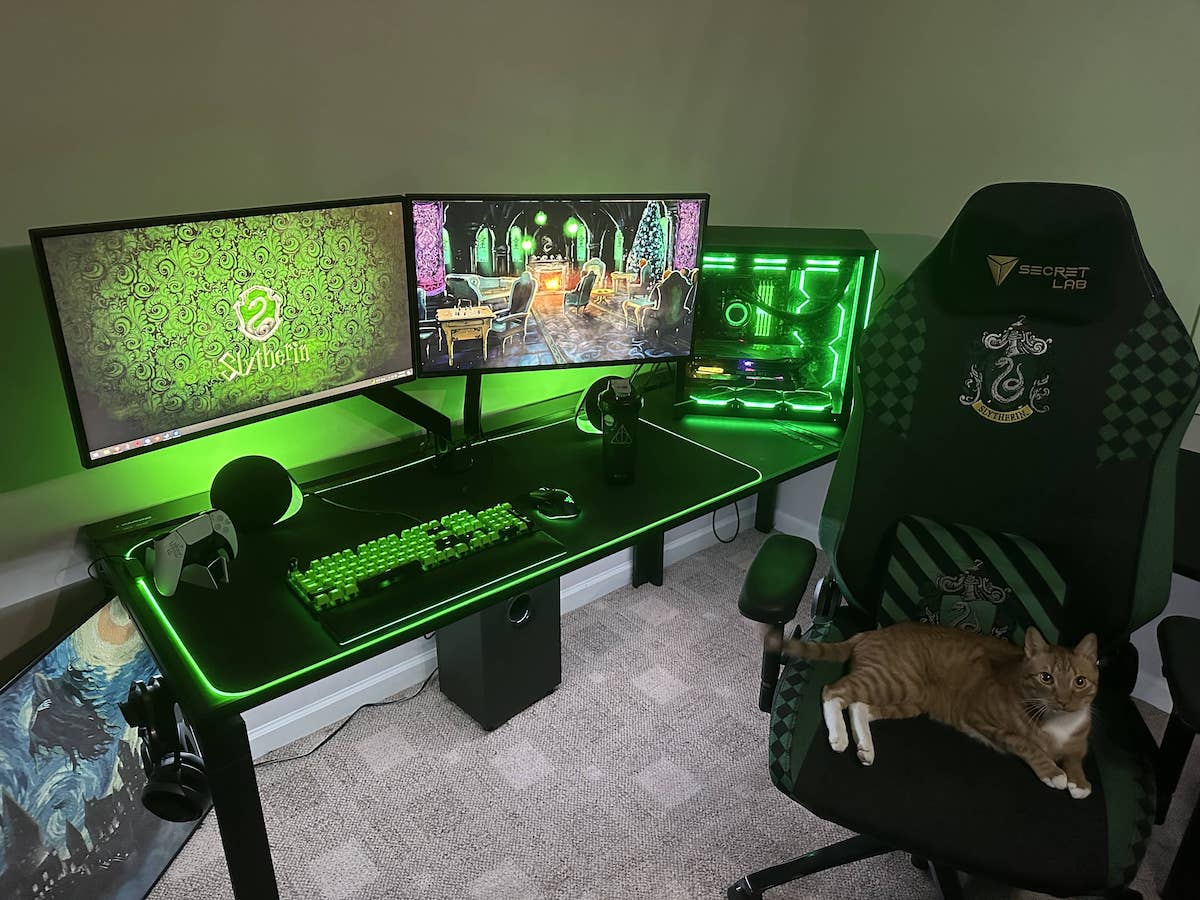 The Titan has several features that make it very sublime for the back for longer working hours. The lumbar support is built in and depth adjustable. This enables you to adjust the intensity or how you'd want to be pushed forward. There is also the seat which is a bonus for a gaming chair. 
Another unique feature is that the Titan indulges you to play or work even if you are in a fully reclined position. You may be able to angle your entire body, not just your back. And this is where you will feel that almost zero gravity comfort. So if you need a gaming chair that you can recline for the whole day and you'll still be able to do what you need to then the Titan will indulge you. 
The almost zero gravity comfort can be very dreamy for the back. This position puts less strain on the spine 
This Is one of 'em gaming chairs that allows you to make multiple adjustments, but at the same time, it's not that overwhelming to use. The dials and knobs are intuitive. So you will soon figure out the sweetest position for your body. 
The caveats however, some may find the lumbar support too much or too firm. Especially if you've been used to using softer padded pillows for your back, you'd find this a rather different type of comfort and support. 
Corsair T3 Rush
The brand has a hefty lineup of gaming chairs, mostly featuring the same materials and comfort level. What sets the T3 Rish apart is a more breathable fabric and a memory foam pillow. You know how hot and sweaty padded gaming chairs can get, and Corsair is no exception to this.
That's why the T3 is a breath of fresh air and can actually keep gamers cooler for the whole day. Though in terms of the aesthetics, it's not super racy but it looks ample enough for those wanting a more unobtrusive design. It still has that bucket-style seat, but the flaps at the side are not too high. So it will feel less constricting than standard gaming chairs with this type of seat.

Now let's talk about the back comfort since that is the primary reason why we're all here. This chair can recline up to 180 degrees, so it's more playful and indulging than the Titan. Though it may not have that akin to zero gravity feel, if you're just looking for a gaming chair that can recline further back and still support you well, the T3 will not disappoint.
The lumbar support comes in aa a removable memory foam pillow. Thus it will also be a better option if you prefer a more padded support for the back rather than a firm and more flexible one. 
The T3 can also seem rather narrow for big and heavy users. Especially with the side flaps, you will not be able to squeeze in 'em bigger hips.
Logitech x Embody
This is perhaps the more ergonomic gaming chair we have ever sat on. It retains all the best features of an Embody, only it is made more applicable for gaming.  
The seat has an additional layer of foam, making it cushier for the tush, perfect for longer games to play compared to the original Embody. 
The most noticeable feature is how seamless and flexible the back part can be. It will be able to follow every move of your spine. So even if you recline, turn sideways, or whatnot, it will always have your back. So this is also a great pick for those who are fidgety and move to the sides often.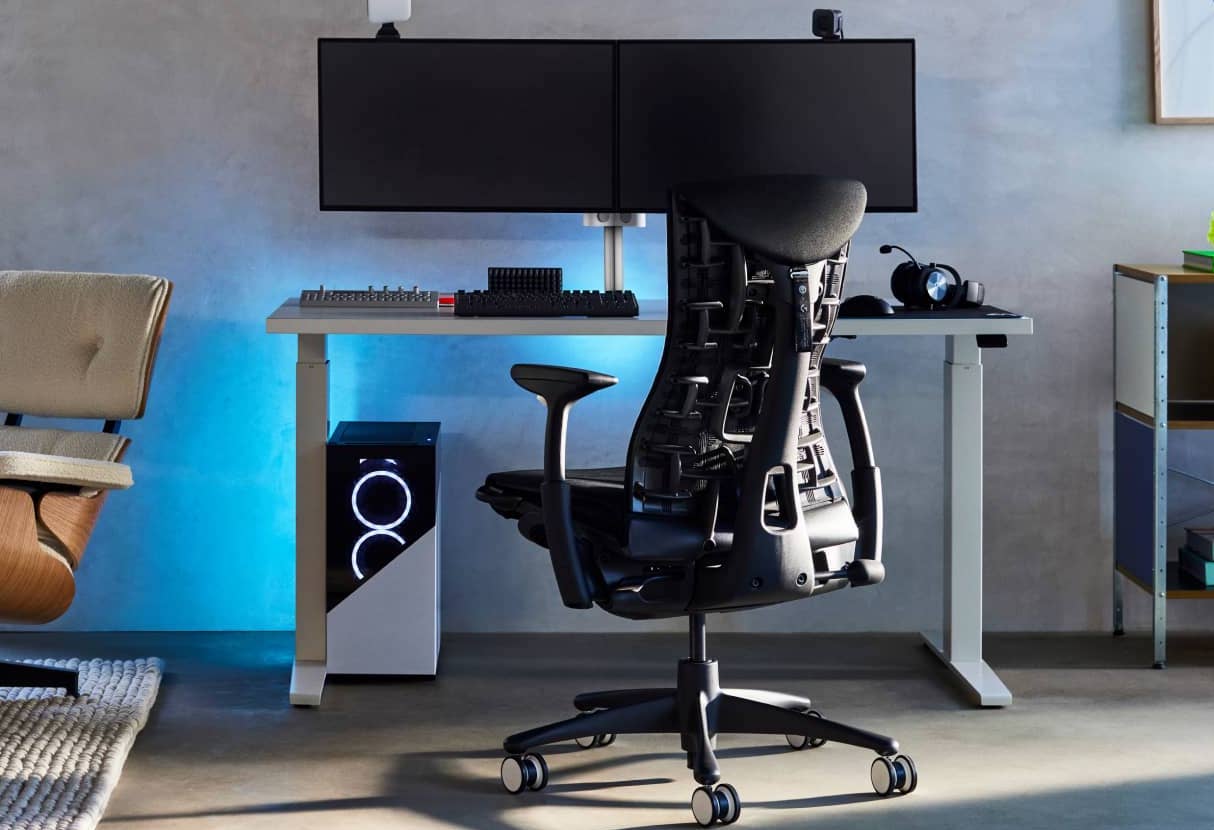 With this level of flexibility, it is very sublime on the back even for long hours of gaming. And while it has the same multiple adjustment options you find in an Embody chair, you can fidget through them easily, with no learning curve. 
If you also want to achieve a better posture while playing your favorite titles, then this is it. As for the recline, you can push it backward up to 120 degrees so that is the mini limitation there. It can not go lower compared to the Titan or the T3. But it does have a tilt limiter so you can rock the chair back and forth and incorporate micro-movements as you play. But it will not be able to indulge you in an almost zero-gravity pleasure
But when it comes to spinal support, this is very impressive.
Noblechairs Hero
This is perhaps our favorite feature of the Hero chair. The backrest has a rake mechanism. This means that you can adjust the angle with the lever. It has a completely independent lock tilt mechanism. This enables you to rock freely, or lock yourself almost horizontally for a blissful nap. On another good note, it doesn't spring forward and crushes you when unlocked.
Hero chair has more firm support and can push you more aggressively towards the proper posture. So this is something to consider. But if you're looking for some serious spine support, then we recommend it.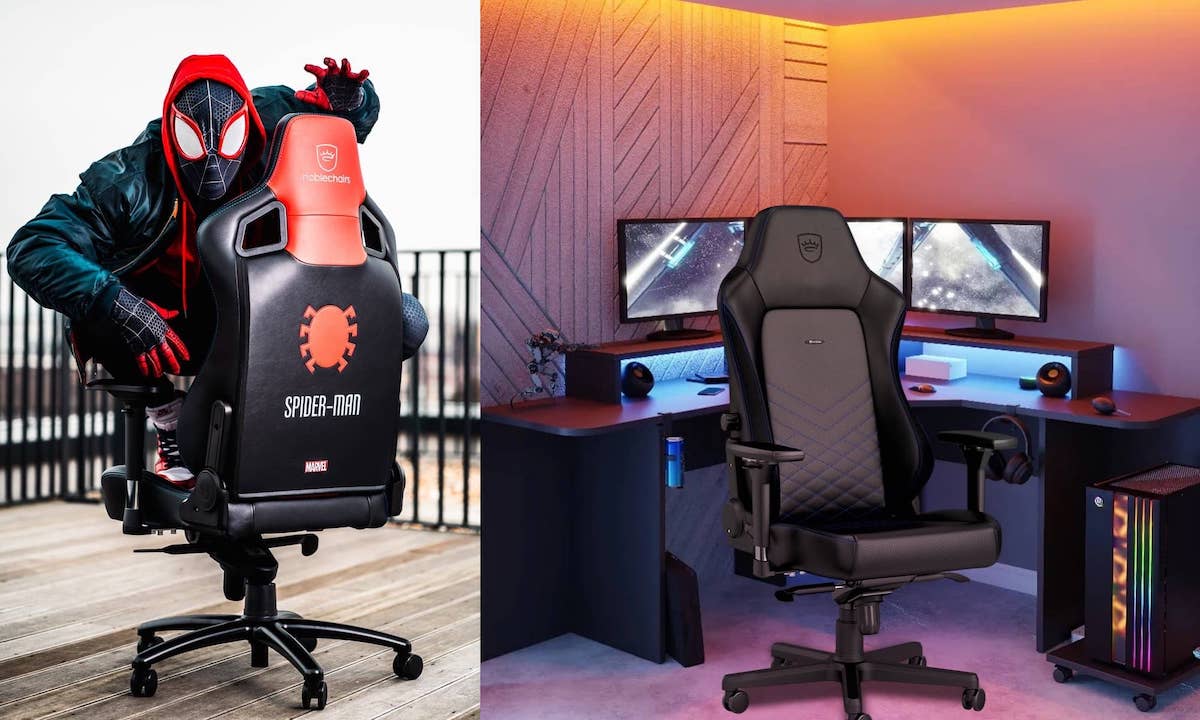 The recline function is up to 120 degrees, almost the same as that of the Logitech x Embody. You might not be able to do it all the way, but you can still treat yourself to a blissful retreat at 120 degrees. 
The seat is also pretty wide and has no flaps, so it is very amenable for those who have bigger and wider hips. The seat is rather flat too. Now this may be a pro or a con. Some gamers might not like the free-leg seat as it can be void of the feeling of being encased.
Homall
This is perhaps the more affordable gaming chair that you can use if you need more pronounced back support. The ones we've mentioned above cost a bit more premium. But they're all for good reason, so we can't complain. And while Homall may seem inferior, you get nice spinal support for the price that you pay. 
For a gaming chair, it is quite ergonomic. Ergo being it has multiple options for adjustments, will enable you to find the perfect angle or position for your back. For a chair of this price, it has a lot on its sleeves.
You can recline the chair up to 140 degrees. Though we recommend it more for average users and not heavy folks. This is one of how you can make an affordable chair last longer, given the construction. 
You can also get that slight curvature for the molded backseat. It feels sufficiently comfortable for the spine. You're also getting more than just the basic back support.
The cons, compared to the other options above, the arms are not that adjustable. 
Why are office chairs better than gaming chairs for back support
Before you don't have any choice but to go for the traditional heavily padded gaming chairs. That is what gaming is about. That's why playing for 5 hours or more can be torture for the back and legs. There's just too much compression on the spine.
But nowadays, gaming chairs have been reborn. There is a lot to expect from modern-day chairs for play. A lot is also made more ergonomic with more options to adjust all the features of the chair. This makes it almost similar to ergonomic office chairs that can be comfortable for long hours of work. 
So could it mean that gaming chairs are at par with how ergonomic office chairs are, especially when it comes to back support?
Not really. In reality, ergonomic office chairs purse will still be able to give more spinal support and comfort compared to gaming chairs perse.
We've listed gaming chairs that can give your back a dreamy retreat, especially if you're an owl. But it doesn't come close to the number of ergonomic office chairs that can provide you with better back support. 
Some ergo gaming chairs still lack that adjustable lumbar. It may come in a removal pillow. Albeit being utmost comfy and cushy, it may not provide serious spinal support. Some may have an integrated lumbar system such as Secretlab gaming chairs or the Logitech x Embody, but we can only name a handful. For office chairs, there is a smorgasbord of choices that can give the best spinal support.
Apart from the lumbar support, you have the tilt limiter. Can you lock it in place? Can you rock the chair back and forth? Though gaming chairs will be more amenable to a fuller recline, that is pretty much generally speaking. So the better recline alone is not enough to say that they are better at giving optimal spinal comfort, let alone training your spine to assume a better posture while seated.
Also with the deeper recline, gaming chairs do not force you to sit in the proper posture as ergo chairs do. This recline advantage can also be a drawback. It's all about muscle memory. So a gaming chair can give you all the liberty in the world to sit as pushed back as you wish. But remember that there can be minimal to no control that can remind you to sit in a better posture. So over time, your body will be accustomed to a 
Ergonomic office chairs can be a stricter approach at first. They can train you more to sit as you should. At first, it can be aggressive or can come out as too firm. but this will give you better posture in the long run.
To put things in perspective, if you're going to use an office chair for gaming, there are also some things that you have to sacrifice– the comfy headrest, the winged seat, and the gamey aesthetics. But if your priority is optimum spinal support, then the answer is very clear.
And here are our favorite office chairs for play
Steelcase Gesture
Both your back and butt will be cradled lovingly on this Steelcase chair. You feel that support at the same time, sufficient comfort for playing all day long. It's cushy enough to be used for gaming. 
You can also recline this chair and it will feel very supportive and strong. The Gesture's back moves and bends with you when you lean back, and it keeps you in your desired position with less stress on your core or legs.
Humanscale Freedom
When it comes to intuitive comfort, Freedom is at the top. This office chair can adjust to your every move. The chair is designed for movement, hence the name. So it is one of 'em more flexible ones you can also see in the market. You don't even have to fiddle much through the adjustments and the chair will do the job for you.
This is also a great option if you find steeper priced ergo office chairs too overwhelming. The multiple levers and knobs can be too much for some people, you will not experience that with the Freedom chair. So if you need something that will be able to adjust to your body and not the other way around, this is it. 
Branch Verve
This office chair is perfect for petite gamers. It can go low enough for those who stand 5 to 5'2". And like standard gaming chairs, the seat of the Verve is pretty cushy. It is very cradling to the butt. So you can play from dusk till dawn and have your butt cuddled in dreamy comfort. 
The Verve also has a fabric backrest. This makes it a more airy option too. And the fabric feels very smooth on the back and almost weightless. It almost feels like you're seated on a hammock. 
It may not be as intuitive as Freedom, but you have a decent number of adjustments to find your own blissful spot. They may not be that easy to fiddle through, but it's not complicated. 
Office Master OM 5
What sets this apart is that it feels like a self-weighing chair that intuitively responds to a wide range of body sizes and weights. Hence, you don't need to do many adjustments. This is perfect for the Lazy Larry who does not want to tinker through tons of levers and knobs. Sit back, relax and the chair will automatically adjust itself.
On a side note though, the type of comfort can be very subjective. And it may take a while for some to get used to how the chair works. But once it does, it is very impressive. 
Haworth Zody
The Zody is one of the best ones for longer gaming hours if you are big and tall. The backrest is made from woven polyester, it is very supportive and flexible at the same time. So whenever you lean back or more to the side, you will feel supported throughout.
It also has very unique features. The woven mesh has zoning. Depending on the part of the weave, it will offer different levels of resistance. So you can get more personalized support for the body. Also, it has asymmetrical lumbar support and scientifically designed lower pelvic support. So when it comes to spinal and pelvic support, the Zody means serious business. 
This network of black support and flexible material will make it very blissful for longer hours of gaming. Albeit the lack of an ultrasoft cushion, this will give you optimal support. 
Gaming chairs vs office chairs: Who won?
We create an article to show you the end of this battle: Why do Office Chairs Outperform Gaming Chairs for The Battle of Comfort and Support?
Now that we went over everything, it's safe to say that ergo office chairs do offer better spinal support. The longer you sit in front of your PC, the better support is needed. That's why standard gaming chairs just simply won't do, you'll just end up with a bad back at the end of the day.