Is a Softer Mattress a NO-NO for Back Pain?
An exacerbating lumbar pain is no joke.
If you have an exacerbating lumbar soreness, you need the best mattress for low back pain and sciatica. Even an expensive mattress will not be able to bring relief unless it is equipped with the support you need. You also need to ensure that your spine is supported, and the pelvis as well.
And we've got the perfect list of mattresses that can give you a deep sleep. 
Mattress

Brand

Type
Firmness

level

Warranty

(years)

Thickness
Casper Wave
Hybrid
Medium soft

to medium firm

10
13"
SAATVA HD
Hybrid Innerspring
Medium firm

to firm

Lifetime
15.5"
Helix Midnight Luxe
Hybrid
Soft
15
14"
Puffy Lux
Hybrid
Medium
Lifetime
12"
Loom and Leaf
Memory Foam
Medium firm

& Firm options

Lifetime
12"
Nectar
Memory Foam
Medium firm
Lifetime
12"
Nolah Signature
All Foam
Medium soft
Lifetime
12"
Natural Form Euro
Hybrid
Adjustable
10
13"
Sleep Ovation
Hybrid
Medium Firm
10
12"
Classic Brands Cool
Memory foam
Medium Firm
10
10.5"
Casper Wave
This mattress has the right amount of ergonomics that can support your entire body, specifically your lower back pain. It has the right amount of cushion for your pressure points and enough support that can keep your entire body aligned. This helps you wake up in the morning feeling all energized and your muscles repaired.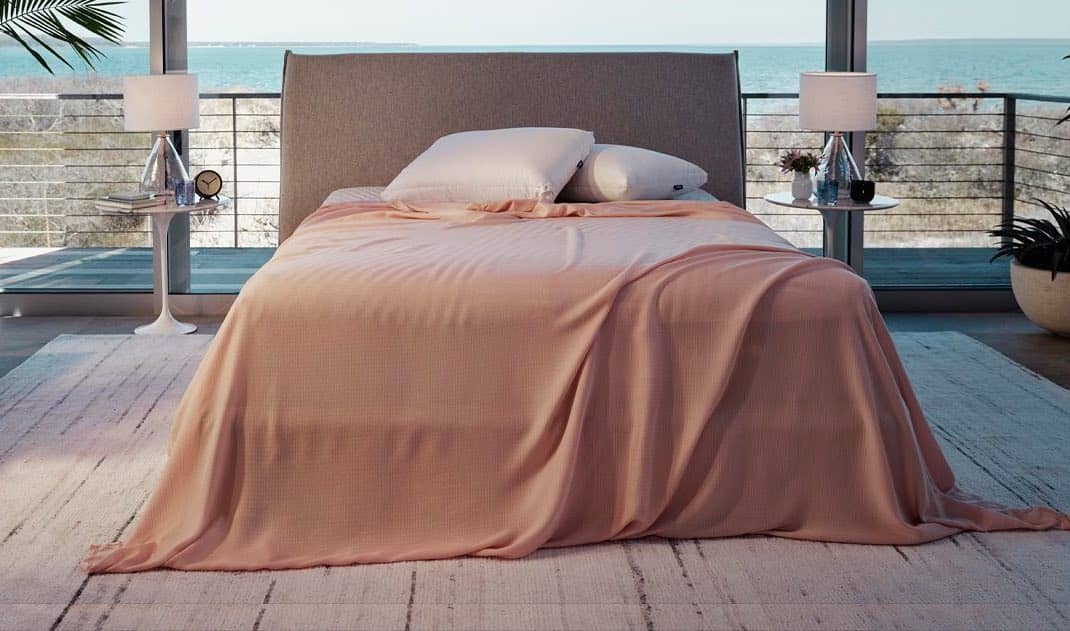 The part on the shoulders is pretty soft and cushioned. It keeps your spine aligned and this prevents pressure from building up in this area. Because once it does, it can exacerbate your sciatica.
It has this zoned support, where you can have softness in the areas that you need, and a firmer one for the spine, where you need it the most. The pocketed coils spell relief for all your pressure points. So it's not just a mattress that can prevent aches, it can actively help your body recover from it. 
This mattress is also pretty cool and breathable. So it will help lull you to lullaby and REM, where you start repairing your muscles. This way, it will help you recover fully from a very stressful day, and this is what you need to manage sciatica. You have to find a restful retreat, with no disturbances.
You get that sublime balance between cushiness and firmness. You get that light sinking-in feeling as you lay on the mattress. But it will spring back and push your spine to a neutral position, this gives your entire body ample support and structure. 
SAATVA HD
This mattress can give you the support that you need if you weigh 230 lbs and over. This mattress will not sag and can carry the weight as well as provide you with more support and enough cushioning for your pressure points.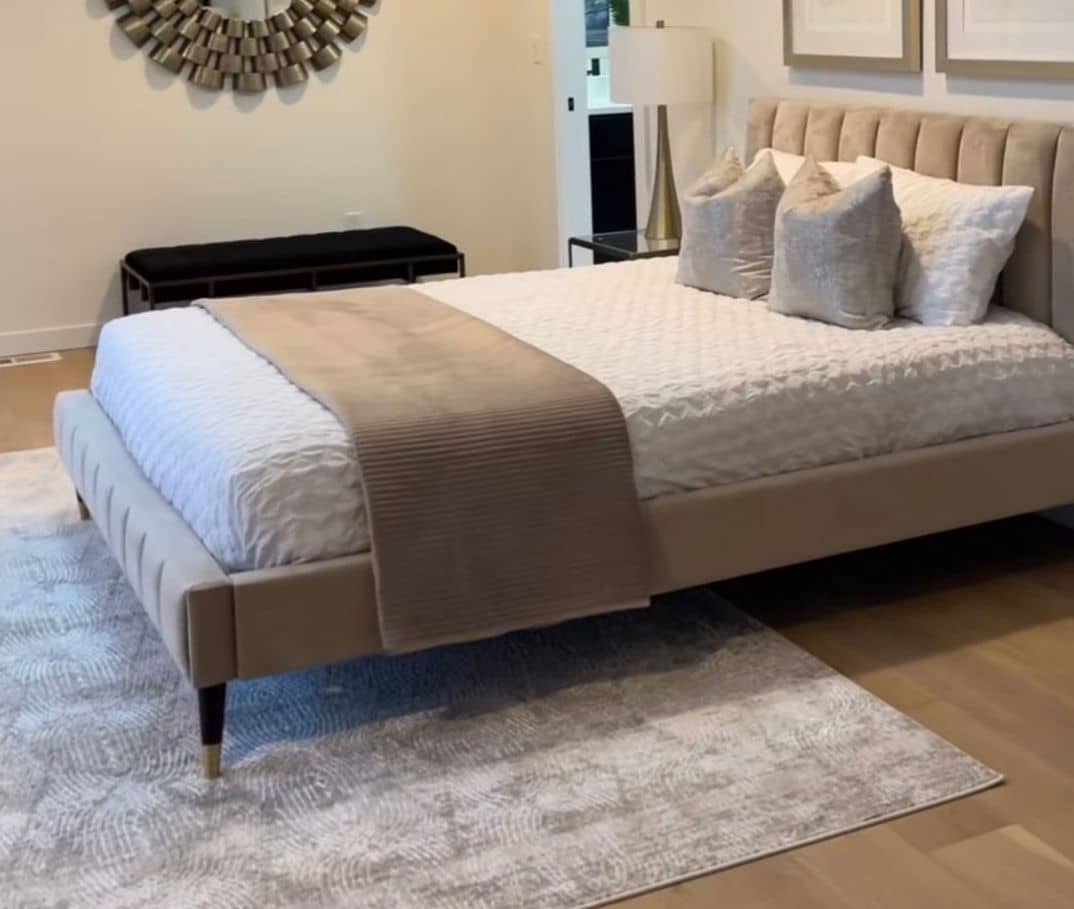 The top feels extra soft and comfy. But then you sink into a very supportive layer of 5-zoned Talalay latex. This material can hug and cradle the curves of your body without losing the pushback. Then you also have the coil base that can help you get optimum spinal alignment. 
You can expect a medium firmness comfort, which offers nice support and cushion. This type of comfort also appeals to a majority of the population, so most find a restful sleep with a medium firm bed.
Helix Midnight Luxe
If you are a side sleeper with lingering back pain, then you'll find comfort and solace in this mattress. 
It has hefty layers of foam cushion and pocketed coils that spell bliss and dreamy sleep for those with sciatica. So in terms of pressure relief and spinal alignment, this is a heavy contender. 
Like our two options above, you get that zoned comfort that has the perfect mix of softness and firmness in the areas of the body where you need it. It's like this mattress knows when to soften up and when to firm up a bit. 
But what sets it apart is that this mattress has an added structure along the lumbar region that prevents the heavier parts of the body from sinking in too deep. All that without losing the cushy comfort you need for some areas of the body. Thus, even if you are heavy, you don't need to settle for a firm bed. You still get that soft comfort without you sinking deep into the bed. 
Puffy Lux Hybrid
For back sleepers with sciatica, we recommend this mattress. It has medium firm comfort, which is a sweet spot for those people who sleep on their backs. It has a foam innerspring that prevents your body from sinking too deep. And at the same time, you can feel that this mattress helps keep your spine in a neutral position, which is the best for those with back pain.
The coils are pretty responsive too. You get that nice pushback that keeps your back in check, this reduces pressure points and stops you from caving into the middle of the bed. It cradles your pressure points so you are also less likely to wake up in the middle of the night with an aching lumbar. 
The downside, as it works ultra on your back pressure points, it doesn't do that amazing of a job for the pressure points on your shoulders and hips. But don't get us wrong, it can still give you decent pushback, but it's not as far as it does with the lumbar region. 
Loom and Leaf
This is a memory foam mattress that can spell heaven for your sciatica. It has high-density memory foam layers that can prevent pinching your back, hips, and shoulders. But at the same time, you are less likely to sink deep into the bed. This mattress is quite supportive and comfortable, you will not find it hard to get out of bed in the morning. 
The lumbar region is also constructed extra for better support for your back. It also feels nice and cool, so that can help you continue with that deep dream to get full body recovery. So if you want that classic memory foam feel, then you would be so happy to sleep on this bed.
The cons are that this isn't a rather soft or bouncy mattress. So those who are looking for a dreamy plush bed will not find it enticing to sleep into it, this is more of a firm nook.
Nectar Memory Foam
This is another memory foam that can give sciatica sufferers a nice and restful sleep. It is memory foam, but it feels a lot different from other very cushy memory foam beds on the market.
It has layers and layers of different types of memory foam that can work wonders for your lingering back pain. You will also be amazed you're not sinking into the middle of the bed.  
The first layer is very airy and soft. It feels cool on the skin so you will not wake up sweating in the middle of the night. Then it has ample layers of support that can give your body that needed pushback, despite the mattress being soft on top, it can give you a decent layer of support. This layer helps absorb energy and prevents pressure points from aggravating. 
Then you have 7 zoned layers that can cradle your shoulders and hips. The zoned support gives this equal balance of softness and fairness. So you get plush comfort where you want it and get firm support when you need it the most. 
Nolah Signature
This is an extra plush mattress side sleepers with sciatica pain will be excited to sleep on every single night. It is rather plush, which is what you need if you're sleeping on the side of your body,
The softness helps relieve pressure points and will be an extra treat for your sciatica. The tops are softer but you get an additional layer of supportive and pressure-cradling layers. So you better be up for some serious R&R.
But a word of caution though, this is rather cushy. So those who are used to sleeping in a firmer bed will find this too plush. So if you need a firmer bed, then this is not for you. Thus, this might not be the best option for those who are back sleepers, but it is sublime for side sleepers. 
Natural Form Euro
This hybrid mattress offers targeted pressure on your lower back. You get that top memory foam layer that gives you nice contouring for your pressure relief. And underneath is a system of supportive layers and coils that gives your body a little pushback to keep your spine in a neutral position.
The base layers are also nicely decent and thick, so that prevents you from caving in too deep into the bed. 
The good news is this system supports all types of sleeping positions. So regardless if you sleep on your side, stomach, or back, you get the same comfort and pressure relief cradling sensation. 
But a thing to remember though, this can sit on a firmer comfort rather than a soft and plush one. So some may find it too firm for their liking, especially those who sleep on their sides.
Sleep Ovation
This hybrid mattress has a combination of foams and springs that can offer great support for all areas of your body. You may hear all about pressure points and cradling sensations for all the pressure relief points in your body. 
The Sleep Ovation boasts 700 pressure points relief. So no matter where you have those aches and pains, you will have this nice retreat that will help you go get ready for the next day with fewer muscles and a less sore body, 
This mattress also has a spring suspension system that can help disperse your weight through the entire region of the bed. This, in turn, prevents exaggerating pressure points, even helping ease them. For an additional treat, the top is rather soft and plush. So you get away with a nice cool sleep.
Classic Brands Cool 
This is a more premium memory foam mattress we highly recommended for sciatica sufferers.
It is cooler and aerier, you will not be disturbed in the middle of your sleep. This helps repair your aching muscles and joints more. It gives you the right amount of support that can help align the spine and keep your lower back cradled all throughout the night. 
The base is also pretty dense. So that provides a stable and more responsive base for your entire body. The mattress is pretty durable too, so you can expect a lot from this premium choice. So if you have got the moolah, you will not be disappointed.
What to Look for In a Mattress or Low Back Pain & Sciatica
There are a lot of reasons why you get a bad lower back that can lead to sciatica. You may be sitting for the entire day, no exercise for a week, or you just gained weight recently.  
Regardless of the reason, you need a good mattress that can bring relief to your pressure points.
So here are the things you have to consider if you need a mattress to improve or even eliminate your lower back pain. 
Ample support
A mattress that lacks support can cause you to sink too deep into the bed. You'll also feel that there is not a dense or even ample base that can help keep your spine in a neutral position. 
Softer mattresses often lack support. So more or less, we're mostly looking at mattresses that offer medium firm to firmer support. 
The good news is, we have a nice blend of plush and support that can suffice your needs and preferences. So if you want to lay on something softer but are scared of waking up with a bad back, you no longer have to be scared.
Contour and pressure relief
Memory foam mattresses are contouring and cradle your pressure points. Thus, you can see a couple of memory foam, since these are more cradling and contouring. But we also have a list of hybrid mattresses that can give you firm and soft comfort at the same time.
So regardless of your preference, you can still get a suitable haven.
Cooling Enough
A mattress that can help make you cooler and airy enough at night can ensure you a good night's sleep.
A disruption in your sleep can result in you waking up in the middle of the night. Thus, a cooler and airer bed helps you sleep deep and go into REM, which is when we have 'em muscles and joints repaired. 
You Can still Sleep on a Softer Mattress
Having sciatica can stop you from sleeping on a plush and softer bed. It's common to go for firmer mattresses if you are suffering from lower back pain. But you need not sleep always on a very firm mattress. If you favor a softer bed,  you can still enjoy that luxe comfort all while having your lower back and spine supported.