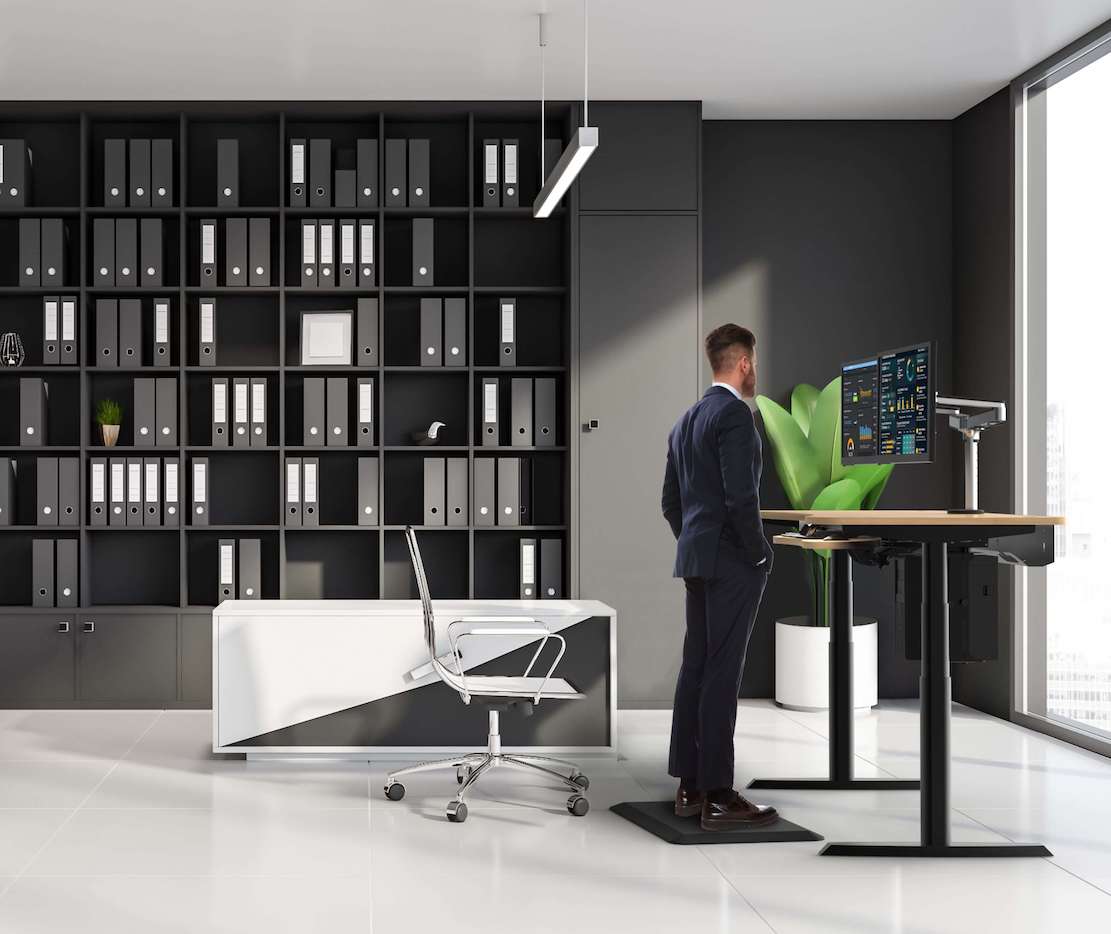 Either you're in the office or still working at home, a reliable standing desk can make a lot of difference. I am going to list down my top picks. So you can welcome the new year with more productive work.
Flexispot adjustable standing desk 42 X 42
One of the notable features that made this standing best worthy of your attention is its seamless adjustment. It can go up and down flawless from 28 to 47.6 inches. The transition speed of this desk is 1 inch per second. So that's pretty fast and sleek. 
The wide desk also made it a very good pick. It can accommodate a more elaborate work setup. And it has a lot of space for a ton of your office supplies. So you do not need an additional desk to stack your rims of bond paper.  
The construction of this standing desk is a big bang for its price tag. It has a solid construction with industrial-grade steel frames. And when you combine the impressive motor and sturdy legs, this desk will surely not make any annoying noise. It also operates quietly below 50 decibels. 
And unlike some brands that claim that their desks transition slowly, I will vouch for Flexispot's claim. It truly is meek and doesn't have any annoying whirring sound. And all the parts are pretty much tightened at the right spot. And since there aren't any loose concessions, this is one hell of stable standing dekes. 
Moreover, since it has a sturdy and robust construction, there isn't any shaking or wobbling, even in the highest desk setting. I also love how the tabletop is resistant to stains and scratches. This standing desk can stand a decent cycle of use and abuse and it will still look as if it's brand new. You can also change the width of the frames, so you can also use different table top sizes.
However, the controls are pretty basic. It features just an up and down button. So it's lacking a memory preset option. Though you can opt to upgrade to a controller with a 3 preset option for an added cost.
Overall, it's a dependable and reliable desk with impressive motors. And it's quite stable at varying heights. And 2021 is still about working more from home. Even after the pandemic, businesses might til adopt a schedule that will give employees options to work at home. You will be able to make the most out of your day with a stable and steady standing desk. And this brand is a more budget-friendly option too. Just be ready for a challenging setup.
Vari electric standing desk 30 x 60
2021 seems to be in favor of a more stable standing desk with robust legs and steel frames. That's why I have to include the Vari electric desk, particularly the 30 x 60 standing desk.
It has industrial-grade T shaped legs. And from my experiences with various standing desks, its stability often depends on three factors. One, the robust steel frames and legs. Two, a reliable motor. And three, a tight connection between the parts, especially the wedge at the joints.
Vari seems to fit the bill. The legs are strong and solid. And all the materials are of high quality. So you can expect this desk to last for years. Also, you won't feel any wobble. Unless you intentionally rock the desk back and forth at its highest setting, it will shake a bit. But since you will not do it intentionally, this brand falls in my good book. 
It also features a strong motor that fits the desk smoothly. It can also go up as high as 50 inches. So it will be comfortable for taller people. 
And what makes it one of the best is that it ships rather fast too. And customer service is also one of my favorites in standing desk brands. You won't be left hanging in the air should you encounter issues with your purchase. You can get more value for your money with responsive customer service.
Overall, this standing desk is hard and solid as a rock. It doesn't feel or look cheap at all despite its affordable price tag. 
And among the desks on my top list, I find the Vari with the most interesting tabletop designs. It hit the aesthetics key too.
ApexDesk Elite series 60 inches
This standing desk had me at the contoured edge. 
It doesn't only look fancy, the contoured edge makes the desk more ergonomic. It's pretty comfortable on the forearms and wrist. And you can hover through the back of the desk quite easily. Also, Apex desk is the only brand that has a desk option of 71 inches. The 60-inch desk itself is pretty huge and very spacious. But if you need and want a more spacious workspace, you'd be able to find one only with this brand.
Bigger is better, maybe the brand's motto. But the construction of the desk isn't disappointing either. The frames are solid and the joints and wrenches are very well connected. As I have mentioned above, these are among three of the things that make a standing desk stable. Moreover, it also has industrial-grade steel legs, it's pretty stable at any height settings.
One of my gripes, however, is the responsiveness of the control panel. It took quite some time for the desk to respond. So the transitioning isn't as seamless as the other brands on my list. And the height range might not be able to accommodate taller people. 
In a nutshell, this is a solid standing desk with an economic tabletop tip And it's the only brand that will give you an option to purchase a 71-inch desk. It's for you if you want a more stylish and ergonomic working desk.
SWH 55 inch stand up desk
The first thing that you'll notice with this desk is its sturdy and robust telescoping steel legs. The desk area is also large enough and sits at a pretty price. Consumers also raved about the way they can organize their cables and wires with the grommets on the tabletop.
It also has a sustainable weight so you might need help setting it up. The desktop also feels nice and solid. 
One of the limitations, however, is that it can only go as high as 45 inches. That won't be enough for taller persons. But on the flip side, it can go low enough for petite users.
Also, the tabletop comes in two separate parts. So you have to connect them to become a full-size 55-inch desk. While some users do not find this concerning, some consumers don't like seeing a bit of a gap on the table. And you have to ensure that you connect the two desks well. So this is something to consider should you be keen on getting one.
Overall, it's a sturdy and stable desk perfect for petite users. 
Fully Jarvis Bamboo standing desk
Fully Jarvis bamboo has been a favorite over the past few years. It's just a lovely bamboo desk with a weight capacity of 350 lbs. This desk has been a household name, so to speak. It also provides a large working space and a generous warranty period. Though the customer service isn't the best, you can still take advantage of the 7 year warranty period. 
It also offers several customizable features. And consumers love choices. That's why this standing desk, albeit having a China-made motor, was often preferred by a lot of buyers. 
The contoured bamboo desktop is perhaps the best tabletop option to get for the brand. If I'm going to buy a Fully Jarvis desk, I'd get the bamboo tabletop. It has a semi-contoured edge that makes it more elegant and a bit more ergonomic. I can't say the same for the other tabletop options of the brand. 
One of the gripes, however, doesn't have the most stable motor and it's a bit on the pricier side. The desk will start to wobble at the highest desk setting, but it does work decently for those who are petite and of average height. 
And this year would not be different for the Fully Jarvis bamboo standing desk, it's still on the top list. 
Final say
My choice for the best standing desk for 2021 was based on these criteria.
Combination of aesthetics and quality

Strong steel legs that can last use and abuse 

Value for your money

Wide desk area