Looking for a comfortable computer chair for long hours of sitting within 200 bucks? No worries we've got you covered. Hover through our recommendation and you'll find an affordable computer chair that you can use for long hours when work from home. And of course, you don't even have to rob a bank
Here are the list we suggest
Smug Desk Executive Office Chair
If you're looking for  plush comfort and  ergonomic features in one, the Smug Desk executive office chair may be the ideal chair for you. It's a different take from all the hard back and mesh bottom office chairs that are proliferating the market right now.
What I love about this affordable computer chair is that it's ultra plush, it has a soft and contoured lumbar that offers support for your back.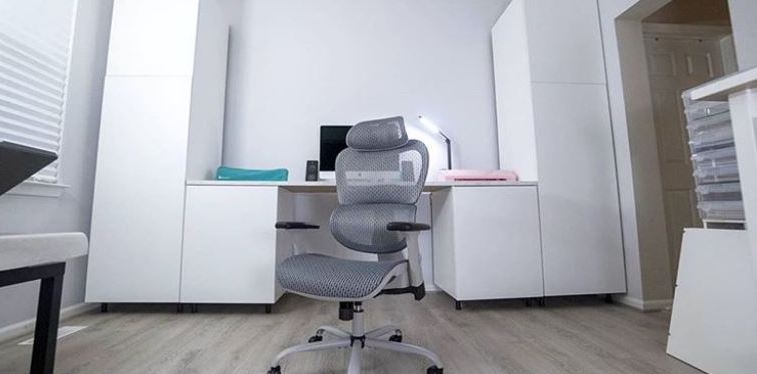 Apart from the plush seat and back, there's more to like. This computer chair can also tilt up to 125 degrees. And you can lock it in position for a relaxing break from all the writing and the typing. 
As for the overall look, the finish is stainless steel and the covering is bonded faux leather. It doesn't look premium but it's not  too shabby either. And it's also made for the  big league since the weight capacity is 300 lbs.It has a slightly higher back. Though I would not categorize it as a tall chair, it's taller than the average. 
One of the things which I wished were better are the armrests. Though it can be lifted up and down, there isn't anything more to it. It would be nicer if you can pivot it inwards or outwards for more comfort. 
Overall, if you are looking for more plushness in a computer chair, this brand won't disappoint. It's soft but it still offers decent back support with its contoured lumbar. And the seat is pretty wide and the back  is a bit tall, so it can accommodate those who are quite heavy.  
And for its price, it's a sweet deal. You'd also find this plush office chair rather durable compared to some expensive ones that are worth 500-700 bucks.
Pros
360-degree swivel foot

Easy to assemble

Durable bonded leather covering

Heavy duty steel material

Plush thick padding

Waterfall edge seat design

Contoured lumbar
Cons
Instruction booklet is too small

The tilt sometimes doesn't stay on place
Serta Hannah
If you're looking for an ergonomic chair with fabric upholstery, the Serta Hannah is a winner. From the get go, you would notice the high quality  microfiber upholstered design, and you won't believe that this costs less than 200 bucks. It's a real bang for your buck if you'd ask me.  
But you also have photons to order the chair in woven material or leather. But the microfiber material is the more breathable one.  You can also choose from 9 colors.
Serta Hannah pretty much ticks all the basic features you'd look for in an ergonomic chair. One, it has a waterfall edge seat design which ensures utmost leg comfort. Two,  it has a great lumbar support perfect for working long hours. Three, it has a nice support for the neck and shoulders. This is one feature that some brands may lack. So i'm really impressed with this office chair.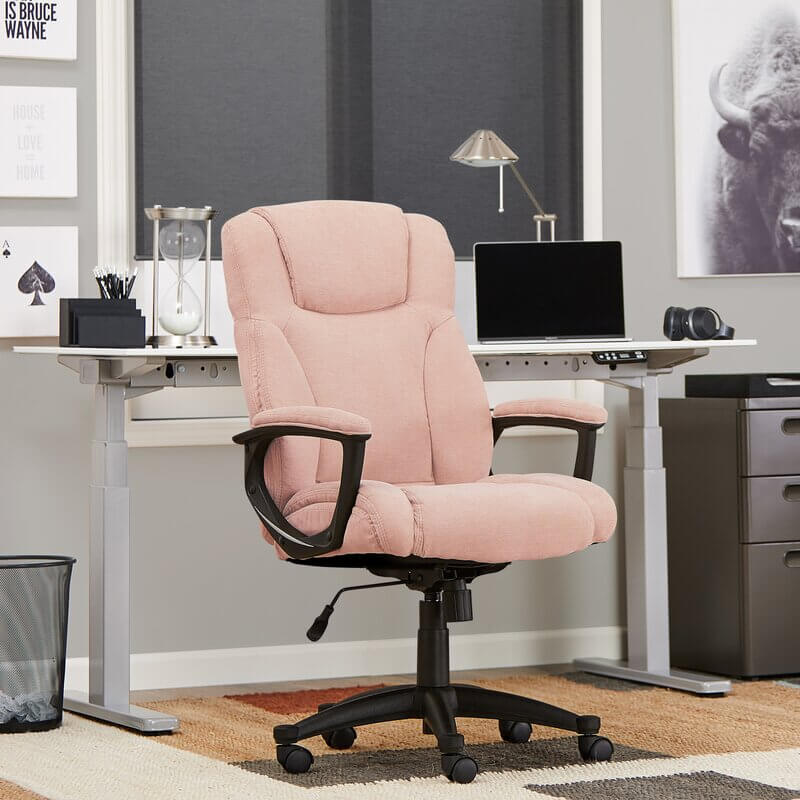 You can also recline and tilt the chair. If you're working for long hours,  this feature is a must.
But of course, there's something that I wished was better. The armrest might be a turn off for some since it's fixed.  You can't do anything much about it.  The armrest has padding too, if that makes up for it.
In nutshell, if you're not keen on getting adjustable armrests, this can be a very comfortable chair for working long hours. 
Pros
Heavy duty caster wheels

High quality fabric upholstery

impressive lumbar, neck, and head support

Plush cushion
Cons
Might be challenging to tilt at first
Office Factor Executive Ergonomic Office Chair
This chair  boasts of a minimalist contemporary design, it also lets you enjoy the best of both worlds. It has a mesh back seat and a cushioned seat with leather covering. The design is something unique since it is not fully meshed or fully padded like what you see in other brands. So this can be your chair if you're also looking for something that looks rather different. 
The armrests flip up, this I find subjective. It may not be everyone's cup of tea. It's good since you can get into the chair easily by lifting the arms up. It works for those who are thicker around the waist. But since it's a flip up, you can't do much of anything to adjust it. 
Some features that you find comfortable for long working hours are the adjustable height of the chair and the forward mechanism. The latter help you maintain a straight posture when working. So it's perfect for those who tend to slouch when they've been sitting for more than 6 hours. It's perfect for those training office chairs, so to speak. The molded mesh back seat lends a firm support and prevents your back from sinking.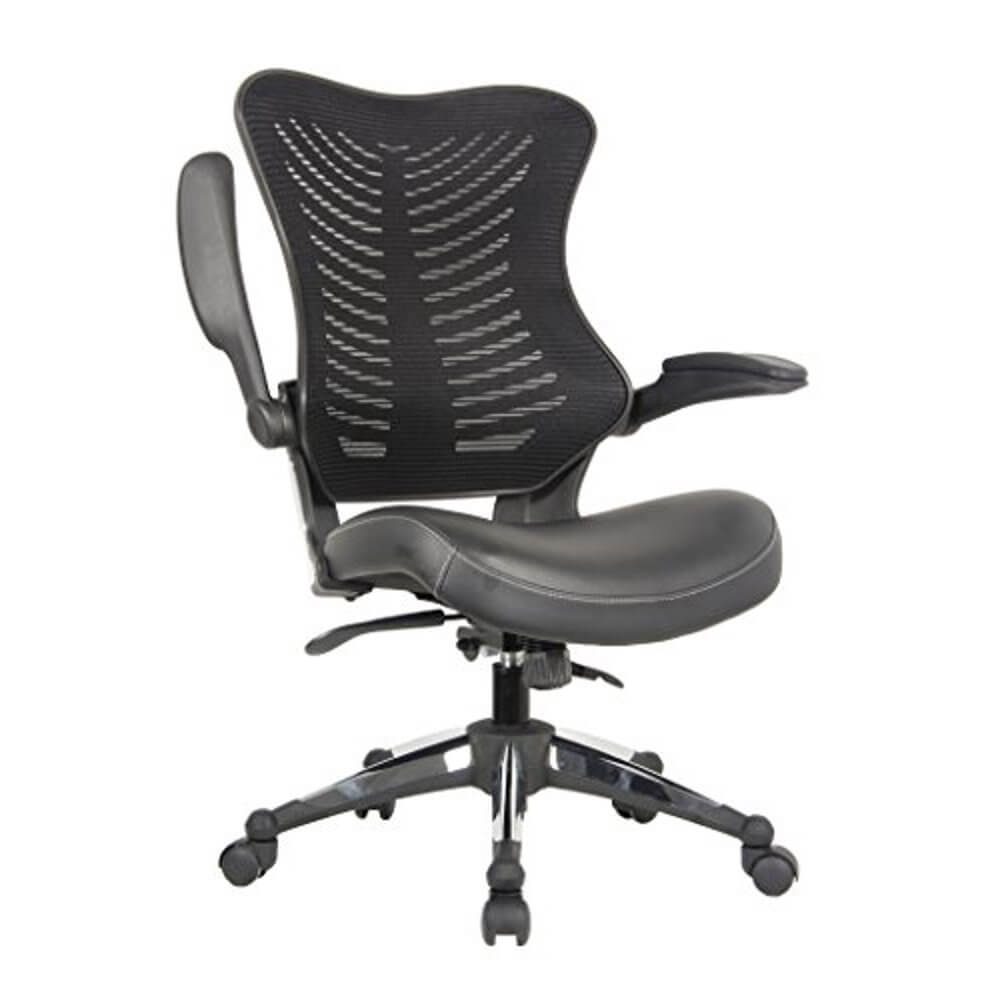 In conclusion, if you want a firmer support for the back this is a great choice. The chair nudges you to hold onto a proper posture. And if you don't mind the flip up armrest, this is a great buy.  The combination of a mesh back and plush seat is similar to a Duramont Ergonomic Mesh chair. But you'll find the Office Factor executive chair more affordable.
Pros
Tilt adjustment with 4 lockable positions

Wide and stable base

Breathable back mesh design 

Easy to assemble

Waterfall cushioned seat
Cons
Armrest are not adjustable
SPACE Seating AirGrid chair
The SPACE Seating chair also has a unique combination of  mesh back seat and a padded leather seat. Its overall look is simple, yet it feels so comfortable. The mesh back allows for more ventilation. 
One of the features that I love is its height adjustable angled arms. It allows you to get that support that you might find lacking in other chairs under 200 bucks.  But some may find the material of the armrests a bit flimsy or not that durable. But in terms of adjustability, I'm all in for it.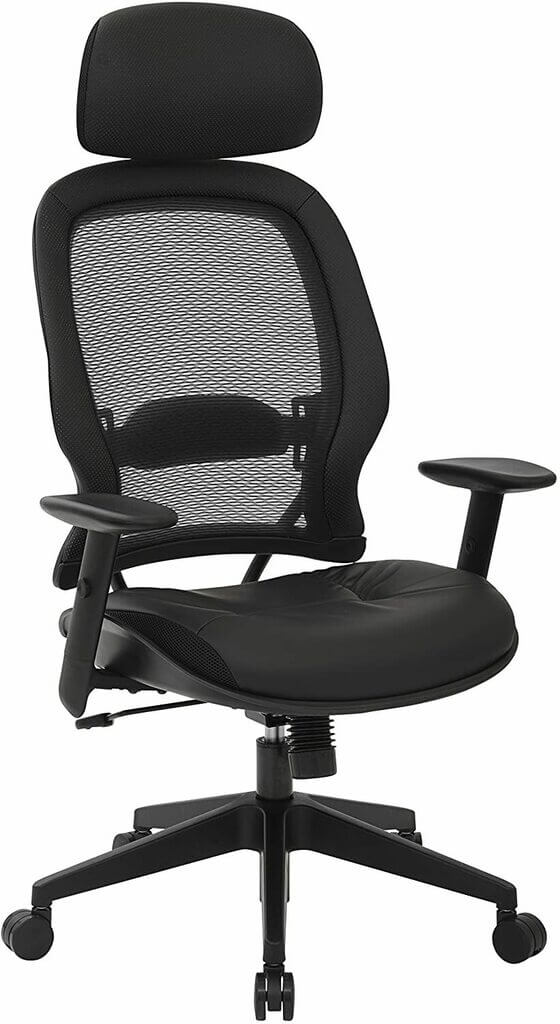 Apart from that  this chair has  a height  adjustable seat, 2 to 1 synchro tilt control, and tilt tension. You can rock the chair by adjusting the tension via the knob underneath the chair. And for its price under 200 bucks, the rocking motion and the chair holds the tension nicely, itls  is a great value for your money. 
The chair is also easy to move, it's maneuverability is impressive. The caster wheels won't get caught in anything. It slides like butter on warm toast. It also has a great mid and lower back support. Though you can compare to the comfort of an Aeron or a SteelCase Leap.
Overall, it's your chair if you're looking for a great lumbar and mid back support and adjustable arms. But take note that the arms aren't the most durable. And the seat depth may be a bit lacking for those who are tall or have long legs. So this chair is suitable for those with average height, not taller than 5 ' 10."
Pros
Great mid and lumbar back support

Adjustable arms

Breathable mesh back

Smooth caster wheels
Cons
Seat depth may not be enough for taller users
TOPSKY mesh computer chair 
The TOPSKY is a great choice if you're looking  for an all mesh chair. A mesh chair is highly breathable and perfect for working in hotter regions. Also, the back is made of high density material that is stable and a bit flexible. So the chair can somehow follow your movement.
A notable advantage of the TOPSKY chair is the highly adjustable arms. It can be moved up and down, forward and backward, and it even has a pivot twist function. It's even more adjustable than other brands that costs 700-800 bucks. So you'd be really happy with this chair if the armrests are your priority.
Moreover, it has adjustable headrest and offers a back recline adjustment with position knob. So you can tilt the chair comfortably. The design of the chair was to provide great support for the back. And the adjustable lumbar support is also a huge plus.
This computer chair almost has all the features of  a premium office chair, except for the hefty price tag.  Though some complained that it may lack a forward tilt, but for the price it bears you can't dwell on it. 
Pros
360 degree swivel

Adjustable lumbar support

3D armrests

145 -degree synchro mechanism and lock

Adjustable headrest

Breathable mesh fabric
Modway Edge office chair
The Modway Edge chair can provide great lumbar support for those suffering from back pain. And it also has a fully meshed back seat for breathability and comfort. The lumbar support is perhaps the most notable feature of this computer chair. It's even more comfortable than a 500 bucks office chair. 
Apart from that, the seat height is adjustable. You can also move the chair forward or backward, so the  adjustable seat depth is a big plus. 
The arms are left to the user's liking. It has flip up arms  and these aren't everyone's cup of tea. The seat has ample cushion and is of great quality 
However, shorter folks might find this chair too high for them, the lumbar support might not be able to go low enough. You might need to add a coccyx cushion for this chair to work for you if you stand less than 5'6 inches.
Pros
Smooth caster wheels

Great lumbar support

Seat is of high quality

Breathable mesh back
Cons
 Might not be comfortable for short people
The Walker Office chair by Green Group
Rarely would you find a computer chair specifically designed to give full support for your neck. And an affordable one that is. The Walker by Green Group is an affordable computer chair that can give full support for your neck. 
The curved adjustable headrest prevents neck strain. And at the same time, it can encourage proper alignment of the neck, head, and shoulders.  The vertical curvature of the back is quite good for  the lumbar area. So it; can be  a good choice if you're looking for an affordable office chair that'll be nice to your back.
Moreover,  it has a  breathable mesh material and adjustable lumbar support that allows you to find the sweet spot for your back. Another feature worth mentioning, are the fully adjustable arms. The recline is nice, though the friction might be too low for sme. 
One of the qualms is it might not be heavy duty and feels too light. So lighter users can find this very comfortable. But those on the heavy side might have to look elsewhere. 
Pros
Great lumbar support

Adjustable headrest

Breathable mesh material

Fully adjustable arms
Cons
Conclusion
Loving what you're seeing so far? There's something for everyone! Whether you favor a plush seat or an all mesh computer chair, you can find a brand that can fit into your budget. If you want find more chairs that works for long hours, check this out