When It comes to the pricing point, the Think and the Series 1 aren't exactly close to each other. The Series 1 is one of the more affordable options from Steelcase. Thus, if you want a Steelcase chair but can't afford the likes of the Gesture or the Leap, it's your best bet.  The  Think, on the other hand, costs more than double. 
But comparison can be made and these two differently priced units may share similar features, in one way or the other. 
Let's take a quick peek first at the dimensions and specs of each chair. 
| | | |
| --- | --- | --- |
| Showdown | Series 1 | Think |
| Seat height range | 16.5"-21" | 16.5" – 21.5" |
| Load capacity | 400 lbs | 400 lbs |
| Seat depth | 15.5"-17.5" | 15.5"-18" |
| Seat width | 19.5" | 20.25" |
| Lumbar support | adjustable | Adjustable |
| Tilt options | 3 | 4 |
| Arms | 4D | 4D |
Less is more when it comes to these two chairs
One similar feature you'll instantly notice is the lack of adjustable features. 
There aren't many knobs and levers compared to a Gesture or a Leap. 
For Series 1, since it's the more affordable option of the brands, it goes without saying that it will have less adjustability. 
So you'll only have one adjustment lever/knob for the seat height and the tilt tension. You just have to slide the seat pan forward or backward to adjust the depth. 
Though it may seem lacking, it can be one of the selling points of  Series 1.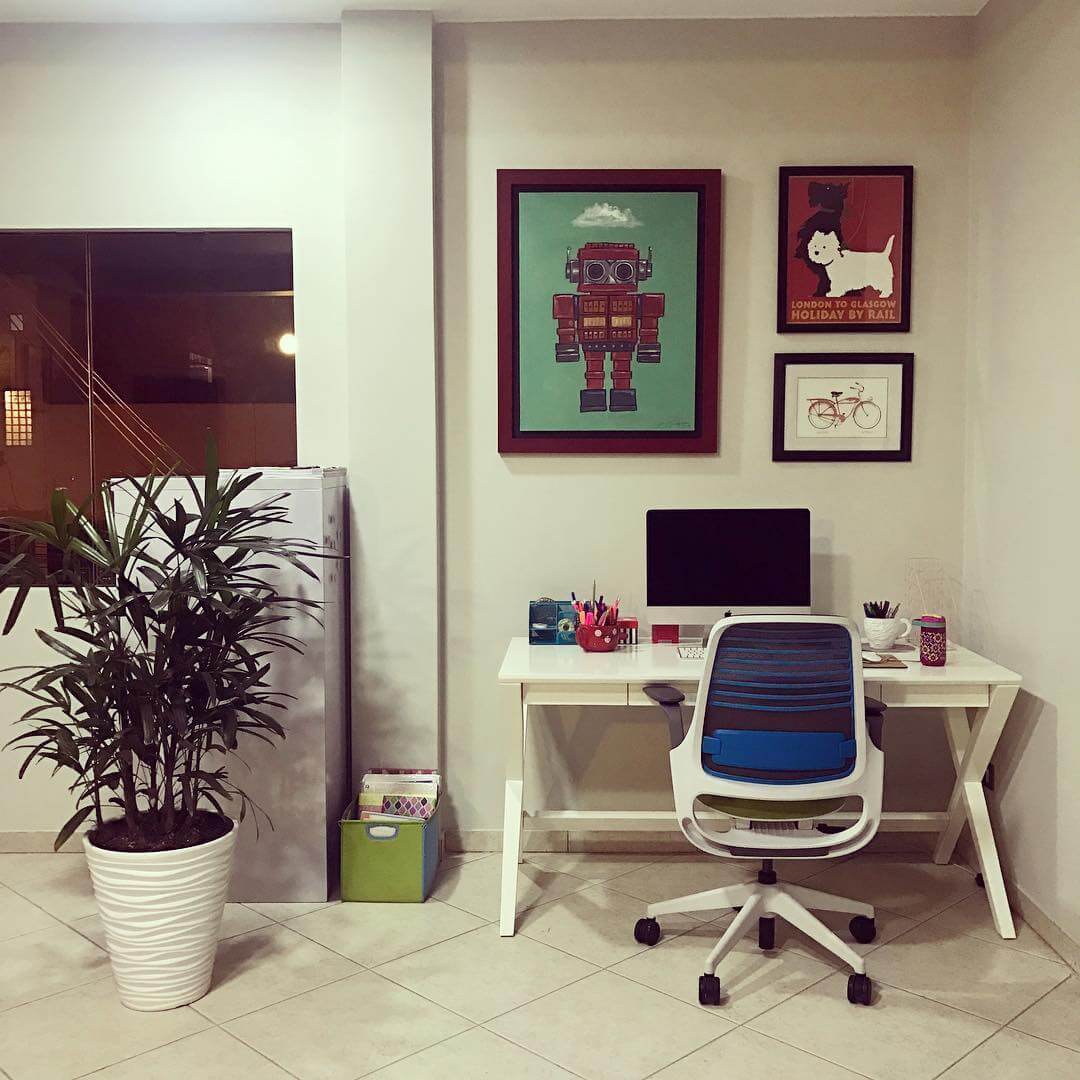 For people who don't need many adjustment options, it's a straightforward option. And it's also less complicated and those who don't want to work with too many knobs and levers will find it alright. Because sometimes less can be more depending on one's circumstances. 
The Think chair also shares the same sentiments. It doesn't want to bombard its users with tons of knobs to fidget with. 
And there are people you do not want to be presented with a smorgasbord of too many options. Because some may not have quite an idea on how to find the perfect angle or the perfect seat setting. 
So the more options they have, the more confused and lost they will be. And you do not want an office chair to add to the complexities of life right?
And this is the most prominent similarity between the Think and the Series 1. They are more of the straight-to-the-point ergonomic seating solutions.
Going back to the Think chair, albeit the higher price tag, it has fewer adjustment options. 
But it does have two levers/knobs compared to that of one of the Series 1.  But they both have similar features for adjustability- the seat height, seat depth, lumbar support, tilt, and arms.
The Think offers a midway between a tilt and a  full recline
The Think chair offers 3 adjustable tilt /recline positions. But take note that  It's not a full recline like what you'll see in most gaming chairs. But that can tilt the chair further back compared to the Series 1. 
Though Series 1 also has 3 tilt tensions options, the discrepancy between each option seems to be a bit narrow compared to that of the Think.
So we did find the tilt options of the Think more liberating. It can offer a better breather should you want to stretch out your back for a moment.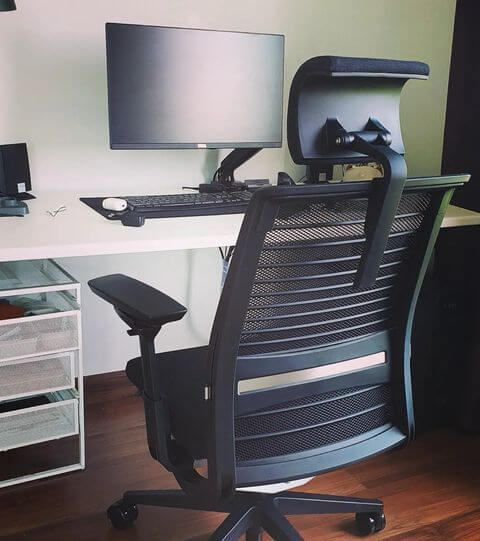 They both offer firm support,  but the Think is more intuitive
You have an option to get either chair in mesh or upholstery with pads. But the mesh number will always be the more popular route nowadays, it looks more contemporary and feels more breathable.  And with climate change, it's all about getting the cooler option. 
So if we're going to compare mesh to mesh, these two units will have the same mid firm to firm feeling. Same with most Steelcase office chairs, even that of the more popular Leap and Gesture. It's the selling point of the chairs, as well as their Achilles heel.
That's also why some people will not really find these units to be that comfy for longer hours. Even if you're used to firm support, your butt still finds it too stiff by the end of the day
But the thing is, that the Think feels more intuitive than the Series 1. Though the Series 1  can also move with your back, since all Steelcase chairs have LiveBack technology that makes the chair follow your every movement, the Think felt more liberating. And that is where maybe the additional moolah went, there has to be something accounted for right?
Another thing is, that the backrest of the Series 1 is a mid-back. So taller users, those who stand 6 feet above will find the side of the chair pressing against their back. 
Even those who stand 5'9"-5'10" but have a longer trunk than the torso will also find the backrest too short. 
The Think, on the other hand, has a higher backrest, which can accommodate taller users. 
 Both units also have adjustable lumbar support in form of a lever or bar. You can easily move it up and down. 
Though for the Think chair, the bar easily comes loose. Sometimes, if you're moving too much, the lumbar support can fall and go out of place. 
And you might think that it can be revolting, let alone irritating. But surprisingly, it doesn't really matter.  
Thus, the adjustable lumbar support doesn't really make much sense. 
So is it a bad thing? Not really, the Think is very intuitive and makes it seem like adjustable lumbar support is just some sort of a formality. So we did not find this small slip bothersome at all. 
How about the arms?
Both units can come with 4D arms, you can even choose to have them armless. Though for the Think chair,  you can opt for fixed arms instead. 
We find the arms of the Think sufficiently sturdy and stable. That of the Series 1, on the hand, feels rockier. It can easily change its pivot if you accidentally bump your elbows against it. So it can be very wobbly. Also, the pads are quite large, though comfy, so some petite users might not love them the most.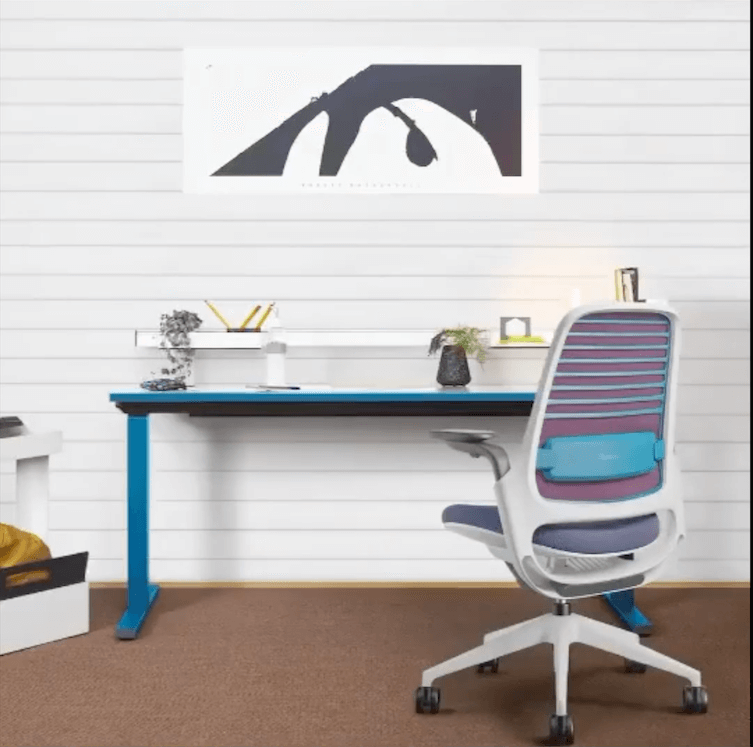 And oh, we can also make a comparison with the Series 2. This unit can also be pitted with the  Think since it shares very similar features with Series 1. 
And those who are already satisfied with what Series 1 can give but find the arms problematic, can shift to Series 2. The arms are better with this upgraded Series chair. It's less likely to wobble or move. 
And Series 2 doesn't have adjustable lumbar support, but it is more intuitive compared to Series 1. So it can be a closer match to Think when it comes to the back support. 
Who will love Series 1?
 The Series 1 is like a more petite version, a smaller brother of the Think.
It's less in everything but they do share very similar specs. You can expect a smaller seat width, lower backrest, less liberating tilt tension, and of course a lower price. 
The activated seat mechanism is also a pleasure for your bum. So albeit with firm support, you can feel comfortable for the first few hours. You can also see this same technology in the Think chair and other Steelcase units.
So those who are petite or average-sized users will find it sufficient. The Series 1 allows you to enjoy a coveted Steelcase chair at an affordable price. 
And who will love the Think chair more?
Those who love the Series 1 but find it too small, or find the backrest too short, will definitely love the  Think. 
It's like they're upgrading the Series 1 with bigger dimensions, better arms,  and a more intuitive back. But of course, it comes in with the added costs. 
Because if it's just the arms that are an issue, it's more economical and will make more of a sense to switch to  Series 2. 
Also, we find that you may last longer in the Think chair than in the Series 1. Since the back support is more intuitive, it is more comforting sans the firm to mid firm support.  But we still don't see it fit for the extended sitting.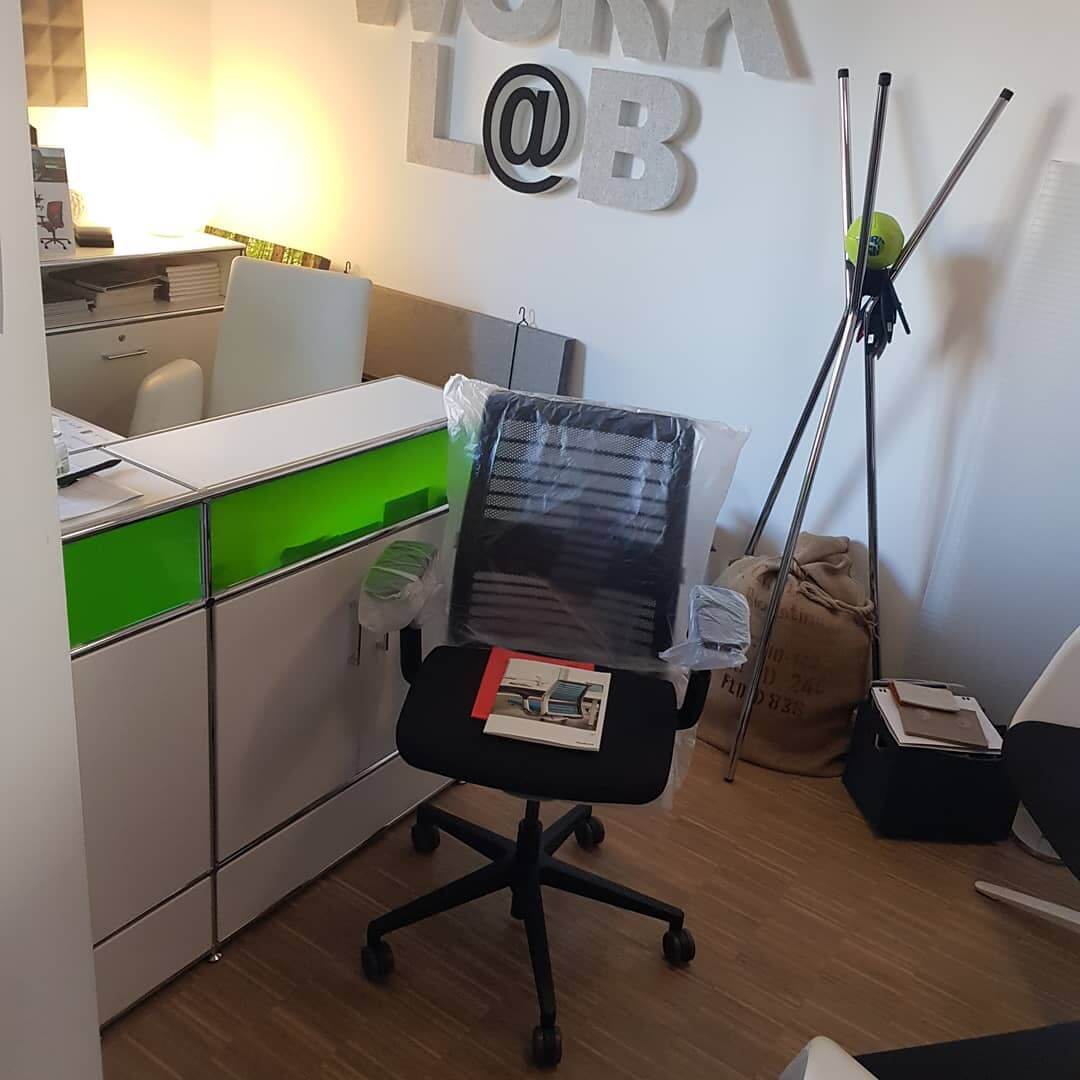 Also, the more liberating tilt option will give you a breather. So if you feel that the support is starting to gnaw your back, you can always set it two to three dials back and enjoy a breather. This is something that will be limited in Series 1.