Sitting for long periods of time such as 10-12 hours a day, the chair you use can make a huge difference in your comfort and overall health.
With the rise of the gaming industry, true hard gamers have begun to wonder whether a gaming chair or an office chair is the better option for their battlestation.
Everyone knows the winner of this showdown is clearly the office chair.
Let's look closer and don't fall for the marketing of both side
Office chairs are designed to provide comfort and support for professionals
Gaming chairs are designed to look fancy and eye-catching with bright colors and a race car-inspired design
How about the lumbar support?
When we say that office chairs are made with ergonomics, we mean that they are designed to provide optimal comfort and support for the human body while seated
Lumbar support is one of the most important features of an office chair, designed to support the lower back and help maintain the natural curvature of the spine. The benefits of lumbar support are many, we won't mention too much
Many high-end office chairs such as Herman Miller Aeron, Steelcase Leap, HON Ignition, and Humanscale Freedom have built-in adjustable lumbar support. Their backrests are made from breathable mesh/leather materials, allowing for air circulation and reducing the risk of sweating and discomfort.
Does any gaming chair has this feature?
Of course, the Secretlab Omega and Titan, DXRacer, the Noblechairs Hero. Herman Miller Embody Logitech and Haworth Fern are another higher level of gaming chairs
But they are not good as the real ergonomic chairs
Gaming chairs are designed to look fancy
To put into a gaming room, like this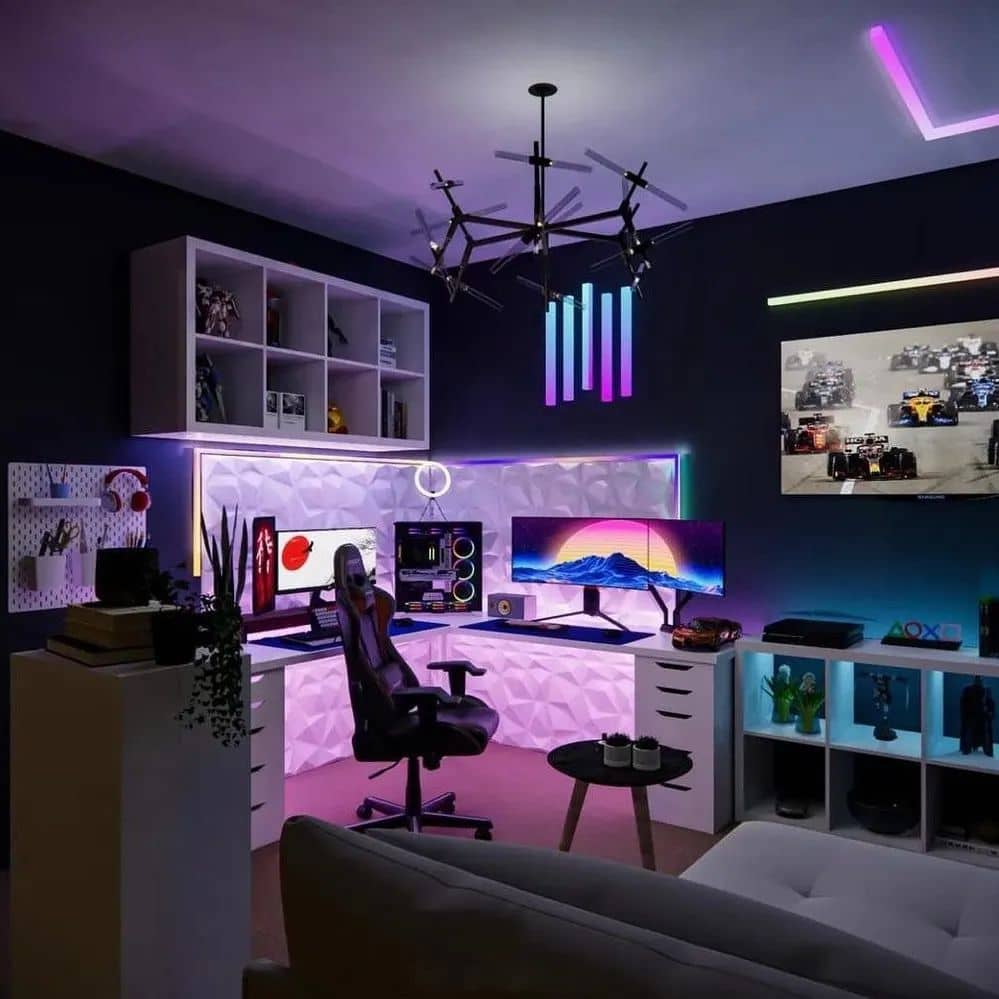 They are marketed as chairs specifically designed for gamers, but in reality, they are nothing more than overpriced office chairs with flashy designs. Classic gaming chairs are not designed with the necessary lumbar support and adjustability features that office chairs usually have.
They are often made with cheap materials:
PU (polyurethane) leather instead of genuine, easy to get crack or peel
PVC (polyvinyl chloride)
plastic components in place of metal
thin foam padding
And let's check some High-end office chairs. They are usually made with
high-density foam padding such as LiveBack technology flexes with the user's movements for great dynamic support of the spine. Also, apply with the seat and backrest
soft and durable genuine leather upholstery
metal components, such as aluminum or steel frames – for example, the Aeron, usually uses a polished aluminum frame
An important note
The way you sit has a much larger impact on your back health than the type of chair you use. Simply getting a good office chair will not help if you don't sit properly. On the other hand, having a gaming chair and sitting correctly is perfectly fine for your back health.
But how about a perfect setup?
A standing desk is a game-changer!
Standing burns more calories than sitting
A standing desk allows you to switch between sitting or standing
With a sit-stand desk, you can switch 4 or 5 times each day
It will change your life, forever!
Our advice
Everyone's body is different. A chair that works well for one person may not work for another
Let's try them out for yourself and see what works best for you.
Even two people who are the exact same size may not find the same chair comfortable
So don't worry if you love gaming chairs than an ergonomic office chair
And don't worry if you don't feel comfortable when sit on a $1k+ chair from a famous brand
It's fine, totally
And one last thing,
the winner of this showdown is always the office chair!