Flexispot is known for its affordable standing desk converters. Even if it's a China-made brand. So the question is, can we expect it to be durable? Yes, but to a certain degree. Flexispot can be a decent balance between affordability, construction, and overall value. So you can get a bit more from the price that you're paying for it. But it's not at all a heavy-duty brand. But it can be an option for those who have a low budget but still would want to get a standing desk converter that can function decently.
And these basically have the same mechanism, an X height adjustment system.  These are preferable for tight spaces. But can you comfortably work with both in your small home office?
 Flexispot? Go for the Classic
The brand has a satisfying smorgasbord of options. You can choose from 6 units of desk 
The Alcove riser is one of the more promising units of the brand. You can choose from 6 units of varying sizes and dimensions.
Another popular one is the Classic riser. This is perhaps the most substantial one, we'll when you can never go wrong with the classic, right? This is a more sturdy option than the Alcove. And like the above mentioned, the Classic can fit up to 3 monitors.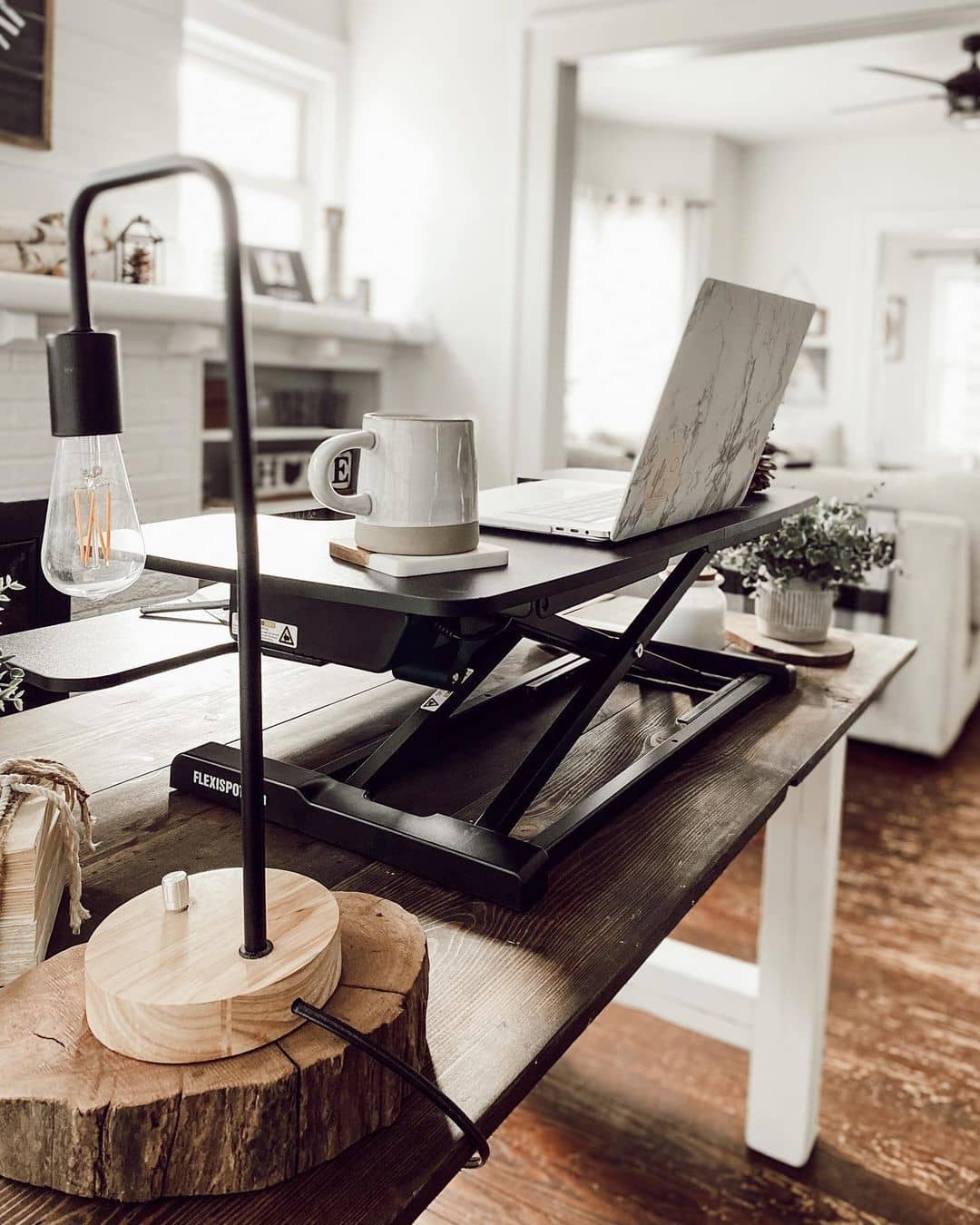 When you go for the Classic, you have several options. You can get the M1 M2 M3 or M4. So it gives you more options from the 6 listed units, the more chances you're going to find one that suits your needs the best,
This riser also features an X-lift vertical height adjustment system. And it does seem pretty easy to lift, most will be able to do so using only one arm. We also like the large keyboard tray. You will be able to put more on it than a small keyboard. 
And having more space for your arms while having a standard-size keyboard is a luxury that not all desk risers can offer. And it feels substantially stable so long as you do not exceed the weight capacity of the unit. You may be able to lean your arms a bit and it will still be acceptably stable, with no noticeable wobbling.
But of course, the good bits do come with bad bits. The bigger keyboard tray can stick out. So this unit will require more horizontal space. So if you are in a smaller room, you can feel a bit cramped. But it still has a smaller footprint compared to standing desk converters with a Z lift mechanism. Since the unit goes up and down rather than up and forward, it can still save space compared to a Varidesk unit.
The keyboard tray has bigger dimensions and it is also somehow deeper. So you can comfortably place your mouse or anything without having to worry about it slipping off the tray. 
Also, this may not be the best choice if you are petite or stand lower than 5'2". Even the lowest height adjustable range of the Classic can still be too high for those who are petite  
And oh, the height adjustment handle of  Classic Riser is close to the gaps in the X frame. So there are pinch points. So you have to be careful every time you adjust the unit. 
So this is also a great option for taller people since it can go higher. It will be able to go tall enough for those who stand 6'2" to 6'4".
What about Ergotron?
With this brand, you also have about 6 choices.  But the most significant is the price difference between the Flexispot and the Ergotron standing desk converters.
You may be able to score a regular-size unit from Flexispot for less than 300 dollars. But the Ergotron has a higher asking price with the more affordable one costing less. This is the mini and compact version.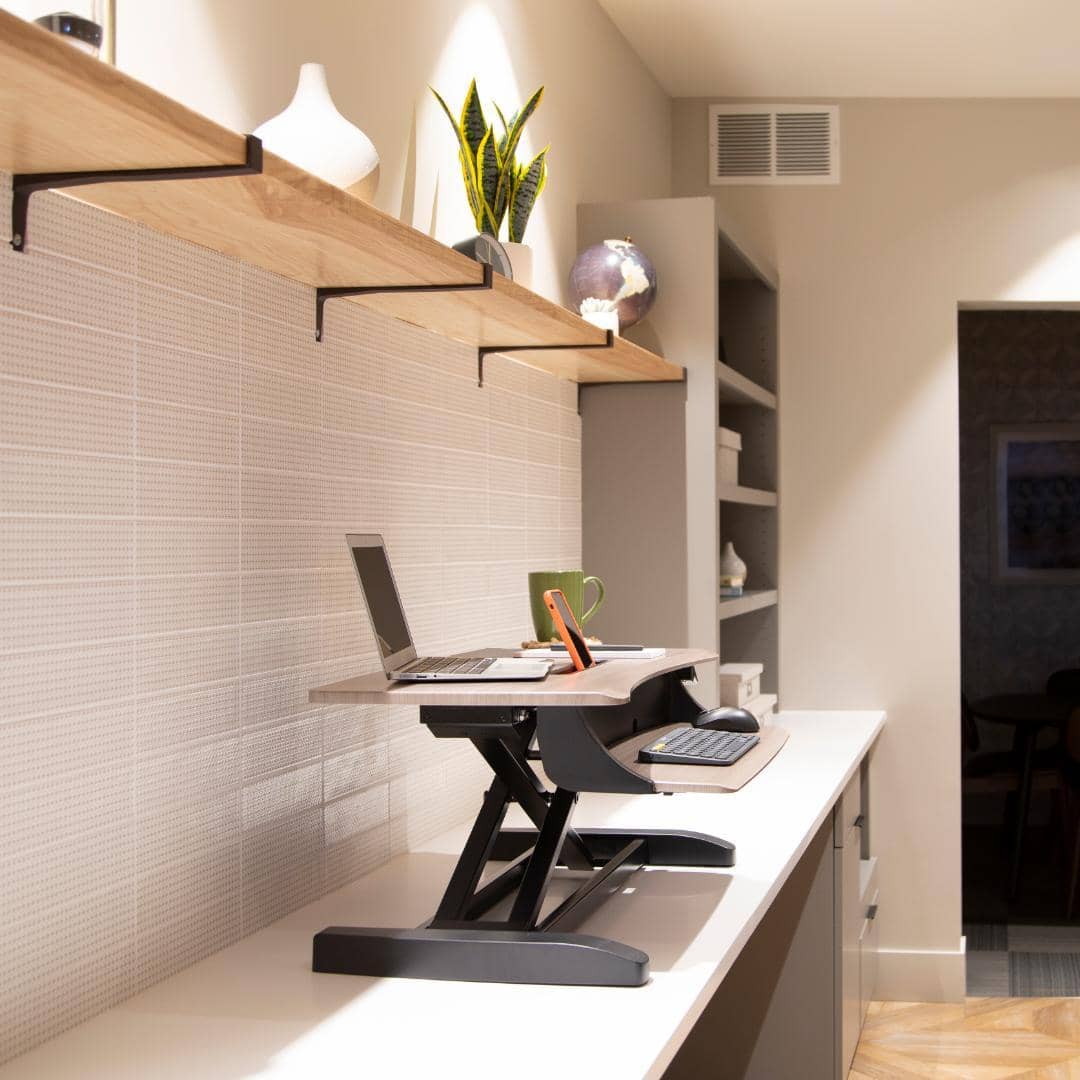 It does come with a  heavier construction. Regardless of what series, it feels more heavy-duty and feels more stable compared to Flexispot. And even from afar, you will be able to tell that the overall construction is more polished and made of expensive and premium materials.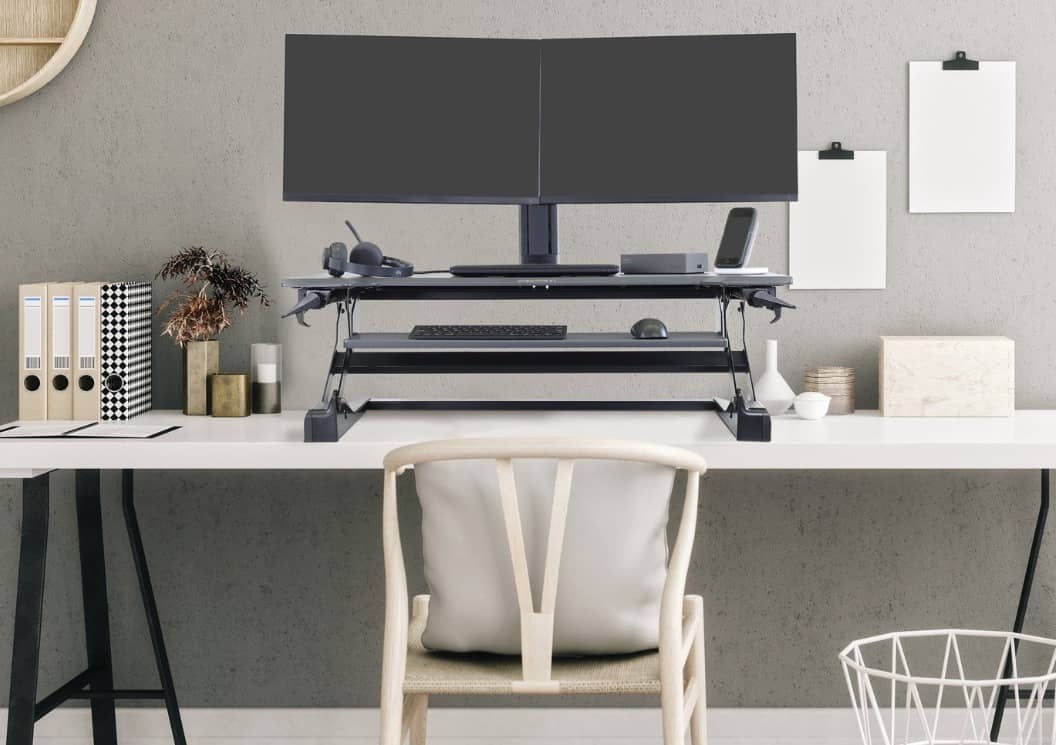 Also, if you have larger and heavier monitors, better go for the Ergotron. 
Ergotron? Go for the WorkFit T
One of our favorite units from the brand is the WorkFit T.  It is also the most popular one. It has a substantially larger surface area and compared to the Alcove riser, it has a higher weight capacity of 40 lbs.
But when it comes to the keyboard tray, it is smaller than what you get with the Flexispot. But it does feel enough for a regular-sized keyboard. So if you're looking for more space to rest your arms, you may find it lacking.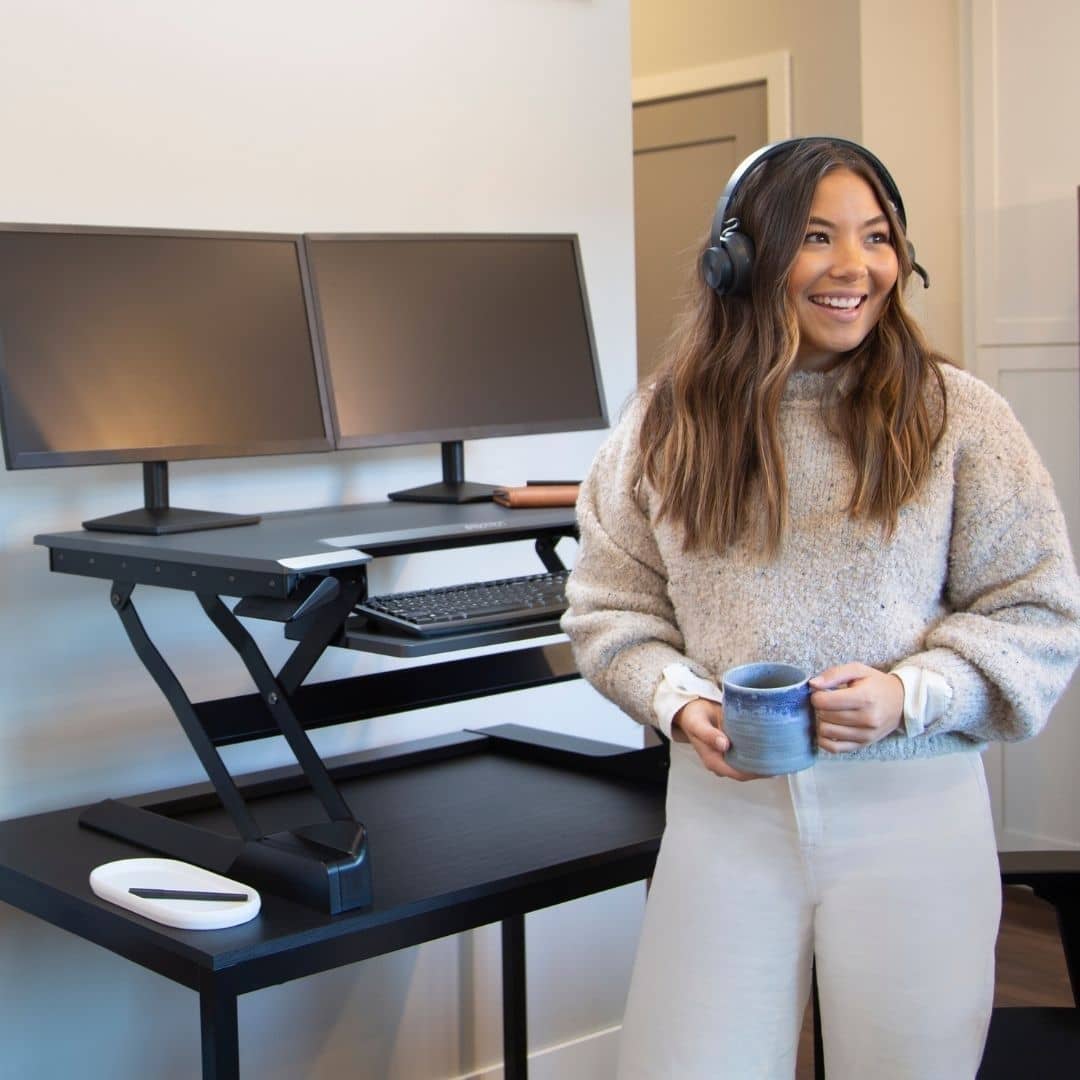 Like the Classic riser, it also has an X lift system, so it also has a smaller footprint. And since the keyboard tray is of smaller size, it doesn't stick out too much like the Classic's So this eats up a much smaller horizontal space. 
The disadvantage is that since it is a more hefty unit, this can be a bit more challenging to raise. You can easily do it with one arm with any Flexispot unit. But you will need both arms and more push with the Ergotron. Like Flexispot. It's also a viable choice for someone who stands 6'2" to 6'5".
Overall
The Flexispot can be too high. Some who love the unit but find that the keyboard tray is too high opted to use the riser without the tray. Now, this can be easy to do since it is removable, but it can lessen the value of the unit. And attempting to use a keyboard tray that is too high for you can give you carpal tunnel syndrome. So this is not suitable for the petite or even those who are slightly smaller.
So both the Flexispot Classic and  Ergotron WorkFit T  can go high enough for taller people. But the keyboard tray of the Flexispot seems to be situated much higher compared to WorkFit T. So those with a shorter torso might not find it as comfortable to use. Thus, WorkFit T and almost all of Ergotron's desk risers feel like it has better ergonomics. That also accounted for the higher price.
Despite the shortcomings,  the Flexispot can still give a decent balance between construction, stability, and price. But we feel like the positioning of the keyboard tray is what can put it off. 
So this is also an important consideration if you are eyeing this unit.
Both are space savers compared to their contemporaries. But the tray of the Classic riser can also stick out too much. So even if it has a smaller footprint since it just goes straight up and down, the tray can eat more horizontal space.  So if you're living in dorms and small apartments, ensure to do the measurements first before swiping your card for it.