A white desk chair can make a small room seem wide and airy. The beauty of the color white is that it can also make furniture look more expensive even if they are very affordable. That's why white minimalist setups are on the rise. It can even make you more productive.
So we are also on the hunt for the best ones that are also as functional. We don't just settle for cheap prices, we also ensure that our readers can find value in them. 
| | | | | |
| --- | --- | --- | --- | --- |
| Desk chairs | Seat width | Adjustable/ Seat Height range | Seat depth | Weight  capacity |
| LOBERGET Swivel Chair from IKEA | 17 3/8 " | 16 ⅞-21 ¼" | 16 7/8 " | 243  lbs  |
| Mara adjustable drafting stool | 13" | 18.70" – 23.42" | 16" – 24" | 300  lbs  |
| Winado  Salon Stool Hydraulic Saddle Rolling Chair | 17.6" | 20"-25.6" | 14.57" | 300  lbs  |
| Rosenbalm Side chair | 17.6" | 17.6" | 18.7" | 200  lbs  |
| Best Office Ergo mesh  chair | 19" | 16.75″-20.5″ | 19" | 250  lbs  |
LOBERGET swivel chair from IKEA
The size of the chair is quite comfortable and roomy enough for those who have average dimensions. 
The seat has your butt cupped in this egg-shaped seat. But if you have wider hips, you might feel too cramped since it might have that restriction like a bucket style kind of seat with the flaps on the sides.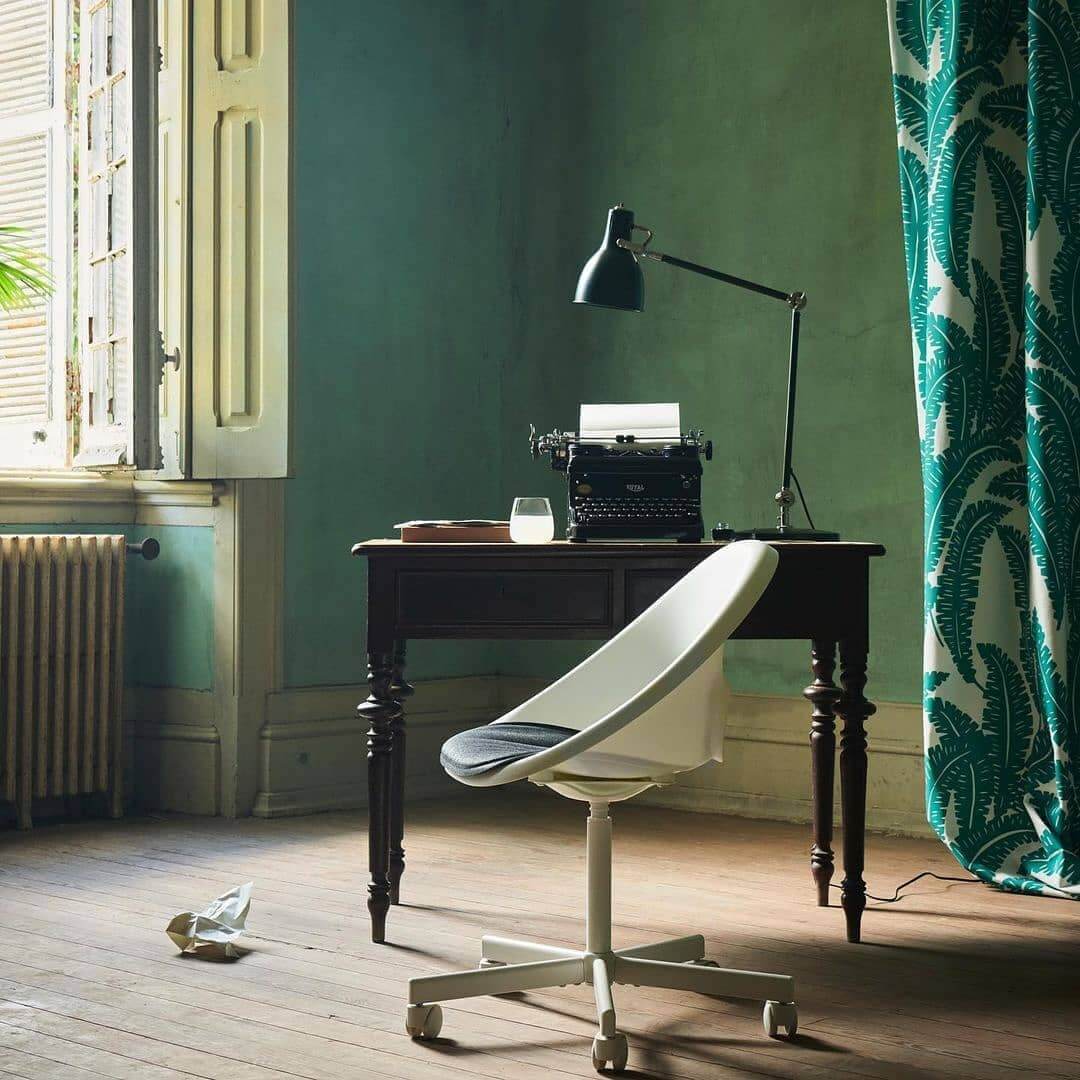 It has a peephole at the lower back portion so it can allow for airflow and can still be comfortable when the temperature rises. 
Design-wise, it's simple and has this edgy modern vibe. If you have carpeted floors, they will roll along smoothly. As for slippery hardwood floors, the wheels automatically lock the first time you sit on them. 
So that will spare you from unintentionally sliding off the floor or worse your butt falling to the ground. 
We find this feature a very nifty one. For a chair under 50 dollars, a lock safety feature is a bonus. That also makes this chair safe for children to use. The brake mechanism is also sensitive so you're less likely to slide off the floors without you intending to.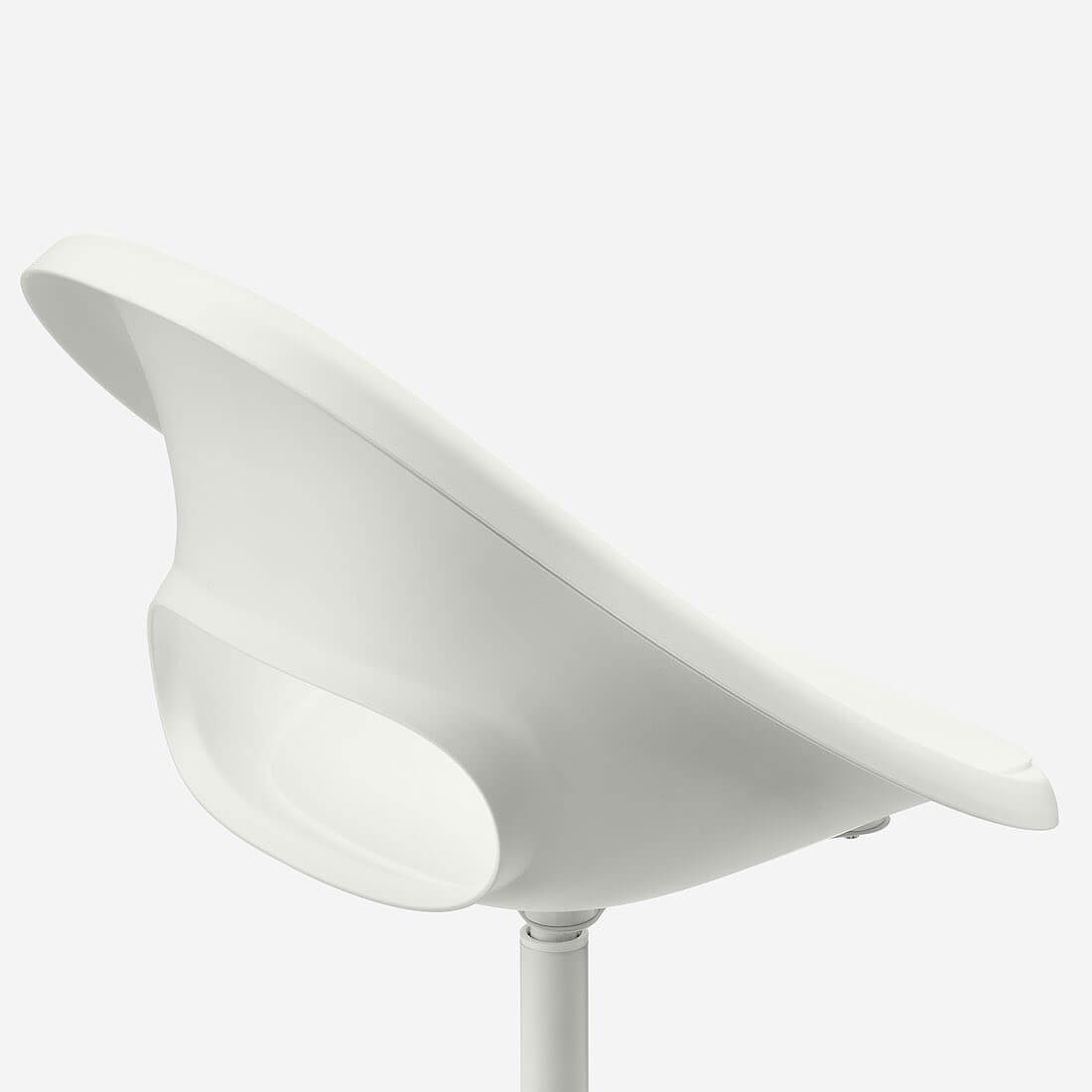 And oh, the seat is also adjustable, it can go from 16 ⅞-21 ¼", range is small but at least there are different options. It does not have levers or knobs, so it still looks minimalist despite the seat being height adjustable. Instead, you just turn the seat clockwise or counterclockwise to adjust the height.
The seat also comes with a cushion. As pretty and dainty as the chair is, it will not be near comfortable without the cushion. And there are times when the brand forgot to send the cushion along. So some just used another pillow, but that may interfere with the aesthetics. So that's one thing to look at after receiving your purchase, check for the cushion. It should be there. 
 Mara adjustable drafting stool by Naomi Home 
A drafting stool can push you to be more productive since this is more of an upright seating option, it will not allow for any recline. The level of comfort though is very subjective. 
This Mara stool has a 13" size seat, this is the smallest of the lot. So we only recommend this to those of average dimensions, so if you've wider hips you might not find your butt fully supported by the chair.  
But if your body dimensions fit into it, it can be rather comfortable. It has sufficient padding too. But we think you just have to have a tad bit of cheeks protruding from the sides, you may still be able to use them. Too much, and you will be unstable.
The seat is also adjustable and it has a lever for that. It has a rather small range so this type of chair often works for those who have average height too. 
The backrest is a subtle haven. However, its main function is to stop you from leaning back too much, hence you will be able to assume a more upright position. So this works for tasking jobs. 
We also see this as a great charm for the reception area where everyone needs to be at their feet most of the time. This chair can offer a bit of a rest during idle time. 
Winado Salon Stool Hydraulic Saddle Rolling Chair
This saddle stool will push you forward so that you can tend to your work better. That's why you see chairs of this type in barber shops and dentists. 
It doesn't have a backrest but the saddle seat will push you, not subtly, to be more attentive to the desk. If you need a more aggressive reminder to sit up straight this is it. It is also a great chair for starting active sitting. 
And since it has a horn or raised front, more women will find this comfy than men. The hint, albeit being a smaller one, can be painful on the crotch for men if they will sit in it for a long time. 
So men can find it okay for 12 hours and women may be able to sit longer 3-4 hours, provided that they already have a strong core. 
But those who are not used to active sitting will find it tiring. So we say get used to the chair first, sit on it for 3 minutes a day then take a rest then go back. That way you'll be slowly training your body to sit on a saddle chair.  
 The seat is also height adjustable and has a sleek lever at the side for that. It can go from 20" – 25.6". 
The highest that can go can be comfortable for those who stand until 6 feet, but not taller. Shorter people might find their feet hanging from the seat. 
But since it has a foot ring, you may still use it sans your shorter stature, just make use of the ring. 
This is also a great choice if you need a chair that can go higher and don't mind a saddle seat. 
 Rosenbalm side chair
This is a type of chair that you can use in conferences and meetings. It eats up very small space and is stackable, so it's easy during cleanup and storage
So you will not be stacking chairs upon chairs in your home office, but this is a great option if you are very short on space and want a cheap one that doesn't necessarily scream out cheap. 
 It is lightweight and has a very skinny profile, skinnier than some ding chairs. But albeit that, it has that kind of modern and urbanism vibe to it. So aesthetic-wise, even with the lesser materials, it doesn't look defeated. And it will not look like you skimped on the budget for aesthetics. It can even be a statement piece in other rooms, not just your home office.
The backrest of the chair also has a horizontal peephole for more airflow. Not that you need that since this is all airy on all sides because of the thinness of the plastic.  
But the peephole also adds up a glam touch to a cheap chair.
But of course, since it's thin, it's not heavy duty. So it's not for chunkier and taller folks. Luckily the seat is wider than our other options, so it will be able to accommodate wider hips. 
Boss Office Ergo Mesh
This is the only ergonomic chair that landed on our list. 
Hey, it's not easy to find a functional one with the price tag that we have here. It does have ergonomic features other than seat height, but it will be a basic, basic ergo chair. 
As such, it is best for those of average height, not taller than 6 feet. If you are, you may find your legs bent too much and the backrest will not be adequate for you. 
It has lumbar support too, a very basic one which is in the form of a panel and not adjustable. 
But it does the job of giving average comfort to those without back problems. If you get this chair in another color it might look cheap. but in white, well, that is the beauty of it, white hides cheapness. 
It has a mesh back and a standard cushioned seat. It may be a bit thin, but it's not too firm and you will not feel the material underneath, so it still basically works for us. So those looking for a very cheap mesh chair can be happy with this. 
The most unlikable is the arms. It's just too weird. It has this L-shaped figure that hogs all the space at the front side of the seat. So you will not be able to sit casually with one leg or both legs on the chair. We might have even loved it if the arms can be removed or if it came without. 
Conclusion
There are plenty of options available for under $50 not only look good but also are functional and comfortable too. Choose the one that best meets your needs and budget, and enjoy the comfort and support it provides.