What made Kerdom a distinct office chair is that despite the very cheap price, it offers four portions of support. And the brand claims that it can provide impressive lumbar support for users who stand 5'4"- 6'4. So this is a  very affordable and comfortable find that can be used by a larger group of people. Not to mention, everyone within the mentioned height range can find the back support sufficient.
It may sound too good to be true that both users of average height and taller ones will be able to fit sublimely into a single chair.  Especially with taller people having longer legs or lower bodies, it made us think twice if the claim is true.
So here we are either to debunk the claim or highlight them.  Let's see if this group of users will indeed find the Kerdom very sublime and comfortable for a whole day's work.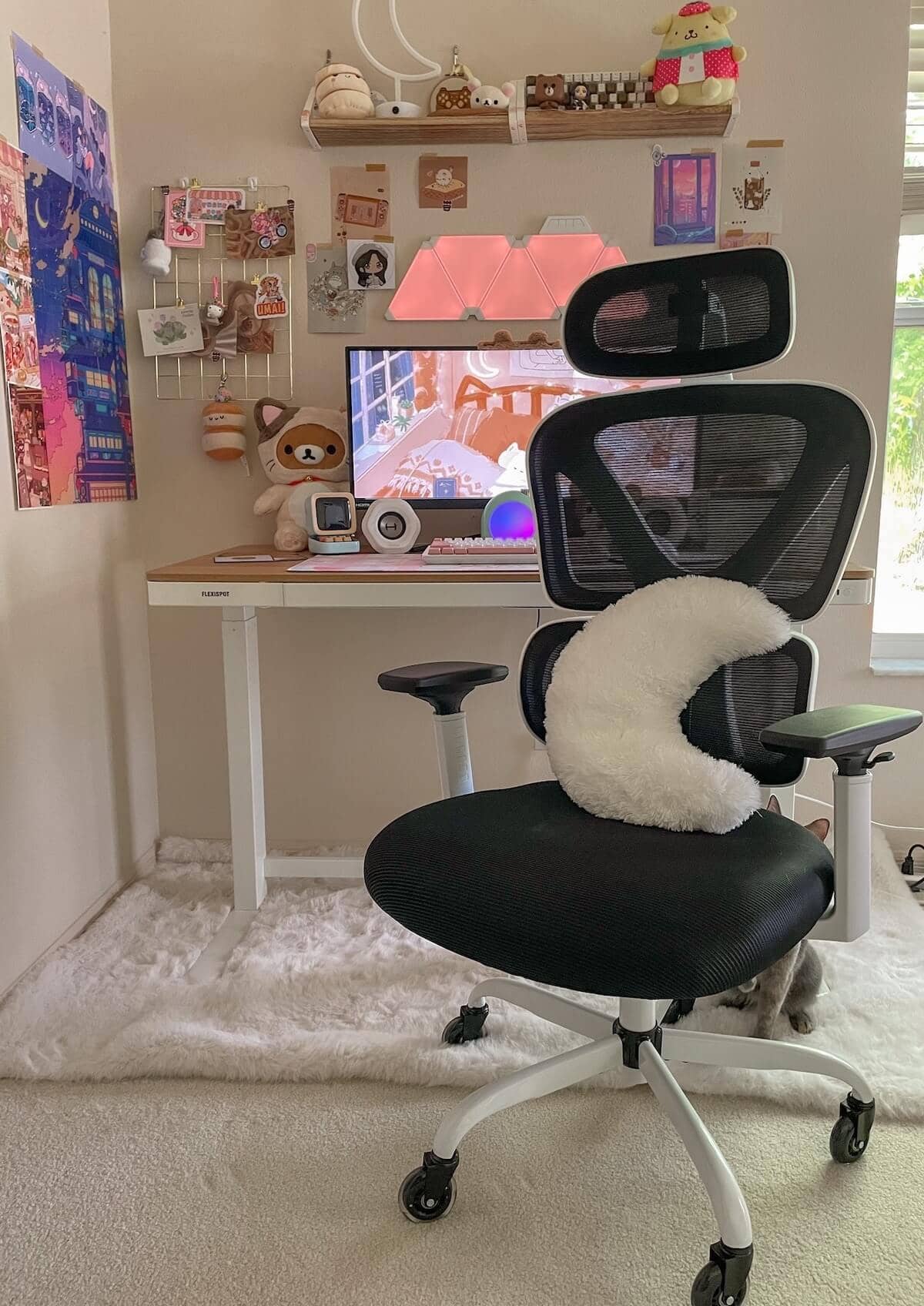 The seat is indeed indulging 
We'd like to take each part one by one, so let's identify these four points of support. So we're seeing the neck, back, butt, and arms. 
 The chair is made from a soft seat mesh seat. In fairness, it is a bit cushy and not like other cheap mesh material that scratches the skin.
 It is also highly resistant to wear and abrasion. So we can say that the claim of the material being more elastic and breathable than the average mesh chair is true.  
So this one's perfect for summer or all-year-round use. Since it's getting hotter most months of the year in more parts of the world, this is a very trending material.   
But even if the mesh is soft to the touch, it has a nice firmness to it. But it doesn't feel numbing on the butt, and you'd barely feel the material or frame underneath. It could even feel softer than other premium mesh chairs. 
So in terms of the seat, this is one you'd feel comfortable sitting on for the whole day. It's resilient enough and durable that it will take some time before the mesh starts to sink and deteriorate. 
With the seat alone, you can compare it to steeply-priced chairs in terms of comfort level and usability for long hours.
But of course, that's just one of the gauges. So let's get to the nitty gritty of the back support in the next section. But the back support is not as superb as the brand claims it to be.
Yeah, one of the highlights of any ergonomic chair is the lumbar or back support. And for Kerdom, material-wise, it has the same soft mesh with just the right amount of firmness as the ones on the seat itself.  So it will feel soft on the skin even if you are wearing backless or sleeveless clothing, you can even go bare on top and the material will not scratch your skin. 
But we aren't sold if it is comfortable for the height range the brand was claiming earlier. 
 You see, the backrest consists of two parts, the upper and the lower back support. So it's not one continuous unit. 
And this type of chair often will have more fluidity and can be more flexible to follow the user's movement more than one single piece of the backrest.  
That could have made the backrest more intuitive than the standard cheap ones. This may also be more accommodating for micro-movements and you will be able to sit on it longer.  
 But here's the thing, the lumbar support is not adjustable. And this often is the case with backrests that have a more flexible mesh and a more fluid design. So in a sense, it will not be able to cater to a large group of individuals. It will not be comfortable for all users who stand 5'"4-6'4. 
But here's the catch, if you do fit into the chair, if the back support falls in the right spot, you will find that this is one of the more comfortable and cheap ergonomic chairs with impressive back support. So it's either a 0 or a 10. 
This is also a very indulgent chair that can recline further back than chairs of its price.  The recline is also very smooth and has 5 available positions. The tilt feature is very comfortable and makes it possible for a relaxing snooze.
 How about the neck support?
Now let's take a look at the third support point, the neck or the headrest. And like the seat and the backrest, it also has the same soft and firm mesh material. 
But the headrest can only be tilted, not adjusted up or down. 
So for most, this can put them in a not-so-comfortable position. Though some opted to altogether remove the headrest if this is the only thing that's causing an issue.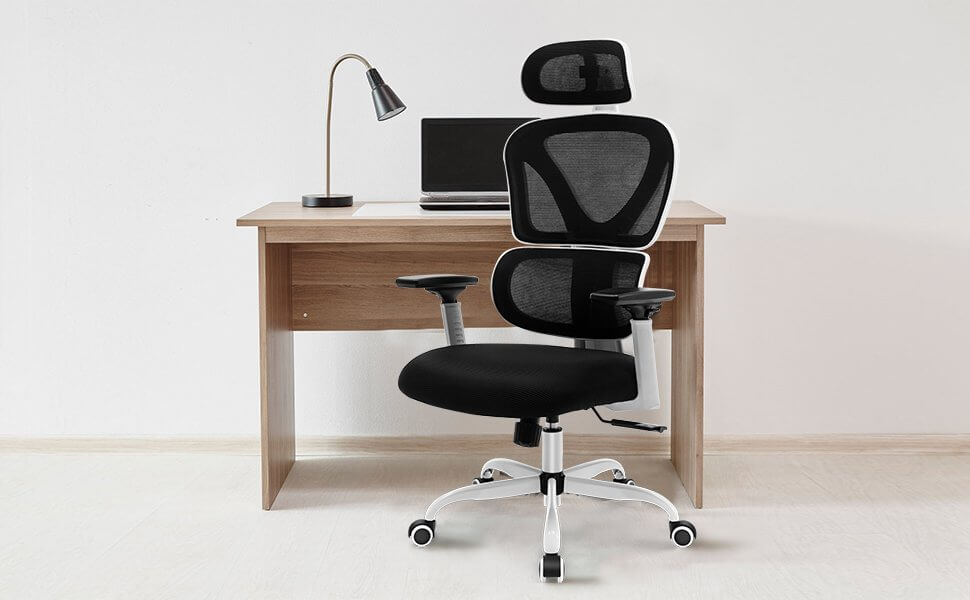 The arms are not for all  
The armrests are adjustable. It also has sufficient height and pivot to reduce arm fatigue. So overall, it may look plain and not cushy, but it does support more range of movement.  
But it can be on the firmer side. So if you favor something softer for your arms, then this chair is not for you. 
Best for average height people
Also, this might not be that comfortable for taller users. Neither is it for those who are almost petite. If you are 5'"4-5'5", you may find that the chair will not be able to go low enough for you.  But that can also depend on the dimensions of your body. Say if you have longer legs, then you may be able to still fit decently into the Kerdom.
But it's not that comfortable for taller people either. If you stand more than 6 feet, the neck rest may hit the shoulders and the seat bottom can hit the mid-thigh. So this chair is for John Doe who has an average height of 5'6"-5'9". 
The Kerdom is rated to hold 300 lbs. And the seat can be wide enough to accommodate those with bigger hips and dimensions. 
But we are not confident that the build of the chair will be able to seat those who weigh 300 lbs. So we see it better suited for those of average height to slightly chunky ser.  
Expectations from the Kerdom
And here are some more bonuses that you can get from this budget-friendly ergonomic chair.   
The wheels are very nice. They are smooth, and quiet and will not scratch your hardwood floors. They can go over any kind of floor without making a fuss. And this is not that common for budget office chairs. Most will have a hard time rolling along floors and getting stuck. Others may make a lot of squeaky noise. 

It is an aesthetically pleasing desk. You can instantly tell the difference at first glance. 

It is also very easy to assemble. The brand has tutorial videos on YouTube that are perfect for those who are new to DIYs.
 It's great for working longer hours since the material has just the right softness and firmness. You can not tell that it's cheap if this will be your only gauge. However, with the lack of adjustable lumbar, this will either fit you or it will not. 
The two-part backrest also makes the scope of users narrow.  Since you have to exactly fit into the chair so that no frame will bump into any part of your back.
But as we have mentioned, if you fit into it. You will not want to get out soon.
And with the recline that also goes further than usual and the nice tilt, you may also use this for gaming.
We also see this great for those who move constantly within the day even when they are seated. The more flexible mesh can short you.
But of course, all of these will boil down to one determining factor, that is if you fit into the chair.