Are you tired of spending a fortune on office chairs only to end up with something that is uncomfortable and unproductive? If so, then you know first-hand how frustrating it can be. After all, the wrong office chair can lead to an uncomfortable workday— or even worse – health problems! Fortunately, there are plenty of quality options available at affordable prices. We'll explore the best office chairs for under 500$ so you never have to sacrifice comfort and productivity ever again. Feed up being stuck in a low-end chair?
Office chair
Steelcase
Series 1
Haworth Soji
Sidiz 50
HON Ignition
2.0
Weight capacity
lbs
400
325
250
300
Warranty
12 years
12-years
3 years
5 years
Seat height range
16.5″ – 21.5″
16.4″ to 21″
18.9″-21.6″
171∕8 – 21 1∕2
Seat width
19.5″
20″
19.9″
20″
Seat depth
15.5″ – 17.75″
2.5″
adjustment
18.9″ – 21.6″
16 1∕4″ –
19 1∕4″
Lumbar support
Height
Adjustable
Height
Adjustable
Height
Adjustable
Height
Adjustable
Arms
4D
4D
2D
2D
Tilt lock
No
No
No
Yes
Tilt
Tension
Yes
Yes
Yes
Yes
Tilt limiter
No
No
5 Lock
No
Headrest
Optional
No
Yes
No
Recline
Yes
Max 122°
Yes
reclines 23°from
upright position
Yes
Max125°
Yes
Max 117°
Steelcase Series 1 – The chair is not for tall person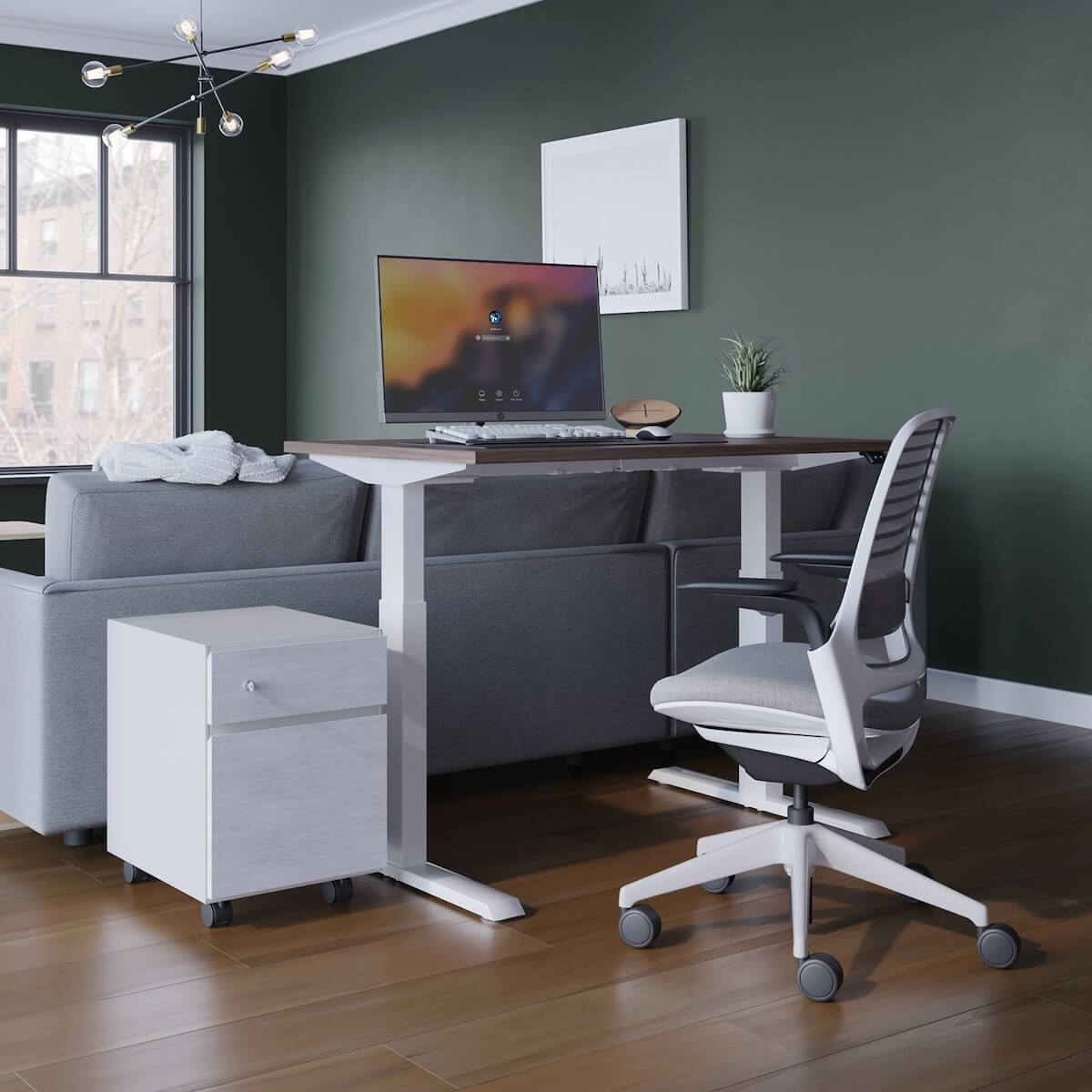 Although this is the cheapest option in the Steelcase brand, they provide a great combination of comfort, quality, and affordability and are still worth it when choosing a chair under 500$. There are plenty of colors for your choice, including classic black, arctic white, blue or grey. However, this chair is just great for those who are small, about under 5'4″, it has a great range of seat height, but the back is also small for those taller than 5'7″.
The special thing is that you can activate the recline with boots if you want as it has a tilt tension and lock function without too much effort. This can be very helpful when it comes to taking a break during long hours of work. The manufacturer offers 12 years of warranty time, with 24/7 shift use.
The seat pad of the Series 1 which is good in the Steelcase brand ensures ergonomic position and maximum comfort. The chair is made with breathable material and has adjustable lumbar support although they are not quite as much push into the lower back.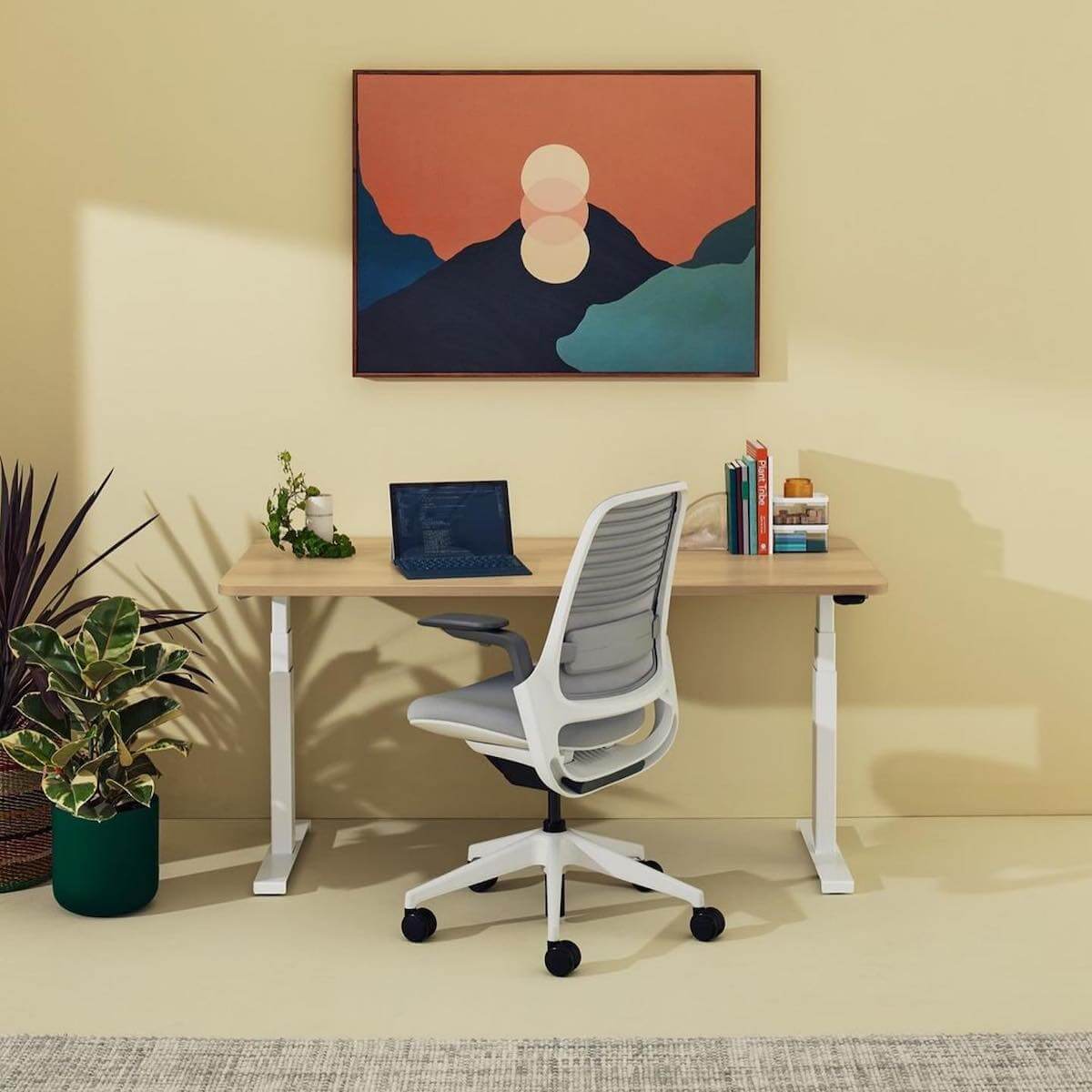 The 4D unique armrest is a bit firmer than the others, while the technique in Series 1 supports your arm very well. Contrary, there is a problem because the small and flimsy arm pad design makes it chronic for someone who is heavy. They make it uncomfortable with the armrests attached to the backrest when you lean back, and the arm is also back at an angle.
HON Ignition 2.0 – Mid-range office chair environment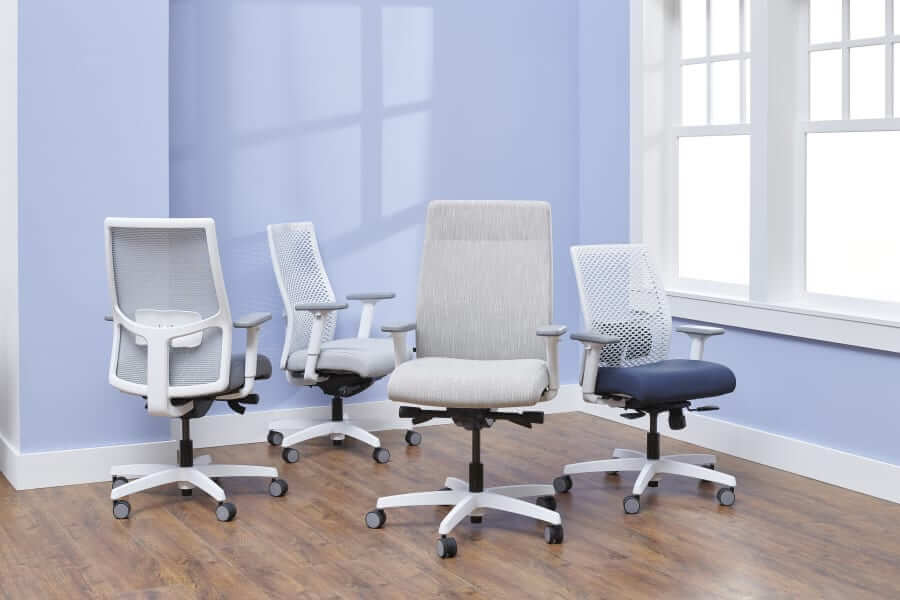 It's sure about the ergonomic and a great value for money when talking about office chairs. HON Ignition 2.0 is a good chair for under 500$. They offer many options and colors in the HON line, from mesh back, mid back, high back, fabric back, and reflex back, to task office chairs – making it very versatile.
To talk about quality, durable construction offers you good value for money. The chair is lightweight and stable enough to support up to 300 pounds of weight.
The breathable mesh suits best for hot weather environments as it allows air circulation and provides you with a cool feeling and ergonomic comfort. The lumbar support here is adjustable so you can easily adjust the height of the backrest according to your needs.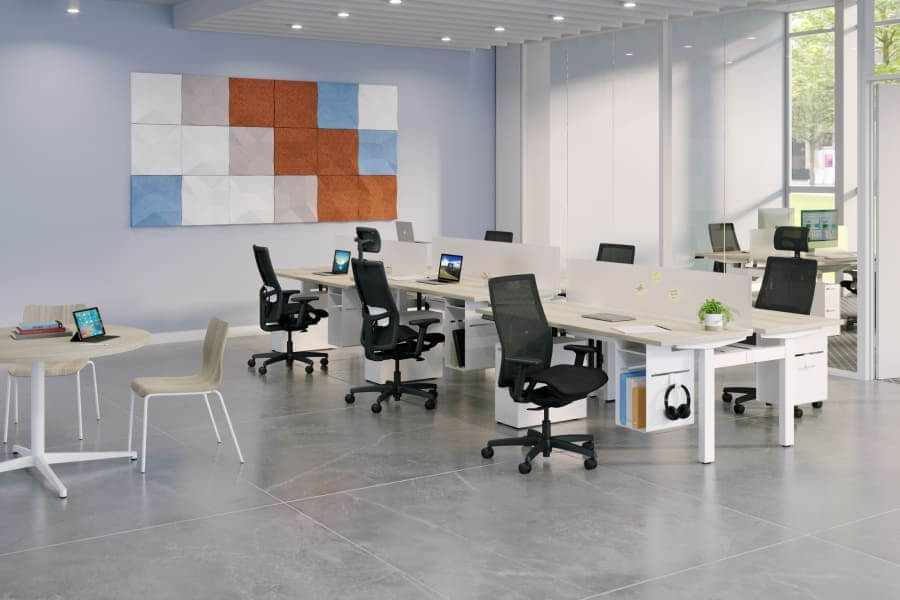 The seat cushions are also adjustable for your posture preference, allowing you to customize the cushioning feel that suits you most. The warranty time is 12 years for the majority of products and 5 years for the upholstery like Steelcase Series 1 and Haworth Soji.
Haworth Soji mesh chair – Ease with the warranty time
Although Haworth Soji isn't going to the same level as other chairs in Haworth, this chair is still a solid chair for this price range. The chair is for someone who has average tall, under 6'0". The overall design of this chair is modern and makes it look like an expensive one, with good build quality and nice finishing at the edges.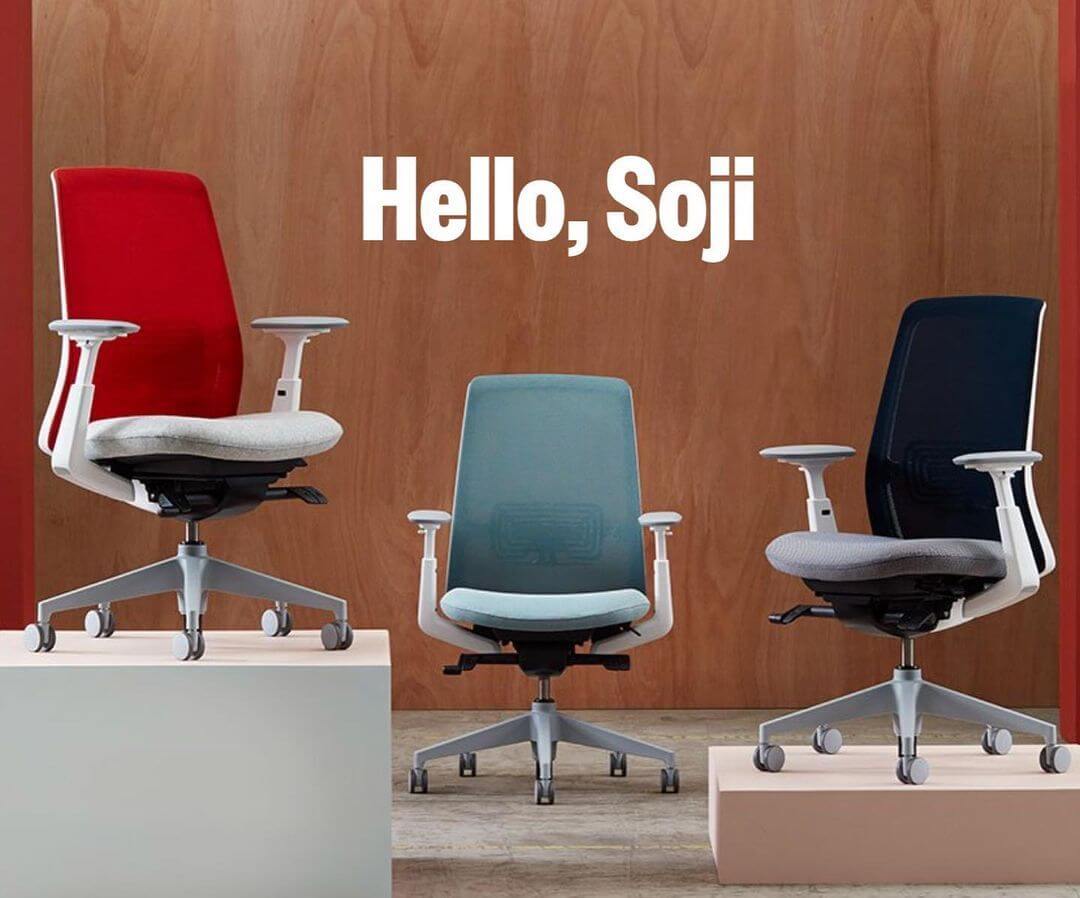 The mesh back creates a premium emotion like Haworth Fern in a middle price, which adds more airflow and ventilation, but the seat cushion is a bit firm when you compare it with other chairs in this list. This makes your butt pain a bit after long hours of sitting. Luckily, get assured that the seat will soften up with time, with no flattening on a high-quality chair like Haworth.
The forward tilt function is the optional add-on on Haworth Fern. It helps you to stretch your legs and body which is important for circulation when sitting for hours. This function allows you to sit forward in the chair during task-intensive work. However, think carefully before adding more extra fees as this is the least need, you won't need it much as you think.
The 4-way armrests are really good solid armrests with thick padding for comfort. They are adjustable to suit any height of the user which also makes them very versatile. You also get a great warranty time for this chair – 12 years and 5 years with the upholstery option!
This means that you don't have to worry about your investment as much because you know that if something goes wrong, you will be able to replace the parts or even the entire chair without too much hassle.
Sidiz T50 – Update thicker cushion recently
Other midrange chairs come from the Korean brand Sidiz, which offer 3 seat color and 2 frame colors. It is a very popular chair among many options because they have most of the feathers of a good ergonomic chair at the price point.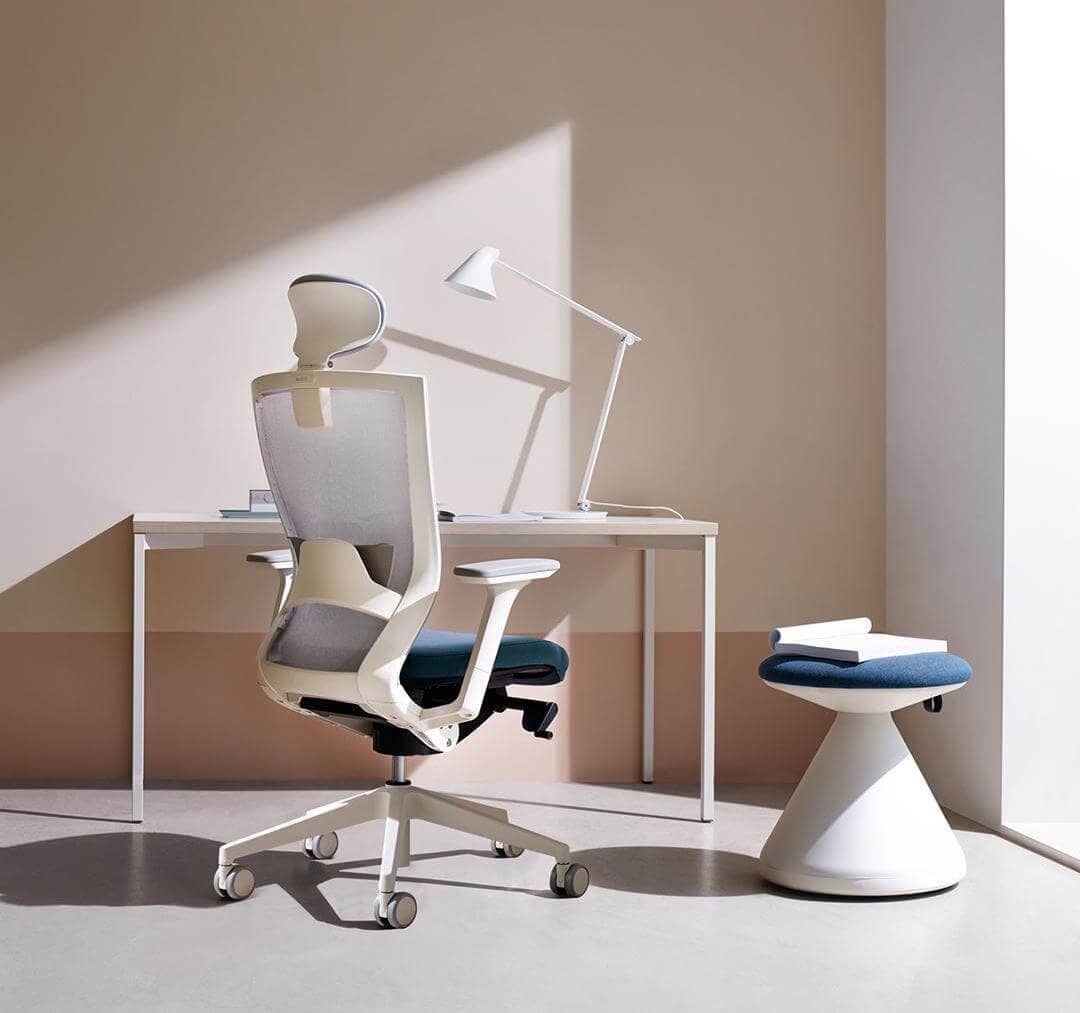 Sidiz T50 provides excellent value for money along with the large seat, which makes you feel comfortable. The thicker cushion was updated is matter a lot, which means a lot which midrange mesh chairs, it helps the back pain problem and makes sure you won't get sweaty.
Like Haworth Soji, Sidiz T50 offers a seat angle adjustment, which allows you to focus on the screen when you are working on the task. And like above, you'll love or hate it depending on your need.
Both tilt tension and tilt angle adjustment be integrated into the chair, so you can set the tilt tension to support your body weight perfectly.
The warranty time is 3 years for the majority of products and 1 year for the upholstery option, which is not as good as Soji but still accepted.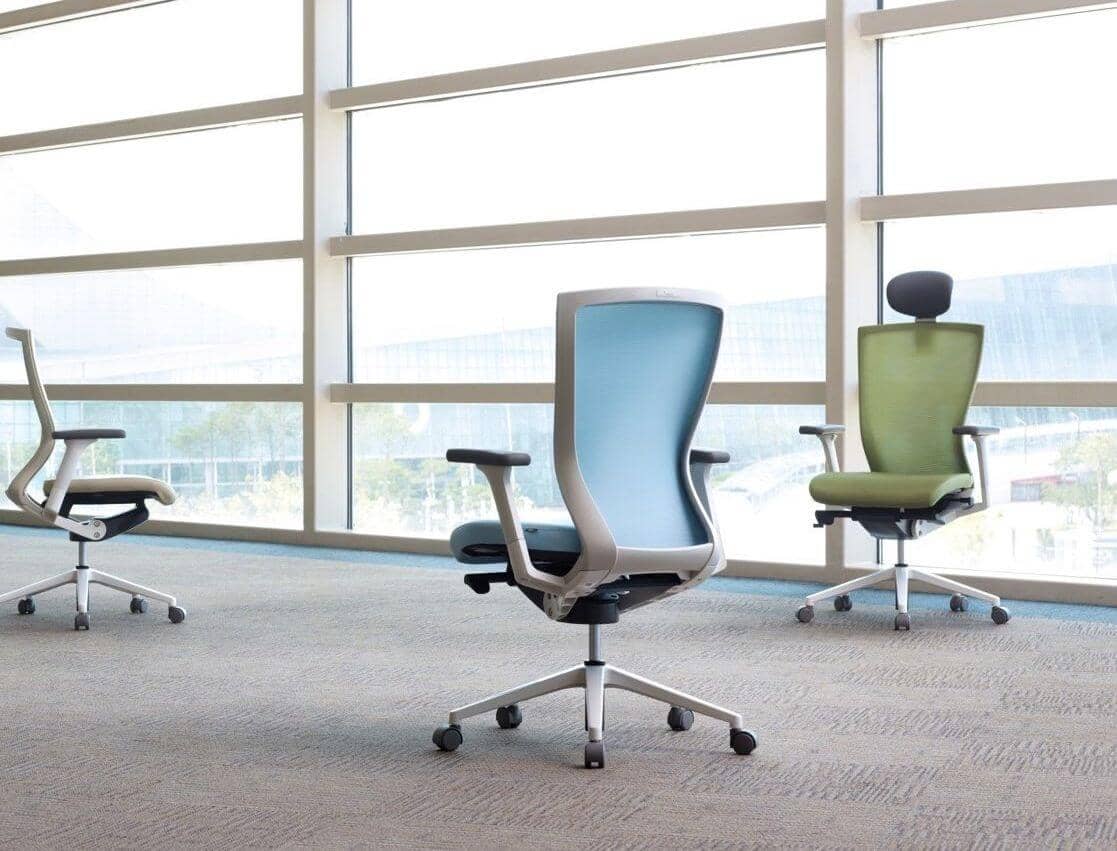 Overall, if you want a comfortable chair with great back support and adjustable functions, then the Sidiz T50 is a good choice for anyone who's looking for the best office chair under 500$. Its price makes it really attractive and the durable construction offers you good value for money. With the breathable mesh, lumbar support, adjustable seat cushions, and armrests this chair can make your workday more productive.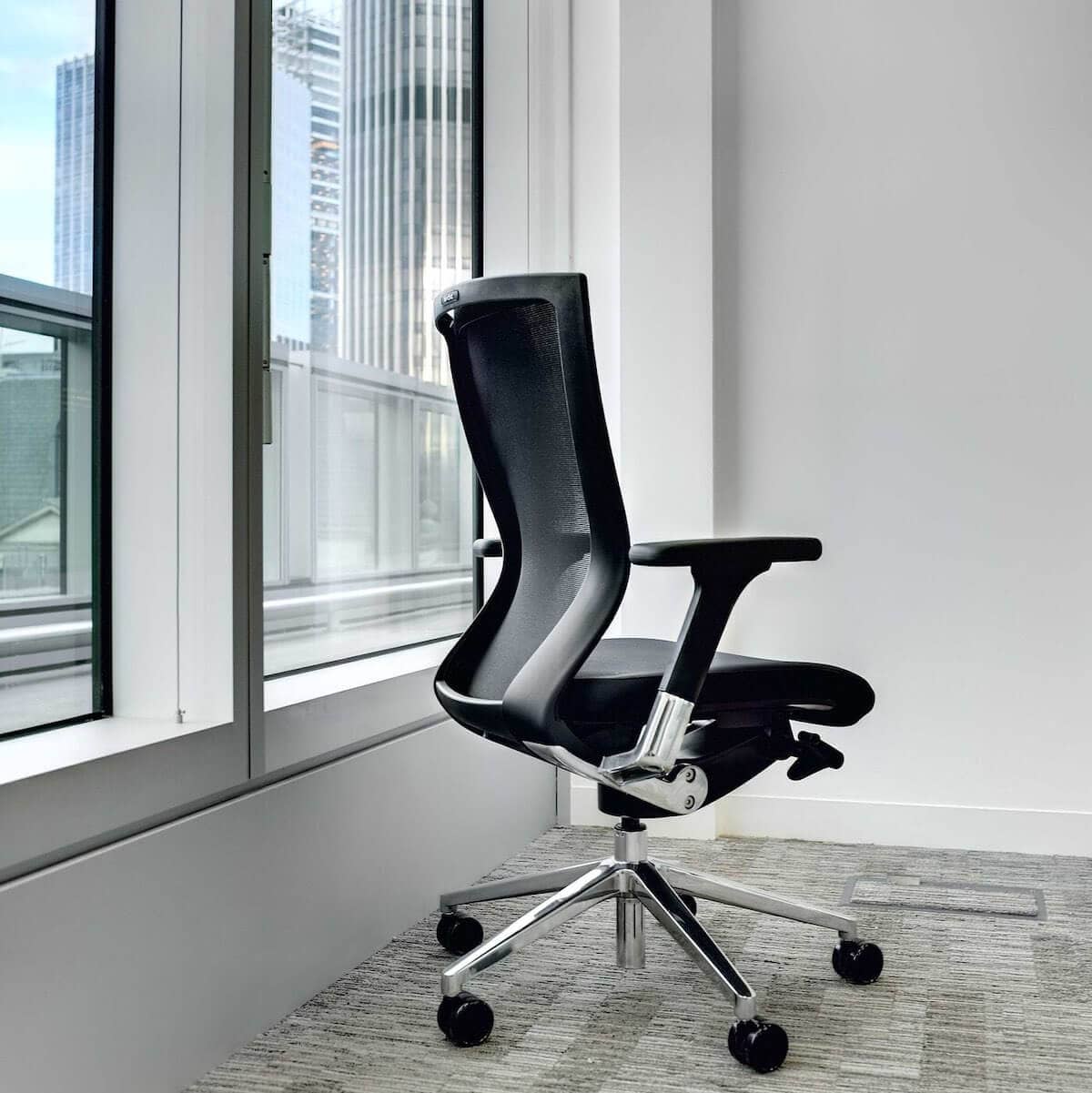 Conclusion
Finding the best office chair for under 500$ is no easy task. There are a lot of factors to consider, from ergonomics to features and price. However, with the list above, you can make an informed decision that fits your needs and budget. All in all, there's something for everyone when it comes to choosing the best office chairs for under 500$. So go out there and make your workday more productive!