When you already have your standing desk frame, all you have to do is go on a hunt for the best tabletop. And we think a 30" tabletop is the sweet number, anything smaller can be quite small unless you need one that fits a small space.
So to lessen your workload, we are going to toss in our suggestions. And the icing on the cake, these are all affordable options. It's in the same price range as an IKEA table top. IKEA desktops may always be out of stock because standing desks are in such demand right now since the pandemic. 
And of course, you'd want a tabletop that is both aesthetically pleasing and durable. And there are several types of tabletop. So allow us to help you explore them.
Option 1: Affordable Solid wood tabletops
These are the premium choices. In the case of a steak, this is the prime cut, the best cut. Solid wood table tops are also very durable, they can also last a lifetime. And when it comes to the aesthetic, this is 100 percent pretty and lavish.
The etched wood grains are very chic. And depending on the type of wood, it can really have its own look and appeal.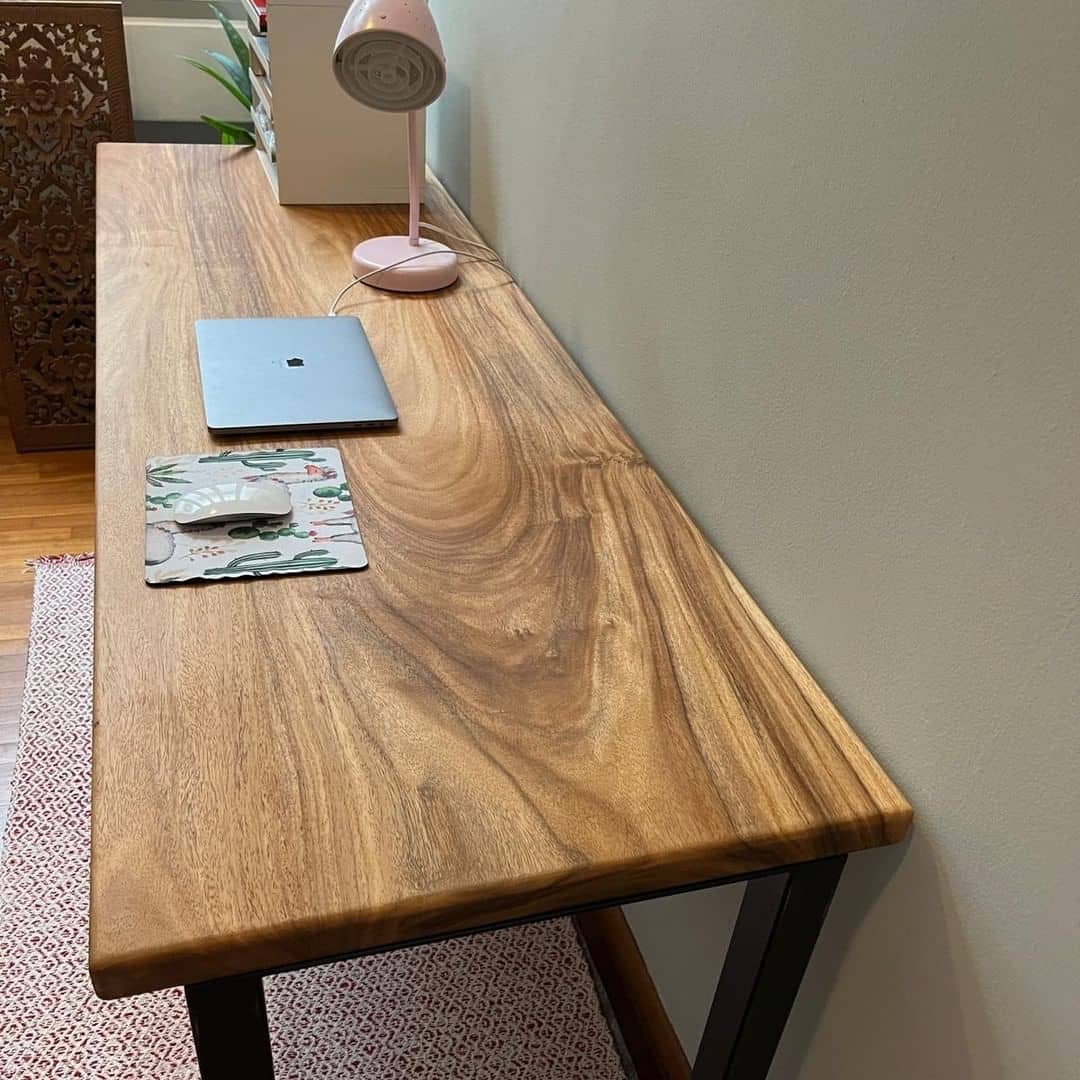 And since they're the premium choice, it can be rather expensive. But If you have the budget, there's no other way to go but solid wood. But the good news is, you can still sport a wooden tabletop.
Pine is your go-to cheaper solid wood option.
It has a rustic and vintage appeal. This wood is rather soft and can have a yellowish to creamy white hue. You'll also often see furniture made of pine In farmhouses and barns. And rustic furniture is still a trend, it can be a breath of fresh air in your space.  
Compared to other solid wood like teak and oak, pine is pretty much affordable. But the downside is, it is a softer type of wood, is less durable, and is prone to dents and scratches.
It's not as resilient as oak or ash. So it should not be used for outdoor furniture or spaces with high traffic, such as a dining table or a kitchen table. But if you're going to use it for your standing desk, then, by all means, you'll be fine. 
Where can you buy good-quality pine wood boards?
 We love the pine boards at Menards. You can have several pieces glued together. And to cover a 30" desk, you'd probably be needing no more than a hundred dollars.

Home Depot has a nice selection of Allwood Pine. You have an option to get ones with routed edges at one face of the board or get a board with routed edges all over. But of course, the ones with more routed edges will cost just a bit more. But overall, it's still an affordable option. You can even buy a bigger board and cut it into two so you have two tabletops for the price of one. 

Lowes also has a range of pine boards that you can glue together. And you can also spot red oak and maple board tops at an affordable price. Same with the pinewood, just glue several pieces all together and you have a gorgeous-looking tabletop at a fraction of the cost.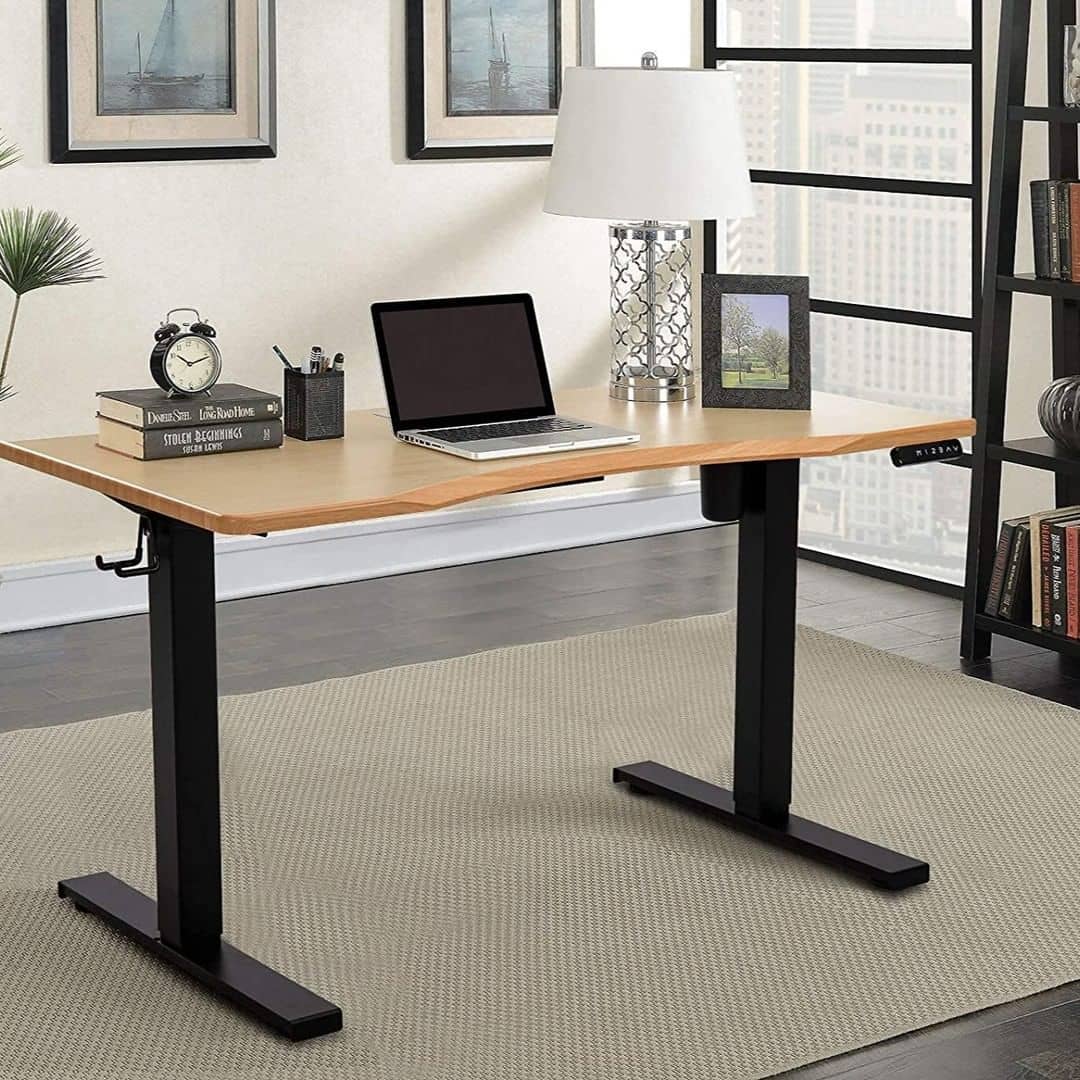 Option 2: Laminate tabletops
Laminate may not look as extravagant. But the good thing is they are less heavy and are more affordable. And laminate tabletops can mimic the look of real wood. You might not even be able to tell it from afar.
Where can you buy good-quality laminate tabletops?
When it comes to laminate tabletops, we love HON. HON offers an array of choices. You'll see laminate tabletops in oak, ash, and so on. Though they are not the real thing, they look very close to it. And of course, it's more affordable too.
You can get HON tabletops in several stores such as Staples or Office Depot. You also get a 5-year warranty with HON tabletops.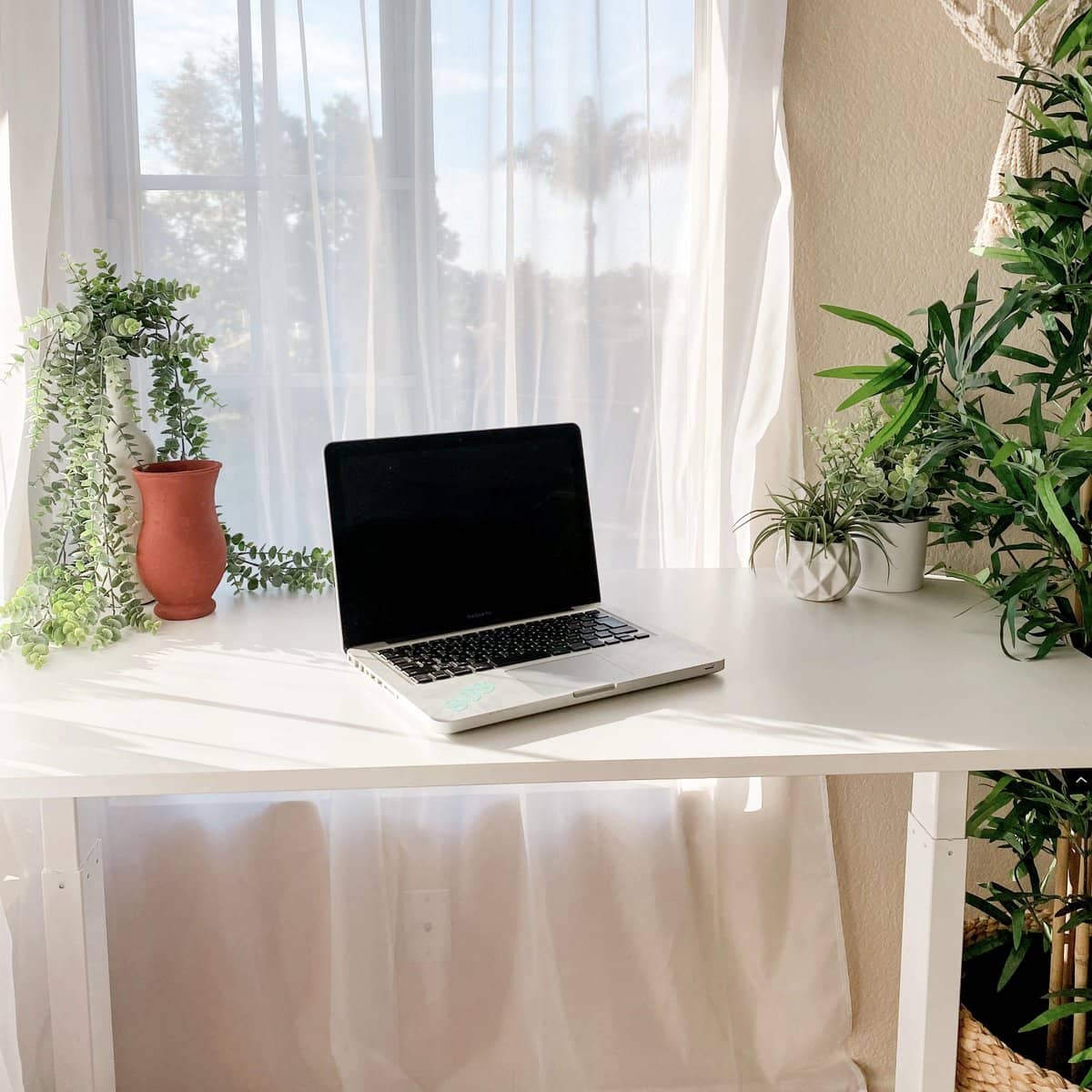 Option 3: Butcher Block
Butcher block is only for your kitchens, it's also a trending tabletop option for standing desks.
These are strips of real wood that are glued or bonded together. So you can easily do DIY with any choice of wood. It doesn't have to have the exact same hue and tone, the variety in the hue of the blocks creates a more interesting look and unique appeal. 
Butcher block wood furniture is actually becoming a trendy piece in the office setting. It makes up for a softer and friendlier environment.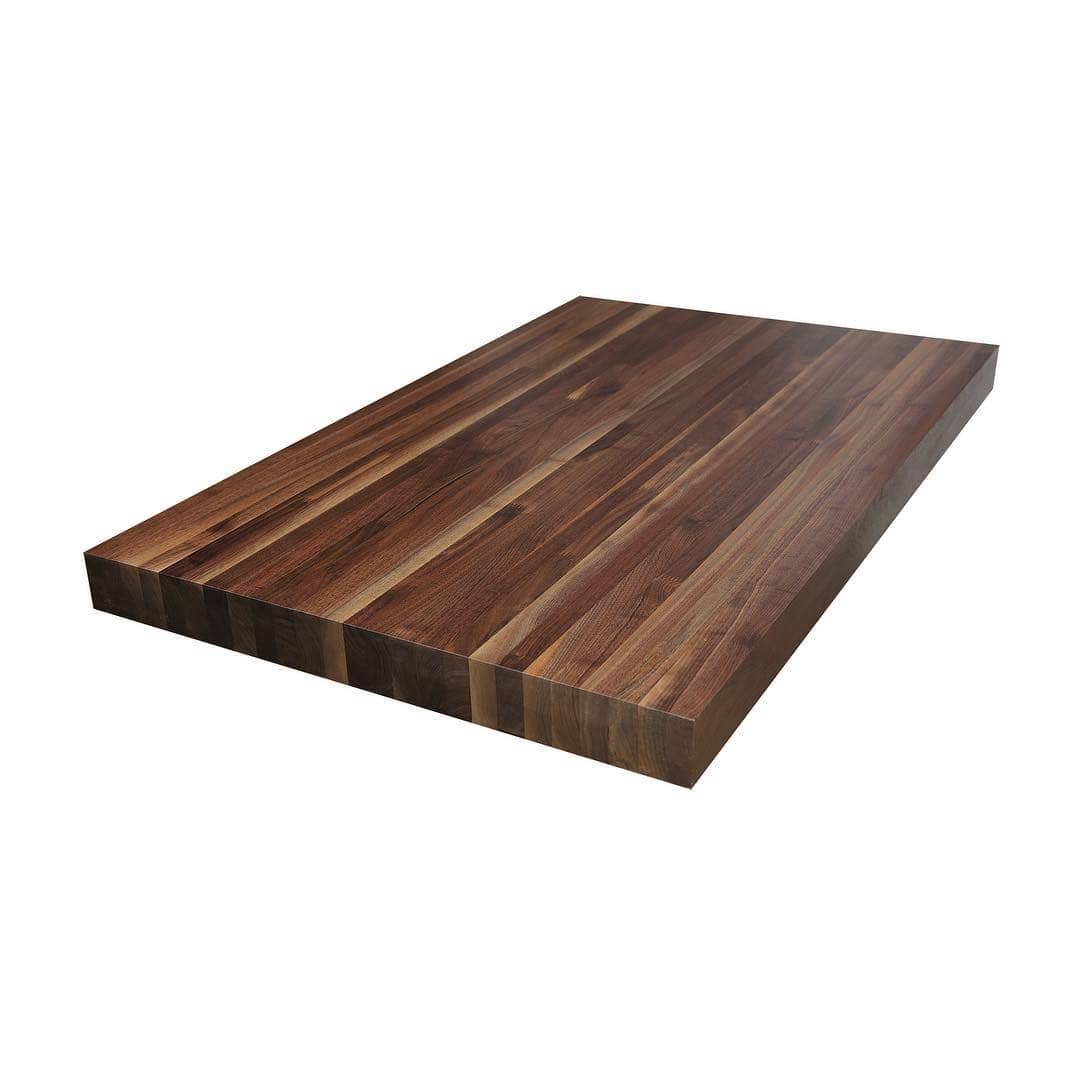 Where can you get butcher block wood?
Home Depot has a decent selection of butcher block wood tops made from acacia, maple, walnut, saman, and beech among others. You can buy butcher block wood unfinished or finished. You do have the option to finish it yourself by adding coats of poly. 
Option 4: Veneered table tops
Veneered table tops are two thin pieces of solid wood glued to each side of a strong compost material, often MDF. It has a reputation of being inferior when it comes to quality. But when made well, it can also last for a decent time. 
Though you have to be critical of what veneer table top to buy and where to buy it. Because these can peel off easily if not made well. 
Where can you get veneered table tops?
Restaurant furniture depot has an array of veneered table tops in oak, maple, mahogany, and cherry. 
Time to Set Up Some Desk!
Buying a separate frame from the tabletop has its advantages. It gives you more liberty to choose what type of top to outfit your standing desk with. And of course, when you know where to buy durable yet more affordable ones, you can make great savings.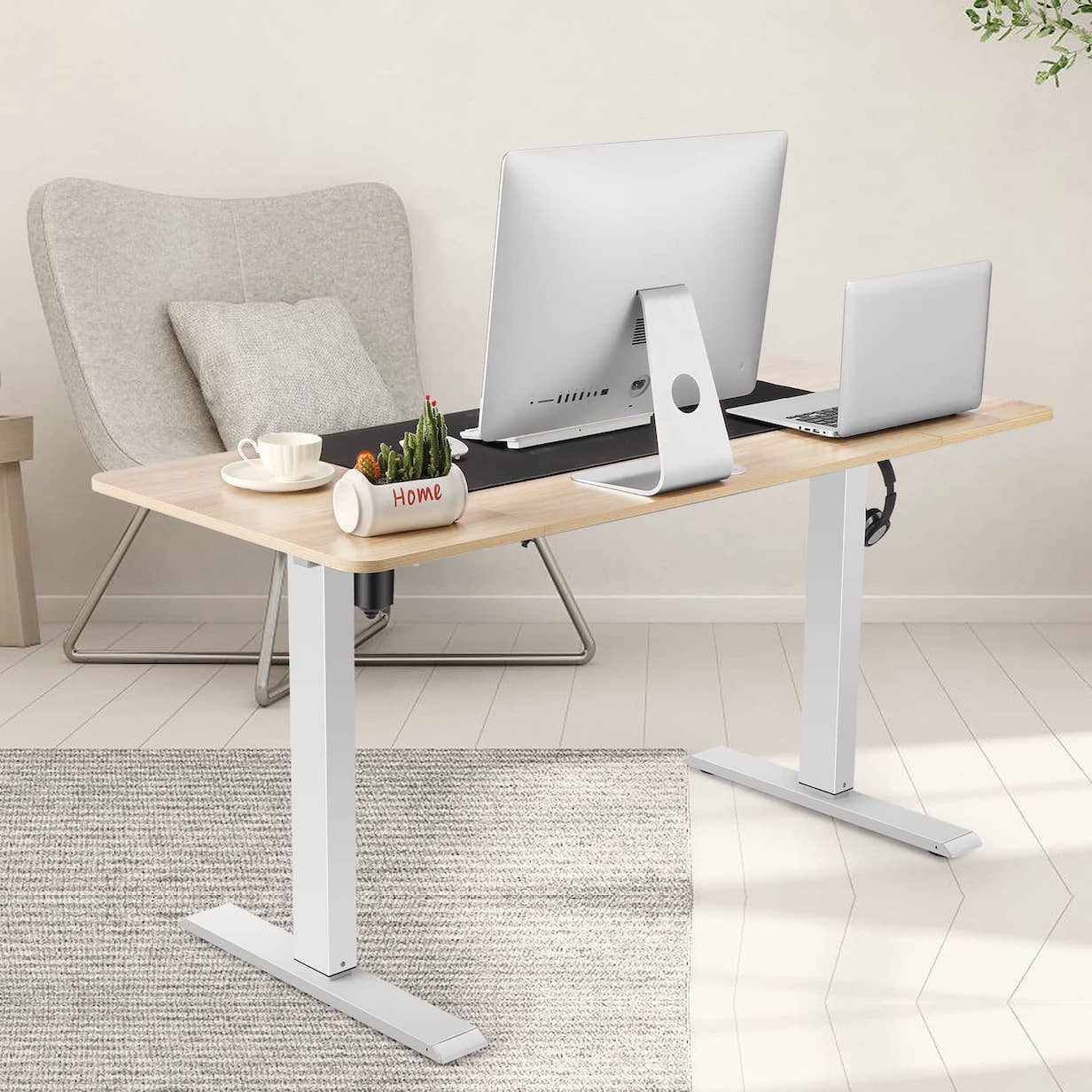 Alternatingly, you can glue any other piece of wood and finish it with some coat. All you need is to let your creative juices flow, and of course, your handyman hat on.