A larger tabletop with a good price seems like a good deal. You can have an elaborate setup without the hefty cost. 
And we have come across that meets the criteria we have mentioned above. 
We're going to review the 55-inch desk of Famisky. It's a rather affordable desk for its size, so let's see if we will be able to find anything else aside from the wide and spacious work area. 
Dimensions

55" x24"

Weight capacity 

220 lbs

Tabletop

Available in 4 colors

Brown, oka, black, and bamboo

Height range

28"-45.5"

Features

3 memory presets

Noise level less than 50 Db

Double hooks

Power hanger

Touch protection system
*You can also get this standing desk is also available in 40 "24", 48"x 24", and 63"x 24"
It's a pretty sturdy standing desk
Aside from the wide and spacious tabletop, now it seems there is something else to be desired with this standing desk. The unit is pretty sturdy and stable, even at the highest desk setting. 
There isn't any wobbling even if we tried to shake it, well unless if you put on a lot of force, it can budge it. But when used for its purpose, it is very stable and solid. 
The 55 x 24 desk is just what you need for an elaborate setup. You can also find a similar size standing desk from VIVO and it costs less at less than 300 dollars since it's a single motor. 
But in terms of the stability and overall look and feel, we prefer Famisky. VIVO has this crossbeam at the center that takes away that premium feel. 
The legs are thick and it also smoothly transitions. So even without the extra grease on the legs like what you'll see in an Uplift or Fully Jarvis frames, this desk rolls like butter. Though it's not really quiet, it's not pretty loud either. So the noise level is moderate. 
And the Famisky is also stable even on carpeted floors.
With that, this is an all-around desk that you can use for gaming, work, and studying. 
Where to buy: https://amzn.to/3JRigGm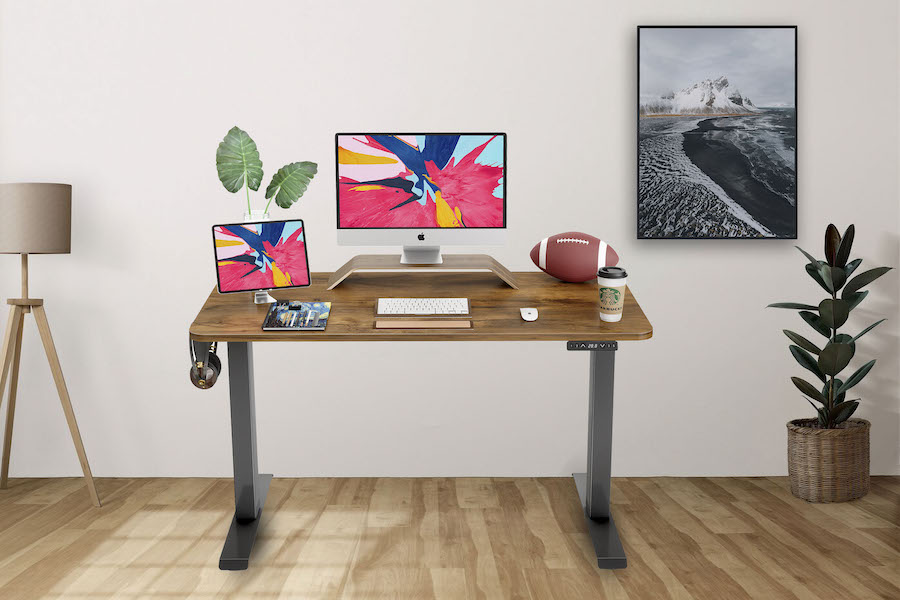 The tabletop is pretty but…
The Famisky tabletop comes in textured wood material. You can also choose from 4 colors, and we particularly like the bamboo and the rustic brown color. The vintage wood matches with the black frames of the desk. So from afar, it's a handsome-looking unit. 
The texture of the tabletop is quite defined and it still looks pretty even up close. But here is where it can get a bit off. 
Famisky could have been a gorgeous standing desk, only that the tabletop comes in two pieces. So even if the connection is tight and taut, you'd still be able to see that gap or demarcation line where the two wood pieces meet. So a lot of users had desk mats to conceal this tiny gap. 
And though it did not make the desk less stable or wobbly, it's fewer brownie points for the aesthetics. It can be a gorgeous desk, but the gap can give it away.
One more thing, as much as we love the defined textured wood of the desk, you will need a desk mat if you're going to write directly on a thin piece of paper. The textured grain can affect the way you write. You will need a desk mat to make it smoother. 
So if the gap/demarcation line bothers you. Here are alternatives.
HOO Dual Motor Electric Standing Desk 52×24
If you need a larger working area and a standing desk that can go higher than the Famisky, HOO is an alternative. The 52 x 24-inch decks can go as high as 50 inches, so they can be used by those who stand up to 6'2".
Also, this desk comes in a solid one-piece top. So if you don't want to put two separate pieces together or do not want that gap or demarcation line, then you need this instead. 
This is also pretty solid and steady. It even has a child lock as an additional safety feature. 
Palfish Dual Motor Electric Standing Desk 48 x 24
Measuring a tad smaller, the Palfish dual motor desk might still interest you. One of the advantages is that it has a one-solid piece tabletop. But this is also one sturdy and stable standing desk with a heavier weight capacity of 250 lbs. 
So even if it has a smaller tabletop, it has more muscles to boot. It also has more safety features such as overheating and overvoltage features. But the laminated tabletop finish looks less enticing than that of the textured wood of Famisky.
Harbland Dual Motor Electric Standing Desk 48 x 24
This dual motor standing desk also comes in a one-piece tabletop unit. And like the Famisky, the black steel frames are quite solid. It also has extra safety features such as a child lock. Though it has a bit shorter desktop size than what Famisky has.
The height range is 28.9 inches to 47.3 inches, so it can go higher than Famisky too. Another advantage is that the tabletop is ergo contoured. So it makes the unit look more classy at the same time, it makes it more comfortable for your arms.
This standing does have a lot going for it.
It comes with several useful accessories.
It also comes with accessories like a cable management tray and hooks where you can hang your headphones. We were actually pretty impressed with the tray. It is spacious and you will be able to chuck in thicker wires and still have room for more.
So these can make your workspace clutter-free. Even with a dual monitor setup, you will not have wires dangling and getting caught up everywhere. 
The desk can also go high enough for slightly tall users. 
So if you are 6", you can still find it usable. It almost has the same height range as a Fezibo dual motor standing desk. Though if you're taller than 6", it will not suffice. 
And Famisky does have a pretty wide range, so those who are also petite can find the perfect setting for work or gaming. 
And at a reasonable price, the Famisky has pretty impressive inclusions that you will find useful. 
Here are also other standing desk brands that offer almost the same extras. As long as you don't mind the two tabletop pieces, then these can be good alternatives.
EasyZone dual motor 55" desk
This offers a more liberating and spacious working area than the Famisk. And EasyZone has a height range of 27.1″– 45.3″, so this is a great alternative for taller people. In case you don't find the Famisky high enough, then you'll find this useful.
Though the thing is, instead of 2 wooden pieces, the tabletop of this brand comes in 4 separate pieces. So you have to be careful in signing them up. Otherwise, you may be fusing the wrong parts together. 
It also comes with extras such as a tray for storing your books and a hook. And you also enjoy a higher weight capacity and 4 memory presets. So it has a lot more going for it. 
Fezibo dual motor 55" desk
At 55" x 24", you get the same spacious area. The Fezibo standing desk also comes with some extras such as 2 side hooks, a keyboard tray, and lockable caster wheels. So this also rolls smoothly along with carpeted floors. 
And like the Famisky, the tabletop comes in 2 separate pieces. Though in terms of stability, we find the Famisky more solid. Though you get more extras.
DEVAISE dual motor 55" desk
The DEVAISE and the Famisky standing desk almost share the same features and functions. But there are a few exceptions.
DEVAISE has a height range of 27 inches to 49 inches, so it can indeed go higher than Famisky and can serve taller people better. Two, the weight capacity is lower at 176 lbs. And three, it has 4 memory presets instead of 3. 
So it can be a mixed bag, this can be a better choice or can be less valuable than the Famisky depending on where you'll look at it. 
Common complaints
One of the more common complaints is that you have to hold the number key until the desk has reached the desired height. 
Though this isn't a biggie considering the price and the stability of the desks, it can be tiring for some who will be switching from the highest to the lowest setting. Since it has a pretty wide range, it may take a while.
So if this is an issue for you, you can look for other standing desks.
Final Say
We find the Famisky dual motor standing desk, particularly the 55" desk a good purchase. 
The major setback, though more on aesthetics, seems to be one of the major reasons why some users look in the other direction.  But if the line doesn't bother you, this is pretty stable. With that, it is an all-around desk suitable for gaming, studying, and working.