What we love about Humanscale is that it manufactures highly ergonomic office solutions while being socially responsible. A lot of their products, from office chairs to standing desks are made from recyclable materials. And Humanscale chairs and desks are among the coveted ones.
Not only do they look edgy and modern, but Humanscale also manufactures some of the more innovative pieces.
And we've come across the Humanscale float desk, which is a very unique standing desk. It seems like a cross between an electric standing desk and a manual desk. A lot had positive feedback on this desk despite the very very steep price. So even if our hearts are also set on it, we are still going to argue if it's worth the very premium price tag that it bears. 
Anything above $1000 is already premium, and this desk is at its peak. So let's get started. 
Check this table out first.
Height range

26.4"-46.2"

Max Weight capacity

165 lbs

Desk options

Available in 10 desk sizes

Smallest: s 24" x 48"

Largest:30 x 72"
It's a very premium standing desk
Looking at the specs and functions, this unit has features that perhaps, no brand will be able to compete with, for now.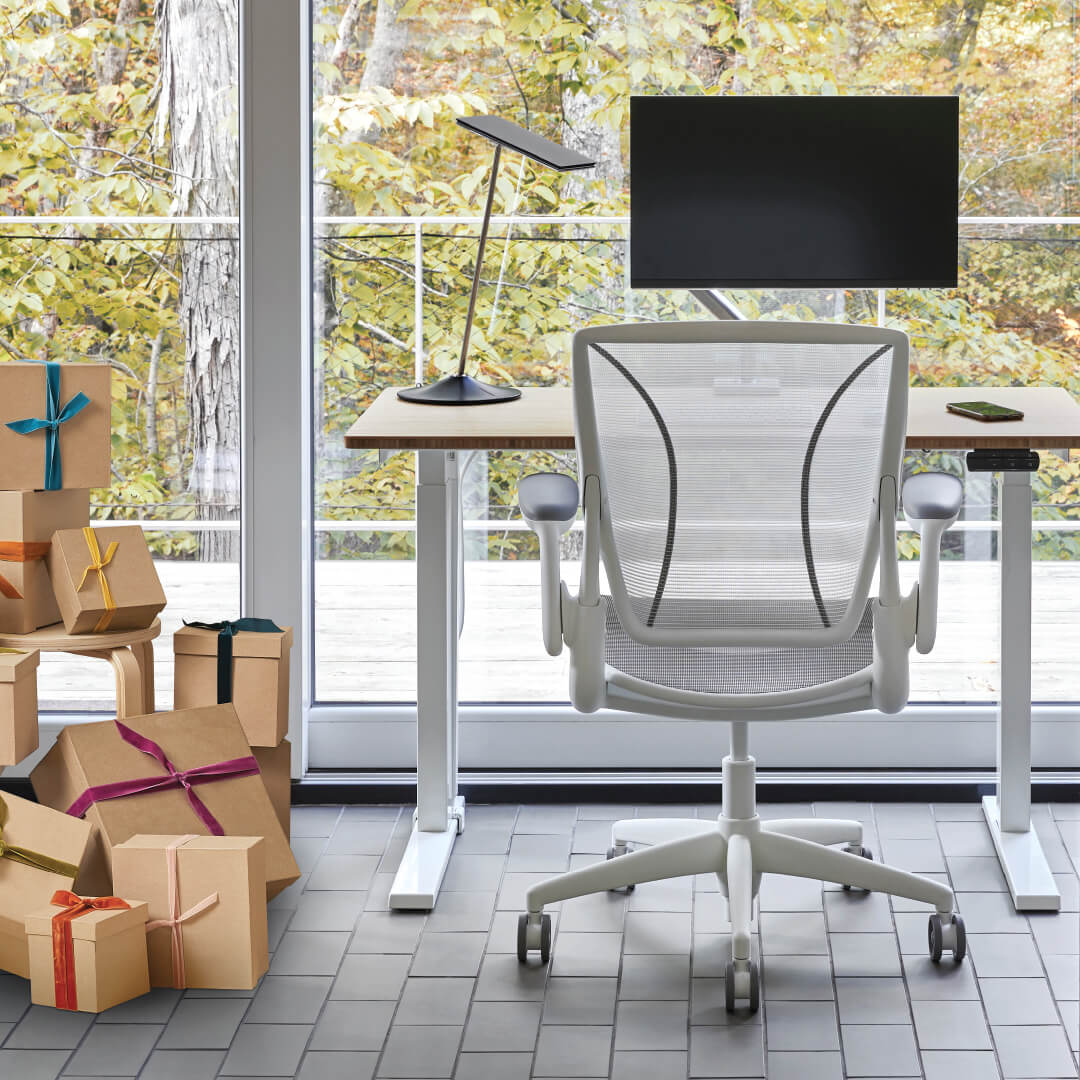 You can buy the desk in 10 sizes. So you have a lot of options. Though you might not be able to find a unit that can fit in a very small home office or space because the smallest desk is 24" x 48". So it can offer more working space solutions for those who need a bigger working area. With the largest size running at 30" x 72", this is a great option for a three monitor setup or an elaborate workstation.
This desk is very solid, strong, and steady. It lives up to the brand's reputation. But at the same time, it looks seamless, sleek, and classy. It has that same regal vibe that the brand's ergonomic chairs such as the Diffrient office chair. This office chair is very sleek and simple, it does not have many adjustment features but it is very comfortable.  
Not an electric desk nor a manual one
The desk is not electric nor a manual one, it's sort of a marriage between an electric standing desk and a hand-cranked one.
Manual desks offer more stability and less rocking. But it can be tiresome to always have to crank the lever every time you need to change the desk height. And some units can be quite heavy to lift.
Electric standing desk, on the other hand, offers more convenience, though not all will be able to stay stable and wobble-free at the highest desk setting.
The mechanism that the floating desk used here did get rid of the challenges of a manual and electric desk. 
And surprisingly, it was also able to get the benefits of both desks. The floating desk transitions faster and quieter than an electric desk, but it doesn't have any motor. And it is also more stable even at the highest setting, like most manual standing desks. This is called the counterbalance system.
 Now we find this counterbalance system very clever. You just need to press a paddle and assist the table as it lifts or lowers. So you do not have to exert force to change the height of the desk. Though using your hands to slightly assist the transitioning makes up for a more natural movement. But even without it, the desks will still move on their own. 
The height adjustment range is also pretty good. Petite users and taller users up to 6'2" may be able to use the desk comfortably.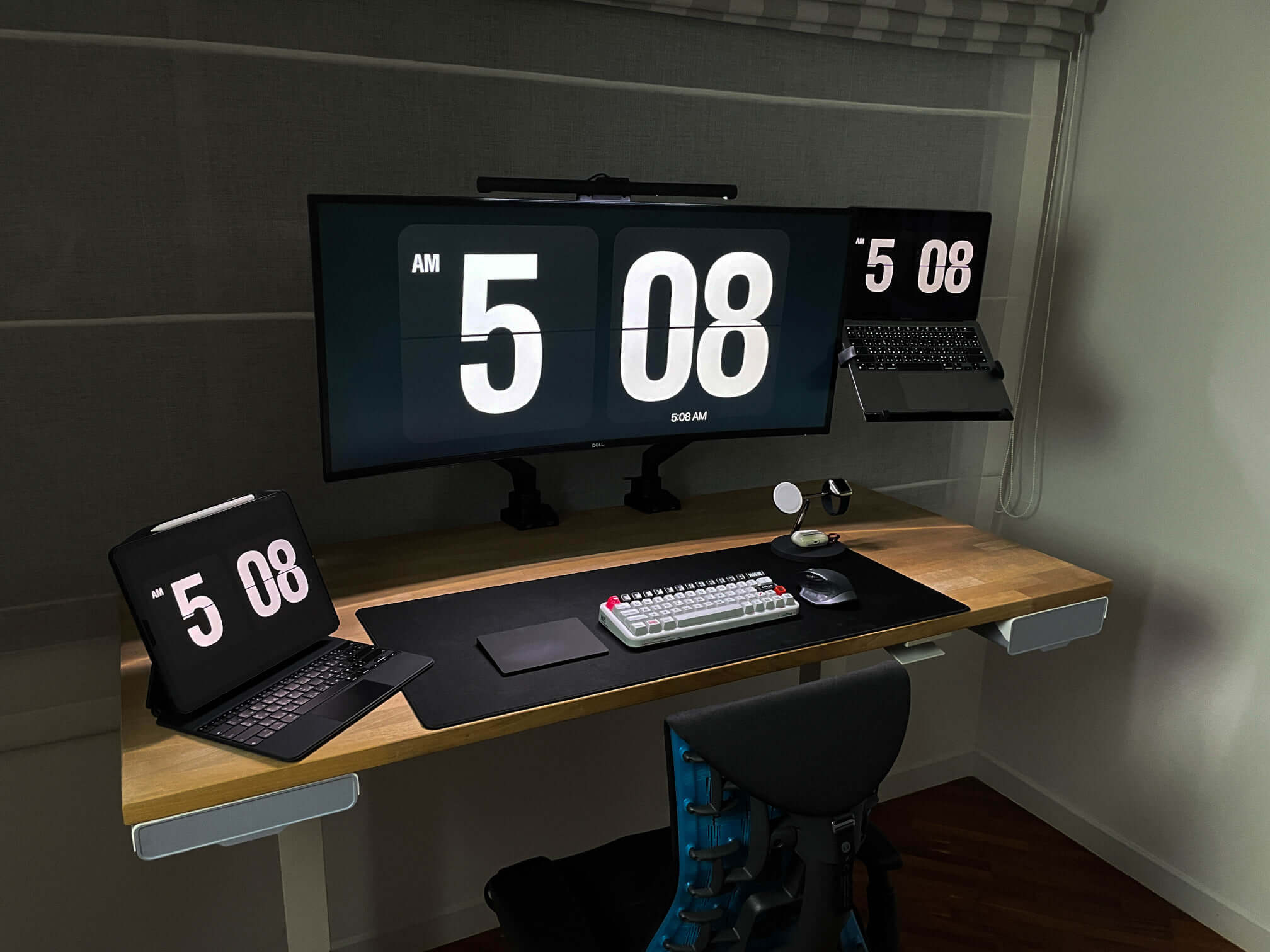 But here comes the little tricky part
The desk also comes with a manual crank that is similar to the ones that hand-crank desks have. But you will not use this lever as you would with a manual desk. You will not use this to change the height of the desk. But this part plays an important role in making sure that the desk transitions seamlessly. 
You need to rotate the crank to adjust the resistance of the desk. The resistance of the desk may change depending on how much weight you place on the table. And ensuring that you have just enough resistance will prevent the desk from getting too loose or too tight.
This can have its advantages, yes. You will be able to personalize how the desk feels when it moves.
But it also has its cons.
Though it's not hard to rotate the lever, some may not be too keen on deciding what is the perfect level of resistance for themselves. 
And because of the very steep price, many will assume that you do not have to do much work to make the desk work perfectly. Though we did not find it a chore because you just need to change the resistance whenever the load changes, not everybody will be up to this adjusting/ readjusting chore. 
And not everyone will be able to figure out the perfect setting. Though the level of resistance is up to you, some may not want that option as they may find it confusing. And if they will not be able to get the ideal setting, they might not be able to maximize this unique function. And this particular feature may account for the chunk of the very steep price.
And oh, the knob comes in two options. You can either get the removable knob or the built-in one. The removal knob seems more convenient as you can stow it away once you're done adjusting the resistance. But the knob tends to fall out of place. And over time, you might not be able to prop it in place anymore. So it's best to just opt for the fixed one.  
It's a very sleek and minimalist standing desk
A Humanscale float desk is very simple and minimalist. It does not have any accessories that come with the purchase. Though it's easy to prop in a cable tray or a keyboard tray, it will entail an additional cost.
We wished it had at least a keyboard tray. We love the keyboard trays of the brand. The floating keyboard tray particularly can complement the sleek look of the desk, you can easily slide it under the desk when it's not in use. It can also amp up the ergonomics of the desk. 
And since it's not electric, it doesn't have any motor. So no wires or cables are dangling. That's why it also doesn't have a cable management tray despite the steep price. So that makes the unit very sleek, but if you have equipment that has wires and cables, you might need to buy a separate cable tray to maintain the clean and clutter-free look. And for a very steep price, we wished we had a cable management tray included, you just have to the device if you're going to use it or not
And to not have wires and cables, all of your equipment must be wireless right? And that could be a very expensive setup.
How did we find it
The Humanscale Float desk is without a doubt, one of a kind. We were impressed by how fast and sleek it moves despite not having a motor. We love the very elegant keyboard tray. And we also love how regal and classy it looks.   
But we have quite a few concerns.  
As we have mentioned earlier, having to do work by readjusting or adjusting the resistance can be a turnoff for some. Not everybody has the patience to fine-tune the desk, let alone figure out the ideal setting.

Some would even argue that what's the whole point of buying a very expensive desk if you have to do some tinkering from time to time? And for the very steep price, you still have to do some work on adjusting and readjusting the desk to ensure that it rolls like butter on hot toast. While some may not mind it, a few will.
The lack of accessories such as the cable management tray may make the unit seamless. But that is your setup is all wireless. And for the cost, maybe a cable tray could come in for free, and you just have the option to use it or not. Though you may be able to seamlessly add in accessories, that will add up to the cost. And the lack of a cable management tray is also questionable. If you are paying more than 1500 bucks for a standing desk, it must be almost complete right?

The weight capacity of the desk is not the most heavy-duty. The desk can bear up to 165 lbs of weight. Now, this is more of a medium-duty load capacity. There are other less expensive stands with a load of 260 lbs or 355 lbs. Though stability may or may not be an issue.
Overall
So all in all, if you do not mind the budget and are looking for a unique, edgy, and minimalist desk, then, by all means, the Humanscale float desk is very solid and stable. 
If you have gone tired of using wobbly electric desks and do not want to manually adjust the desk, the floating desk offers a different type of mechanism that may fulfill your needs.
And the Humanscale float desk is indeed an upgrade. It will also not fit in a small space. That's why desks are often found in large homes and offices.