One of my favorite but underrated computer desks is from Tribesigns. These desks have a certain appeal to it and can be really functional. It combines a classic charm of a Poetry Barn Livingston writing desk with the modern industrial feel of an Anvil modern desktop.
I'll be listing down 5 of my favorite Tribesigns computer desktop and a bit of qualm that comes with it.
About the brand
Tribesigns offer office and home furniture that can make your space look more cozy and warm. The brand makes use of more eco-friendly material. And in terms of the design, almost all the products in their line have this certain charm.
The brand was founded in 2010. And you can see from all of their products that a lot of through was taken into creating each piece. It may be an underrated brand, but it's slowly gaining more popularity now that people are looking for a more eco-friendly and affordable office and home furniture.
My Top 5 Picks
So without further ado, three are 5 of my favorite computer desks from the brand.        
Tribesigns 67 " computer desk with 9 storage shelves 
Even they have options for big size, like 78′ inch. But this 67-inch computer desk is a real treat, it's got storage space, an affordable price tag, and a lot of space for your books and other essentials.It's perfect for those who are looking for a decent and affordable computer desk and also need extra storage space.It feels sturdy and it gives you the liberty to construct the table and shelves in different ways, so you can configure it according to your space.It's lightweight and portable. So even one person can move the desktop from one room to another. And I love how much space it has for all my equipment, desktop, printer, and other office supplies. It comes with 9 open storage shelves of varying sizes. It can accommodate books, other supplies, and computer chassis.
The shelves are distributed evenly along the corner of the desk. So there's a lot of space for organizing and categorizing your things and books. And the design is simple, structured, and pretty enough to place in the living room.
I just had to drill several holes to mount the desktop. And the shelves didn't flush perfectly with the frame, so there's a bit of pulling and pushing. 
It might take a little longer to put it together. There are some issues with the shipping resulting in minor scratches on the wood surface. The good news is, it isn't such a hassle to buff it out. It came out smooth again after a simple buffing. And since the surface is a bit scratch-resistant, it just needs simple buffing.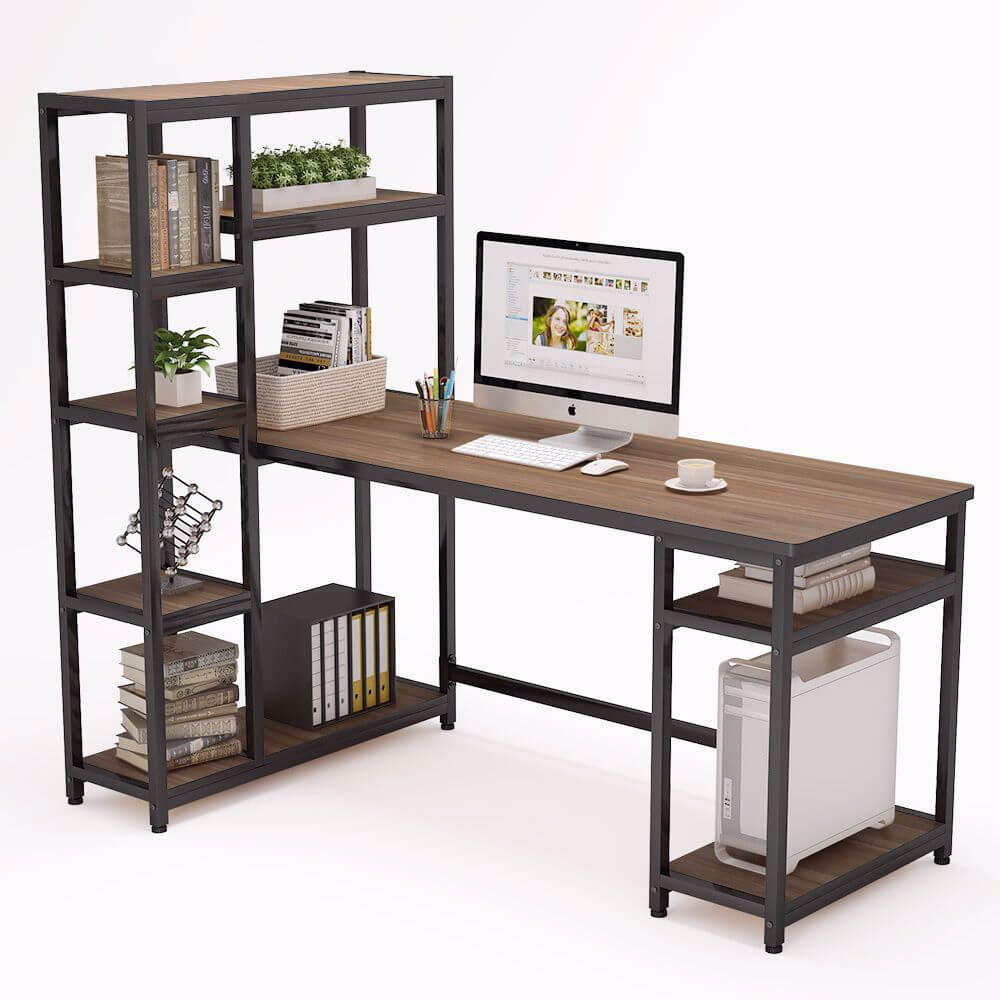 Pros
Lightweight and portable

Lots of open storage space

Evenly distributed shelves

Sleek and simple design

Feels sturdy and solid
Cons
Takes time to put together
Tribesigns Computer 55 inches Desk with Bookshelf 
This computer desk combines two convenient features. One it's a computer desk that's fit for several monitors. And two, it has allotted space for storing your books.
I love how modern and contemporary this computer desk looks. It's made of engineered wood in solid color. The bookshelf can also be an open storage space for your office supplies or other essentials. 
It has a lot of space for several computers and a laptop. What I like the most about this desk is it feels sturdy and stable. The legs are made of heavy-duty metal so there isn't any wobbling or shaking. And it still feels stable even on uneven grounds. The legs have an adjustable pad, so you can pretty much place it on any surface and it will pretty much hold up.
This computer desk is quite lightweight, but it has a weight capacity of 500 lbs. So it can accommodate more equipment compared to your old computer desk. 
Overall, at 150 dollars, it's a real value for your money. It's a stable desk with adjustable legs pads for added stability. And the bookcase is a bonus.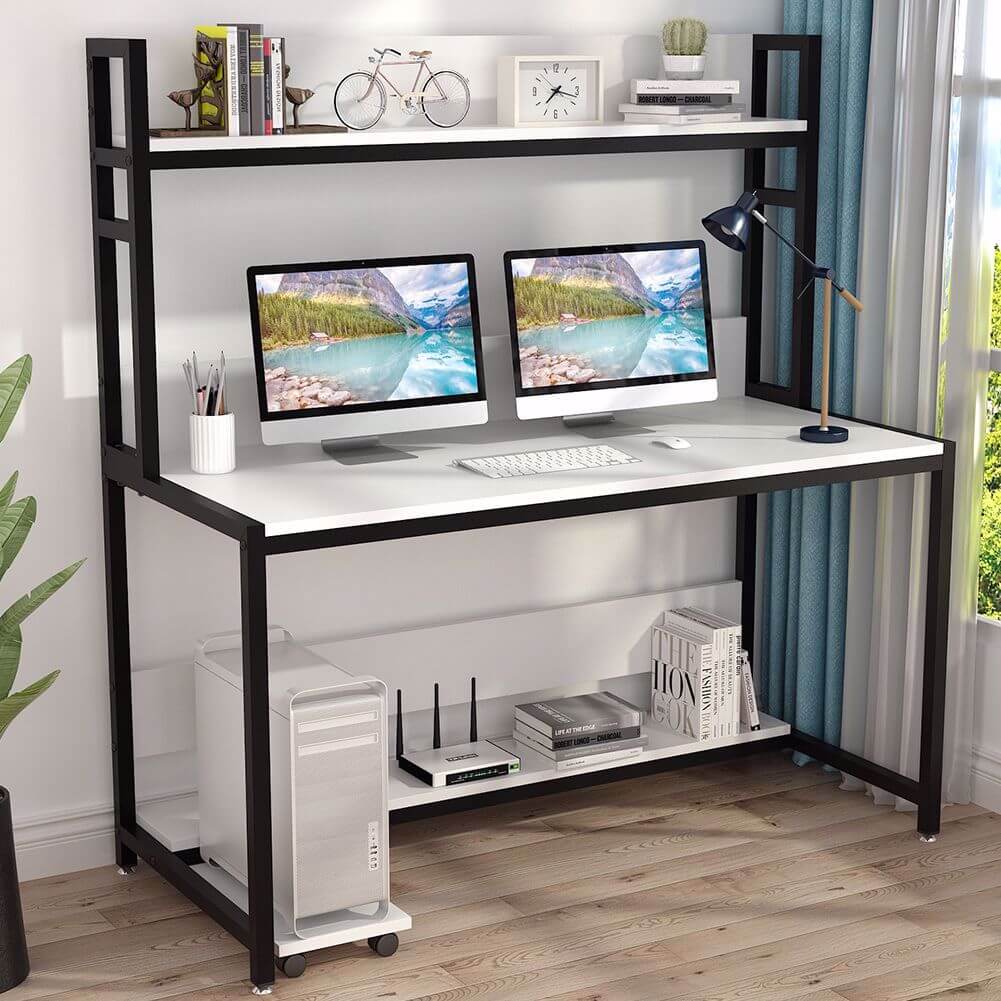 Pros
Panels are made from an eco-friendly material

Spacious

Easy to assemble

Has adjustable leg pads

Has safety round edges

The bookshelf can be used as an open storage

 The modern and contemporary look

Easy to clean
Cons
 The instructions could have been better
Tribesigns modern simple style computer desk 63 inches 
If you're looking for a sleek, simple, and modern desk, you might love this 63-inch desk from Tribesigns. It looks classic and simple, but you still have options when it comes to color.
You can purchase white wood with brown legs or brown wood with white legs. Or go for an all brown, black, or white ensemble, it's pretty customizable. 
This simple desk has metal frames with adjustable leg pads. Tribesigns desks often have these adjustable leg pads. This is a great feature that you may not see in other brands.
It allows you to place the desk on any surface and it will still be stable. I got the 63-inch desk, but you can also buy this computer desk in a 47 and 55-inch desk. 
Another feature that I like is that it's pretty comfortable even for those with long legs. Taller people will benefit from the extra legroom. The desk is quite spacious too. And for its price, it's a real value for your money. 
It's stable, sturdy and it's gearing towards the heavy-duty tiering. It boasts of 900 lbs weight capacity, so it can pretty much hold more equipment than your old desk. It might look simple and sleek but it's built for the bigger league. 
Also, it won't eat up much space, so it's great for small bedrooms or study space. And it's stylish enough for both sexes.
Overall, it's a great option if you're looking for a strong, sturdy, and simple desk. It's also perfect for tall people.
Pros
Lots of legroom

Legs are made of high-grade steel frames

Has adjustable leg pads

Stable and sturdy

Has a 900 lbs weight capacity

Simple unisex style

Small footprint

Ideal for tall people

Design is customizable
Cons
Tribesigns computer desk with hutch and bookshelf 
This is one lovely multifunctional desk. At first glance, this computer desk looks like a classic. The open shelves or hutches on the top of the table renders it its classic appeal.
These hutches serve as an additional storage space. It's also a nice spot to showcase your collection, knick-knacks, or family portraits. 
I love the large storage space it has. It offers a spacious desktop, a decent bookshelf, and several hutches. I also find the desk pretty solid and stable. It's made of particleboard and has durable steel frames. 
And similar to other desks from the brand, it's equipped with adjustable leg pads. So expect it to be stable even on uneven grounds. 
Pros
Easy to assemble

Has an anti-collision feature

A 3-in-1 desk

Offers a lot of storage space

Spacious desktop

Adjustable leg pads

Stable and sturdy

Solid metal frames
Cons
Some find the color difference as advertised
Tribesigns Space Saving Computer Desk with Hutch and Bookshelf
This 47-inch desk features a space-saving design that can fit in cramped spaces. If you find the previous Tribesigns desks with bookshelves and hutches too big for your space, this is a great alternative.
What you'd notice instantly is it evokes a rustic vibe. It has a vertical design that includes a bookshelf at the bottom of the desk and a hutch above it. Though the hutches may seem fewer compared to the other model, it does offer a decent space for showcasing your things. It can work as open storage too.
With its space-saving design, the desk is compact. But it can still fit two monitors on the table. And another thing that I love about Tribesigns desk is that the desks are outfitted with sturdy high-grade stainless steel frames. It feels solid without being too heavy.
Pros
Compact and smaller footprint

Sturdy steel legs

3-in-1 desk

Spacious desk fit for 2 monitors

Solid but not heavy
Cons
Some find the distance between the table and the  hutches too cramped
Conclusion
Tribesigns computer desks are a great choice if you're looking for a stable, sturdy, affordable computer desk. It doesn't look too industrial but it's dependable. And the extra space solutions are such a treat for the price tag that it bears.