Knoll isn't one of the more highly commercialized and marketed standing desks. And many only came to know Knoll more when it acquired Fully Jarvis in 2019. 
Let's get to know Knoll standing desks a bit more and let's see what their latest unit marketed for Work From Home peeps have to offer. And we have heard several horror stories about how painful the setup of KNOLL desks is. We'll also look into that.
Can you personalize your Knoll desk?
Knoll doesn't scrimp when it comes to the options it gives to its consumers. You will be able to personalize your standing desk. The brand offers a smorgasbord of options for each of its standing desk units.
Let's take for instance the Knoll Tone desk. You can choose from 11 base colors and 4 desktop materials. And from the desktop material, you have a ton of color options, all 50 of them. The site of the brand makes it easy for you to hover through the selection.
What we also appreciate with the brand's website is that it is easier to compare the many options. You can see that for the Tone desk, you have an option to choose a C leg or a T-shaped leg. T legs are the more stable ones. But if you need more stability at the rear part of the desk, you need C-shaped legs. 
So you have an option to make the desk more stable depending on the items that you're going to put on the desk. This is perhaps what limits the Fully Jarvis legs, a T-shaped leg option could make the desk stable for some users. 
And this also makes the Knoll desk suitable for those who keep hitting their legs with a T-shaped frame, they can always choose the more spacious C-shaped legs. We haven't come across many standing desk brands that offer such an option.
And for the mechanism, some units of Knoll desks such as the Tone offer a choice between an electric or a manual standing desk. Aside from this, the Tone can offer not just an option between an electric or manual mechanism, there is also an extended electric and an extended manual unit. And these can go higher. 
Another knoll desk, the K.stand desks are only available in an electric standing desk option. But the K.stand desk has a higher maximum height range, it can go higher at 50 inches, so this is the brand's offering for the taller users. 
Hipso, the latest unit from the brand, is the more marketed standing desk. It runs in smaller sizes that's why it was branded as a WFH standing desk. It's a minimalist desk that even the control panel is very simple. It lacks a digital readout and memory preset. You will be able to change the desk height by pressing the up and down button.
So pretty much, you'd find an array of opinions and it's easier to compare what you need since the specs and information are all laid out in one section.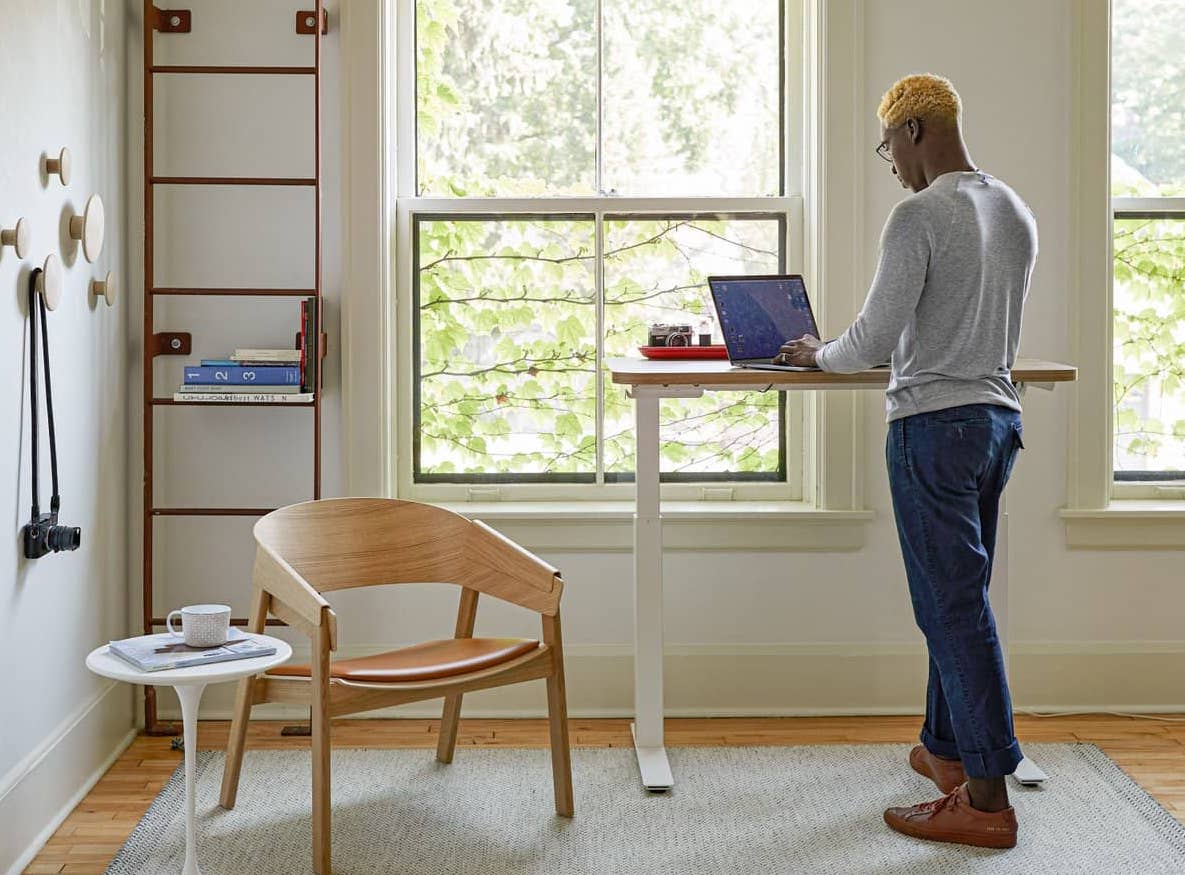 The website does not send a come on over here vibe, but the way the options are laid out will make it easier for you to make a choice. This is especially helpful if you're not really sure what you're looking for. 
Is it easy to assemble?
You can see a couple of YouTube videos showing the setup and assembly procedure of the Hipso desk. And from the video itself, you can see that it is very easy to set up, that even one woman will be able to assemble the desk on her own. So these videos are definitely one of the marketing boosts for the Hipso desk.
Because from our experience, and from other people's too, this desk is one of the hardest to assemble. It may be as challenging and confusing to set up as a Herman Miller desk. But Herman Miller does offer home service for the installation, you just have to pay extra. Knoll doesn't give you that option.
The instruction that it comes with is very confusing. Even for someone who has assembled quite a few standing desks in their lifetime, they will still find it confusing, especially the screw part of the installation process. 
So the only option left is to hire a handyman to assemble the desk if you are not up to the challenge. And that also means paying extra for the services.
So do not let the video of a woman seamlessly setting the desk up by herself fool you. It is very challenging to put together. 
Is the Hipso desk a great Work From Home desk?
The Hipso desk was manufactured in the early months of the pandemic when everyone is starting to take their work into their homes.
Compared to the Tone desk, K.Base and K.Stand, the Hipso runs in smaller sizes so that it could fit most people's homes. 
If you sit all the KNOLL desks that we have mentioned above side by side, they seem to look the same. Only, when you take a closer look at the tabletop, you can see that it is a bit inferior compared to what the other KNOLL standing desks have.
 The tabletop is made from a laminate material, and the corner of the table is rounded to make up for the not-so-classy laminated top. And this perhaps accounts for the lesser price tag compared to the other KNOLL units.
This is one of the limitations of the desk, along with the lesser tabletop color options and the control panel. The lack of a memory preset can be a problem if more than one person will use the desk. Even for one person, it can spell inconvenience if you are constantly changing desk heights within the day. 
Hipso vs RENEW
So while we're here we can also pit the Hipso against the Herman Miller Renew since they look the same, have almost the same height range, and are both pretty sturdy pieces too. 
The Knoll Hipso means serious business with a weight capacity of 265 lbs. It's even higher than what the Herman Miller Renew can bear, but the Renew has a higher price. 
Renew seems overpriced when it comes to the functions and the specs. But the only thing that Renew had over Hipso is that it looks more classy up close.
Jarvis vs Hipso
Knoll acquired Jarvis in 2019. And it was said that the limitations imposed on the Hipso desk were because KNOLL did not want the Hipso desk to conflict with the Fully Jarvis standing desk. It's in the same mothership already, one has to give way to not outshine the other.
This perhaps could also explain the mediocre control panel of just an up and down button. The Fully Jarvis 45" x 24'" desk costs much more expensive than the Hipso's 45" x 24" unit. So you can see that a balance has been made.
But in terms of stability, we do find the Hipso more withstanding. But what we love more about Jarvis offers a more gorgeous tabletop option of bamboo as an alternative laminated desk. So we're all in for bamboo. 
Hipso vs UPLIFT
Another one of the advantages of Knoll Hipso is that it makes use of a non-China-made motor. So this is also the reason why the Jarvis and Uplift have more wobbles at a bit more wobbles at the highest setting compared to Hipso.  
But what is intriguing here is that Hipso has a shorter warranty period compared to Fully and Uplift. The warranty of Knoll is 5 years for all parts while Uplift and Fully offers 7 years for the motor. A shorter warranty for a more robust motor can be confusing.
So we're thinking it's also one way for Knoll to level the playing field between Hipso and Fully Jarvis standing desk.
Hipso vs Flexispot Seiffen
The Seiffen is a standing desk from Flexispot that is also considered a decent option for WFH situations. The smallest desk size is 42" by 24". This particular size is only available as a two-stage frame. Thus, the weight capacity is only 154 lbs. So if you need a desk with the same weight capacity as the Hipso, you need to upgrade to a larger Seiffen desk. The 48" x 30" has a higher load capacity of as much as 275 lbs. But this may not be suitable for small home office spaces. 
Is the Hipso a great Work From Home option?
Yes, it's a great work-from-home option. Despite the limited warranty, lack of color options, and only an up and down button, it has the perfect size to fit in a small space ( you can also choose from 3-4 sizes) and yet it has a higher weight capacity compared to some standing desks with the same size.
And even with a lesser 5-year warranty, it still feels like it's more superior compared to China-made motors. 
Related post: FEZIBO vs FLEXISPOT standing desk showdown – who win?