If you have a bad back and you have to work on your desk for the entire day, it can be torture. Nagging back pain can also make you unproductive. But those deadlines are waiting for you! So we have listed the best picks for chairs that can spell comfort for your back pain. And if you're in the UK, these are your go-to office chairs.
Back pain? You can beat them with these comfortable and supportive office chairs.
Herman Miller Mirra butterfly 2 office chair – Best Stylish
The Mirra 2 butterfly chair from Herman Miller is a sight for sore eyes. This chair is beautifully crafted and well-engineered. There is so much to love about this chair, and the unique design isn't just for show. This chair is equipped with a ton of micro-adjustments that makes it very comfortable for your back. If you are tall person (like 6,1-6,5 feet) and you need a good ergonomic chair, this is the one with the ideal height from 42,4-56,5cm.
The brand makes use of a unique, cool, and more intuitive mesh material. This type of mesh moves with your body. Even with the slightest lean, you can feel that your body and the entire back are well supported. And when coupled with height-adjustable lumbar support, you can sit for the entire day in this chair and not feel tired.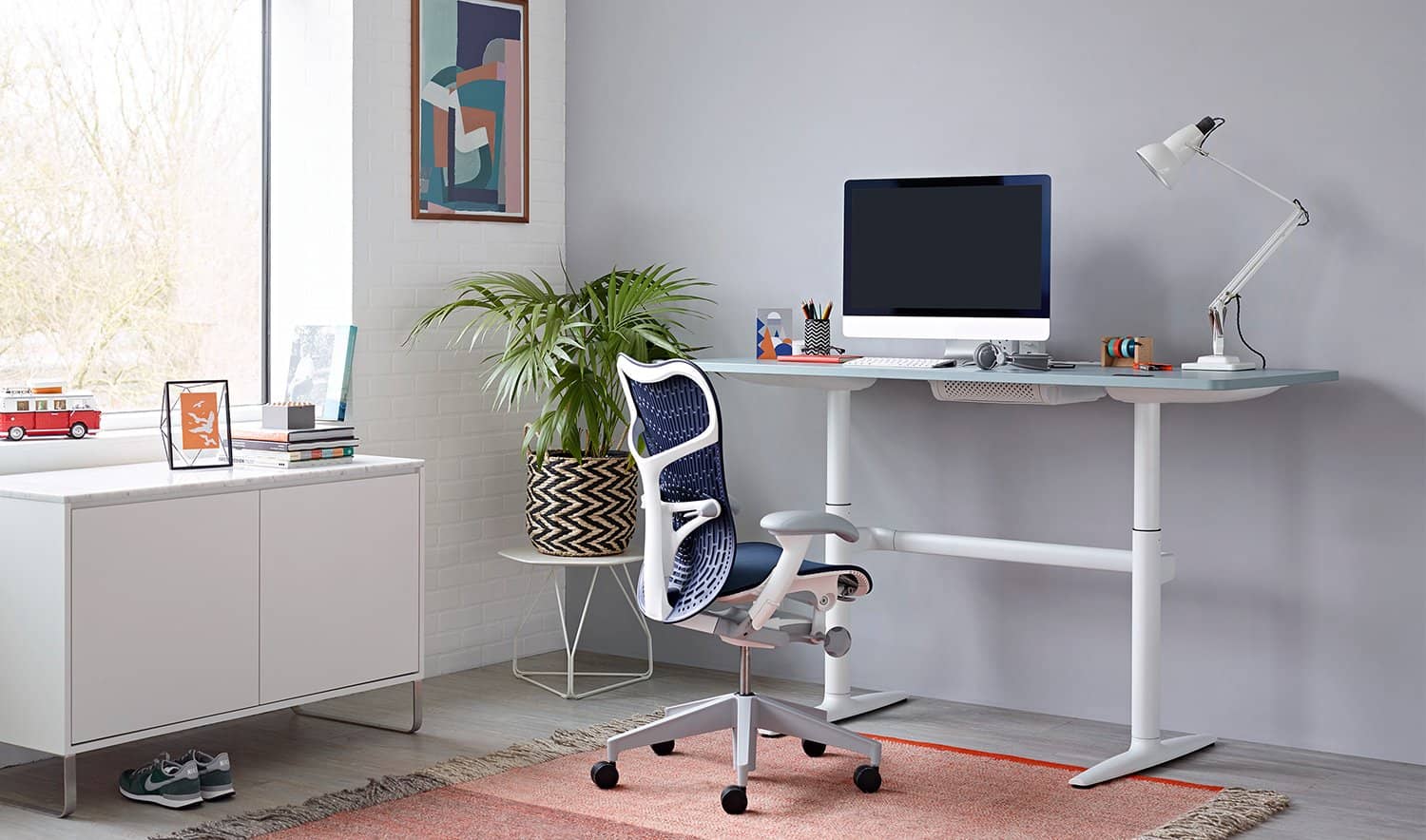 It has a lot of adjustable ergonomic features. And what sets it apart from other chairs is that it has several micro-adjustments. We particularly like the very flexible back seat. It's also intuitive and can adjust itself as per the user's needs. The chair also seamlessly leans and tilts forward and back. So whichever way you move, you'll feel supported.
The downside? Well, the price can be a hindrance for some. 
All in all, this is an intuitive and very flexible office chair. It is also one of the more stylish options. So you hit two birds with one stone. You get a fully adjustable and comfortable office chair. And you also get to sit in a very beautifully crafted premium office chair. 
Argos Home Alma chair – best budget
This is a gorgeous, perky, and padded high back chair that can pop out in your home office. This office chair consists of four separate pads for the backrest. It comes in the color pink so it is a breath of fresh air and can perk up your workspace. And for the gents, you can also get this high back chair in gray.
The four padded zones at the backrest feel supportive. The padding is very soft yet it lends decent support. We felt supported whenever we lean to the sides. The high back design extends up to the neck area for taller people. So this is also a good option for those who stand beyond 6'2".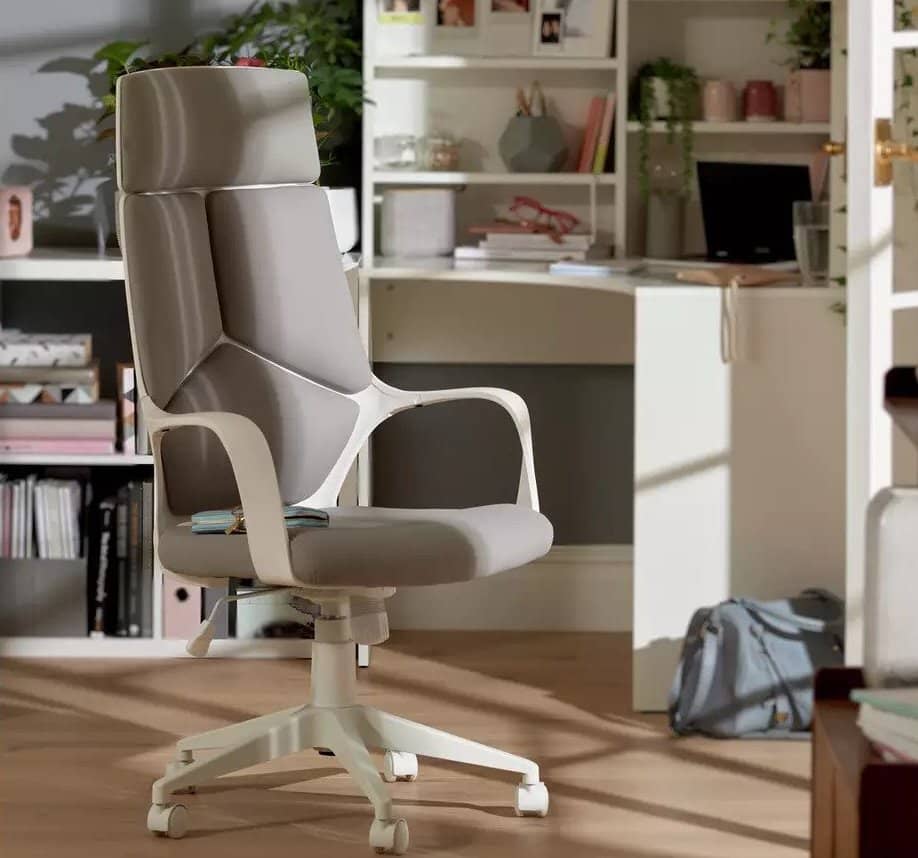 It also has decent adjustable features such as a tilt, swivel, and adjustable seat height. Though the adjustable features aren't as much compared to the other brands on our list, this chair is still very comfortable for your lumbar. And oh, it is rather affordable too. So this is a great choice if you're on the hunt for a budget-friendly chair that can appease your back pain. 
Overall, this is a budget-friendly high back chair that is very comfortable and supportive on your lumbar and entire back. Despite the lack of adjustable features, the comfort that you'll feel pretty much makes up for it. 
Ryman leather faced executive chair – Best Executive chair
This faux leather executive chair is very supportive and can provide great lumbar support even for working long hours. Aside from the medium-soft-firm padding, there is something about the contours of the backrest that makes it different from other executive chairs. The way the contours are shaped makes the backrest very supportive.
You'll also find the unique contours on the cushioned seat. And this can make your legs rather comfortable. This chair may look like an ordinary executive office chair, but there's a lot more going for it. With the unique contours and shape found in the backrest and the seat, it is very efficient in preventing body strains. It's not only sublimely comfortable for the back, but it can support the entire body too. 
In terms of aesthetics, it looks old school and traditional. So if you're digging the 70s vibe, this office chair is a nice choice. 
The downside is, it has a rather narrow seat height range. You will only be able to adjust the seat from 18-23 inches. 
In conclusion, this is the best executive chair that can provide great lumbar support. It is also very comfortable and supportive on the legs and the entire body. 
Steelcase Leap – Best Adjustable Ergonomic Chair 
Steelcase Leap has a very wide range of adjustments and a lot of users will be able to find the chair comfortable for their back. Perhaps, that is what sets this office chair apart. It has a lot of ergonomic features.
The lumbar support is hidden from plain sight. At first glance, you will not be able to tell where the lumbar support is or if this chair has one. But the lumbar support of the leap is one of the highly supportive ones. It can be adjusted up and down. And you can also adjust the tension of it. So you can dictate how far you want the chair to push you to the front. It has a more pronounced lumbar support.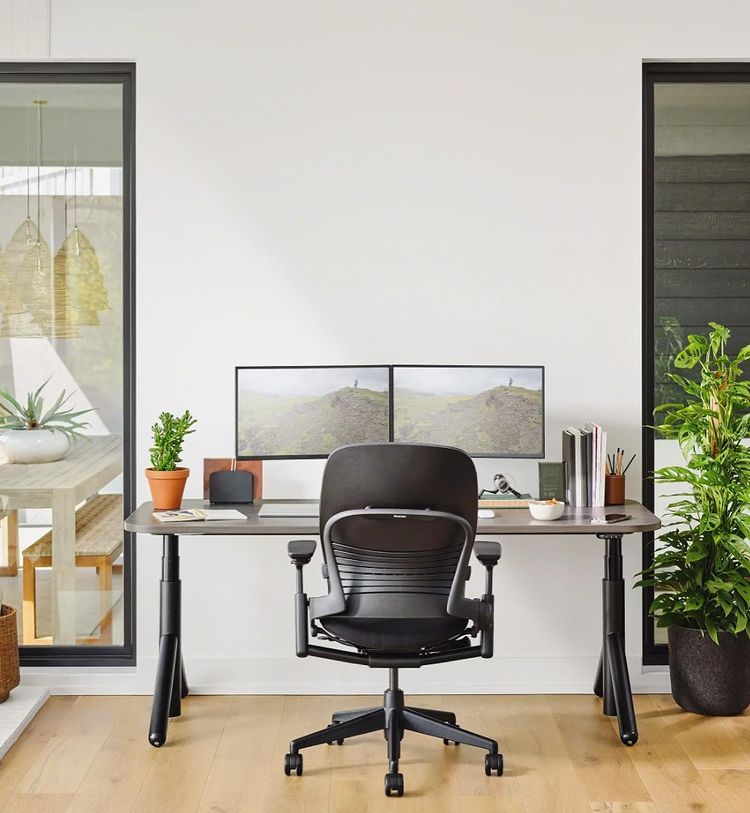 And with a customized back sport, you can find the most comfortable position, even if you have nagging back pain. Another feature that we love is how seamlessly the recline function is. You just softly push the chair back and it reclines easily. You can also lock the tilt and the chair holds its post rather well. And as you tilt back, the seat pad will recline forward, thus creating a more comfortable seating position for almost anyone. 
Moreover, the padding is soft but has the right amount of firmness. So it can give adequate support for your bum and back. 
This is a very solid and heavy-duty chair, there is no mistake about it. But the downside has something to do with the cushion. It is firm, but many find it too firm if they have been sitting on it for several hours. And we can reckon heavier users will be the ones to experience that.  
All in all, this is a highly adjustable ergonomic office chair that has a more pronounced lumbar support. 
Humanscale Freedom with headrest – Best Fuss-free chair
Like the Mirra 2, the Humanscale Freedom office chair is also an intuitive chair. But unlike the Mirra 2, this office chair looks more simple and has a minimalist style. The seat and the back are made of a soft cushion. And the armrests are also padded. You can also notice the quality of the seat cover and the padding once you sit on it. It is squishy but you will not sink deep into it. And it has a comfortable bounce to it. So your bum is in for a treat.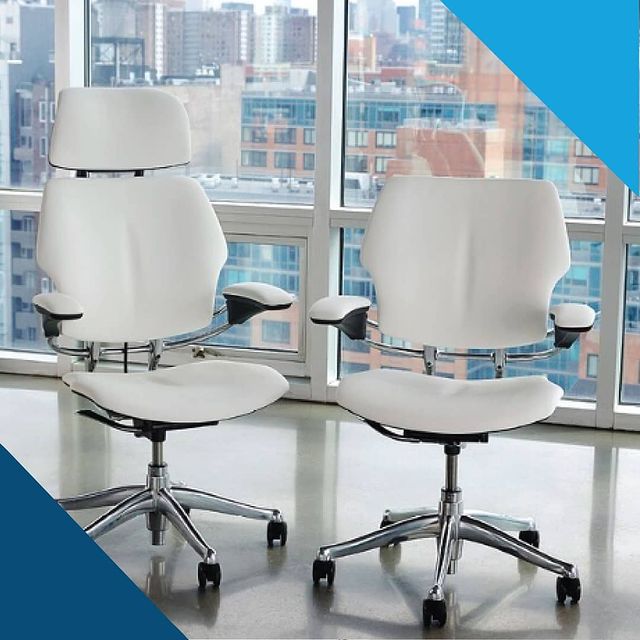 One of the things that differentiate it from the other chairs is that it has very minimal knobs and levers. So it is very easy to use. If you hate going through several levers just to find the most comfortable spot, this is the chair for you.
Albeit the lack of adjustment levers, this chair adjusts itself according to the user's needs. And the lumbar back support feels very sublime to the entire back. We also love how the arms are adjusted. Though it only moves up and down, you can push it all the way down up to the hip level, this will give you more room should you be wider around the hips. And it adjusts seamlessly. The arms are connected to the body of the chair in a rather different way. It's unique and works for the chair. The arms of the chair are very unique and we haven't seen many that move like it. 
This Freedom chair is also well made and everything feels well connected. It is very stable and durable.
The downside also has some imprint on the arms. While the arms are very stable and easy to adjust, petite users will find it too wide. So this chair might not be that comfortable for those who are smaller. 
Final Say
So if you happen to live in the UK, these chairs can save your back. And you don't have to settle for something shabby, we have also selected nifty-looking chairs. If you're on a budget, the Alma chair won't seem like you are! It's a gorgeous piece with a sublime back and seat support. 
And if you love executive chairs but are weird about back pain, we highly recommend the Ryman faux leather-faced executive chair. Also, if you have the moolah to spend and are looking for chairs with more adjustable features, the Mirra 2 and Steelcase leap are great choices. And if you just want to pop in a chair and not worry about adjusting anything, then the Freedom chair is for you.