Desks With Lesser Footprints, why not?
Desks can eat up a lot of space. So if you're living in dorms, small apartments or need a desk in your room, it can be frustrating. And corner desks can offer an easy solution to this problem. These are very versatile too. You may use them for work, as a vanity space or a transition table.
We have listed below our favorite desk solutions if space is an issue. We have divided them into two categories. 
One is the adjustable standing desks for those who need a working space and need to transition from sitting to standing within the day. And two, the traditional corner desks with a single configuration. These can be used for working and for other purposes. 
Standing Corner desks
You can enjoy the same functionalities of a regular-sized sit stand desk. And we find these two options the easiest to squeeze into a small office, apartment, or bedroom.
iMovr Cascade Corner standing desk
The Cascade is one of our favorites when it comes to small office space solutions. An advantage of the iMovr is that it pretty much has a larger scope of users.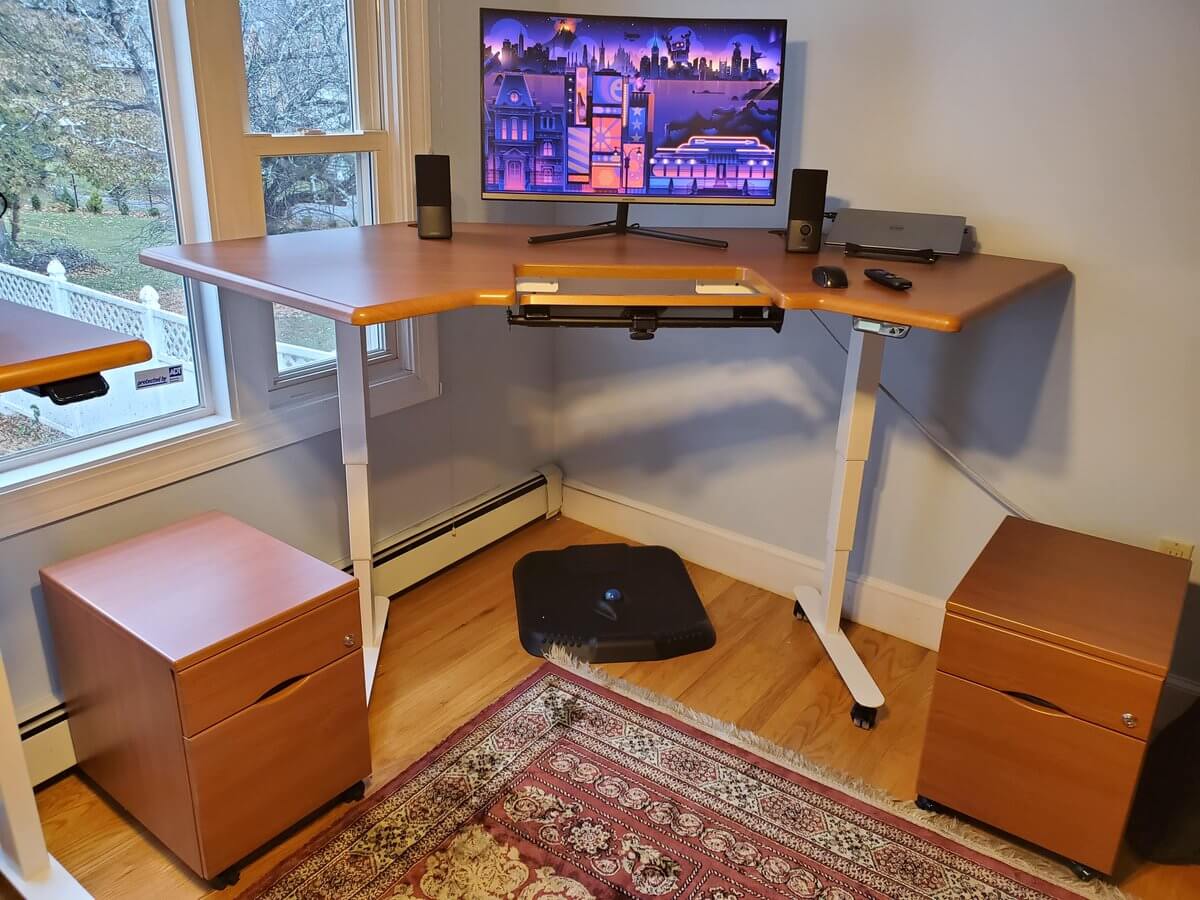 You can choose from three categories ( height adjustment range):
Standard Freedom: 25.7″ – 43.8″
Freedom XT: 21.3″ – 47.4″
XT + 6″ Extender: 27.3″ – 53.4″
Thus, if you use the brand's extenders, you can still use them comfortably even if you are 7 feet tall. That is also perhaps one of the pros of the iMovr, they have options for DIYS to make the desk go higher and you don't need to buy the tools elsewhere. So you can be sure that it's a perfect fit.
It's also available in 4 sizes, but the 47" desk is the most suitable for small and tight areas. It's hexagonal and has a sort of slotted space in the center where you can place your keyboard. So it can fit right into the corners of a room. 
 Just take note that you have two options. You can choose how deep you want the wings or the sides of the desk to be. It can be 24" or 30' deep, but we reckon the 24" will work best in this scenario. 
Function wise you still get to enjoy memory presets, up and down arrow buttons, and anti-collision technology. So sans the dainty size, it works the same as any other sit-stand desk.
The load capacity is also 220 lbs, which is even higher than some regular size standing desks such as the SHW, which only has 110-150 lbs weight capacity. 
BANTI Dual Motor L-Shaped 
It measures 41.3″D x 41.3″W x 50.56″H and is in similar dimensions to the smallest iMovr corner desk. And it's also hexagonal.
 We find hexagonally shaped corner desks the most suitable for very tight spaces. You can easily fit it into any corner and it will be unobtrusive. 
It has a height range of 27.6″ to 47.3″. While it may not be able to accommodate very tall dudes, it can be used by those who are slightly taller. But this is a more light-duty desk with 176 lbs weight capacity.
It also has side hooks and a cable management tray, so this is perfect for those who have more peripherals to organize. You will still be able to put 2 laptops and a monitor. And especially if you use a desk riser, you will be able to maximize the space. 
Traditional Corner Desks
The Banti and iMovr Cascade desks are among the smallest adjustable desks that you can get on the market. 
Though there are a lot of other options for corner and L-shaped desks that can perfectly be flushed against the corners of your office, most might not fit in very small spaces. 
And in instances where a 47"-50" adjustable corner desk is still too big, you can opt for non adjustable ones. You have more options for smaller spaces in this category, some can even be wall mounted for maximum space conservation. 
But of course, it will only have a single configuration, but this is something that you can consider if you have been deprived of extra space.
Freda wall mounted corner desk
The combination of a wall-mounted design and an L-shaped desk makes this a clever fit for very tight spaces.
This floating desk measures 48.0" x 59.0" x 10.0". And since you can mount this on your walls, you don't have to worry about the vertical space that it would occupy. You just need to allot ample room for your office chair.
We see this ideal for students living in dormitories. Or if you are sharing spaces with friends or family members, you can still enjoy your own personal zone. This is also perfect for a minimal setup for WFH situations or for young professionals living in lofts.
While it only eats a small space, it doesn't skimp on advantages. The Freda offers two open storages that serve as mini bookshelves. The working space is also not too crampy since it's an L-shaped desk. You can still do zoning as you would with a bigger desk.
Porch & Den Lincoln Corner Desk
 This cute and dainty desk measures only 42" x 30" x 28", so it's one of the smallest of the lot. This is a very unobtrusive yet functional desk that you can use if you just need a laptop to work. 
It offers small open storage below, you can use it as a mini bookshelf or you can also place some light office supplies on it. 
You can also use it as something to rest your feet against. So despite the small exterior, it does offer more than what it's worth.
Link purchase: https://amzn.to/3xp5Zpt
If you still find a corner L-shaped desk too big for your space, this is the ultimate solution.
This will work beautifully as a vanity desk or a transition desk for your living room or bedroom.
Silver Orchid Sala Corner Desk 
This metal and wood number have almost the same dimensions as the Porch and Den desk, only that it looks more contemporary and has a sleeker profile. 
It will fit perfectly in a loft space and it would suffice if you need a sleeker and more dainty working area.
The thing about this desk also is that it doesn't look like a working desk, so it can blend almost anywhere.  It will also look gorgeous in the living room. 
And we do find it decently sturdy, for as long as you will just be needing only a laptop. The dimensions might be too narrow to accommodate even a small-sized monitor.
We also highly recommend this if you have your office in your bedroom. You can allocate a separate space for work in your sleeping area, but the desk will still be able to blend beautifully with your bedroom interiors. 
It doesn't look corporate, it looks more chic and edgy. So we are seeing more women falling in love with this.
Tangkula corner desk
 The Tangkula measures 24″D x 47.5″W x 30.5″. It may be small in footprint but it has more offerings. The desk area is fit for a small monitor and it has two open storage spaces below. 
It will be easy to get organized even if space is a problem. It is a bit similar to the Porch and Den Lincoln desk except that it has a keyboard tray. 
And it may also be used as a vanity or a transition desk for your living room and bedroom, and use the keyboard tray to hold some of your accessories.
But take note that the drawers are plenty for papers and crafting supplies, but it might be enough for books. Also, if you're going to use a laptop, there's plenty in the back corner and there is also room enough for paperwork upfront.
We also love the legs, they seem to be real wood, and very sturdy.
But the gripes of this charming desk is that it is the lightest-duty of the lot. It can only bear a maximum of 88 lbs.
Homieasy L-Shaped Corner Desk 
The hexagonal corner desks we have mentioned above are indeed super space savers. But some may find that they want a 90-degree corner desk instead. So this Homieasy corner desk is the next suitable alternative. 
The main desk is 47" long while the side desk is 32 " long. And though a bit wider than our other options above, it is still easy to flush against a corner. 
It can also provide more desktop areas. You can also do zoning as you wish. 
The extension table has two open shelves/ storage. And you can also find an open fabric pouch attached to the main table. So it also gives you a lot of storage space and it can be used as a bookshelf too.
The legs are metal but it does not look too heavy or too industrial. It has more of a contemporary modern look. 
How We Made our Choices
There are tons of options in the market, really. But we did narrow down our top picks and considered these factors.
The priority is the size. For small office spaces, desks that measure less than 50" are most suitable. Corner desks that are hexagonal in shape can offer the best solutions for very cramped spaces. But they do have less area compared to L-shaped desks.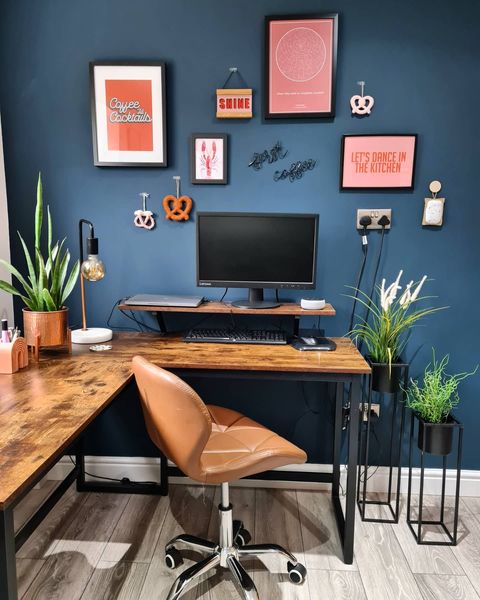 But not all people are fond of hexagonal shaped corner desks, thus the presence of L-shaped desks in our list. If you want to do zoning, you'll probably eye one of these. 

Hexagonal corner desks may offer a small area only. And to maximize the small space, we have chosen units that offer more than just a writing space. Some of our options have open shelves and storage. So albeit the small space, you can still be on top of things.
With our adjustable standing desk options, on the other hand, you can enjoy the functionalities of an adjustable desk but it will have less space requirements.