The premium brands of monitor arms are equipped with sophisticated features and a wider range of adjustment. But even if you have a budget of fewer than 100 bucks, that doesn't mean that you have to settle for a low-quality monitor arm.
We are going to list 5 of the most reliable and sable arm brands under 100 bucks. Let's see which is a perfect fit for your workstation. 
VIVO Dual monitor arm
When it comes to monitor arms, you'd look for a unit that's easy to install. It also helps if it would fit most types of LCDs and monitors. And this is where the VIVO dual monitor arm excels. It has a universal design that's suitable for almost all types of monitors. And the installation is very easy too. The brand also gives you choices on how to mount it on your desk.
You can mount the VIVO dual monitor arm in two ways. One, via a grommet system. And two, via a heavy-duty C clamp. With the mounting options available, it can cater to more users.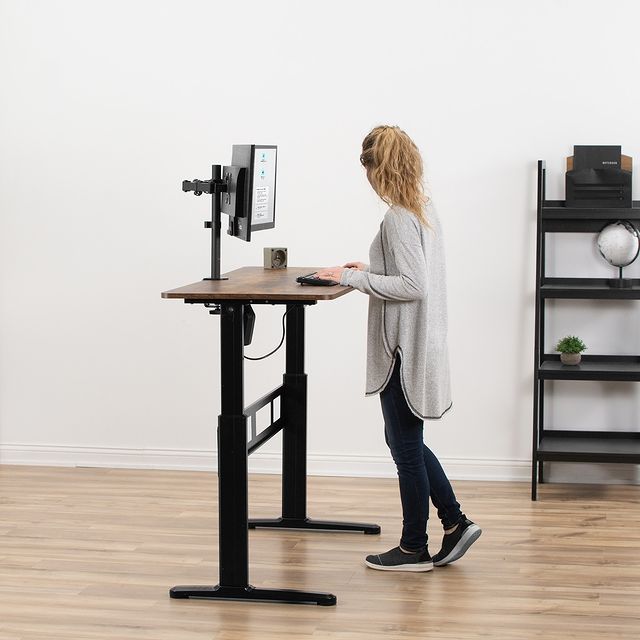 Apart from that, the VIVO dual monitor arm has features that you'd find rather convenient. One, it has a cable management system that really works. It's equipped with cable clips that you can attach to the arms or on the center pole.
And the fully adjustable arms are bliss for prolonged working hours. You can swivel to 180 degrees and it also rotates to 360 degrees. You may also position the monitor either vertically or horizontally. It can also be tilted to 90 degrees. You will surely find the most comfortable spot when you're working on a deadline. 
If you're keen on getting this monitor arm for your desk, it can support monitors measuring 13 to 27 inches. And it has a weight capacity of 22 lbs each arm. 
Overall, it's perfect for those working with two monitors for longer hours. It has an extremely firm monitor mount. So even if you work on two monitors side by side. It won't wobble. It's solid as a rock.
Pros
Stable and firm monitor mount

Fully adjustable arms

Easy to install

Compatible with most monitors and LCD

Has a great cable management system
Cons
Lacking vertical adjustment for lining up monitors 

No individual monitor height adjustment
3M Dual swivel monitor arm
If you're looking for a monitor arm that can hold larger and heavier monitors, the 3M dual swivel monitor arm is a great choice. It has a whopping 13.6-kilogram weight capacity. It's the heaviest in its price range. Needless, to say, this unit is rather strong and durable.
The C clamp is pretty large, so you're sure that it can handle heavier monitors without shaking. 
This single monitor arm also gives you the liberty in mounting it. You can either have it clamped on your desk or mount it with a grommet system. It can be clamped to desks as thick as 4.25 cm. 
Another notable feature of this monitor arm is it has a better cable management system than the rest. It's more hollow so it's easier to run the cables and wire through it. Fixing up the wires is easy peasy.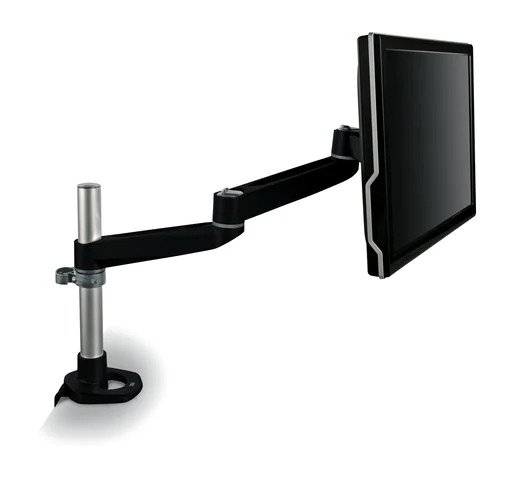 Also, the arms are really flexible. These adjustable arms have a good reach and can reach farther than most brands. You can extend it 19 inches from the base. 
Pros
Has a longer reach

Durable and sturdy

Does not wobble

Can accommodate bigger and heavier monitors

Better cable management system
Cons
Not that easy to reposition the monitors

Challenging to assemble
HUANUO Dual Monitor Stand 
If you're the type to fiddle with your monitor repeatedly while working, you'll love how the HUANUO Dual monitor arm is very easy to adjust. You can reposition the monitor easily without using any force. It's equipped with gas spring arms, thus making it very easy to adjust. 
If you're keen on getting this brand for your desk, it can fit two 15"-27" flat curved computer screens with 75×75 and it has a weight capacity of 17, 6 lbs each arm. And it can fit into a desk not thicker than 2.36 inches.
In terms of stability, it has a pretty solid base and doesn't wobble. This monitor arm has a triangle design that makes it more stable. The hardware looks and feels solid and well made too.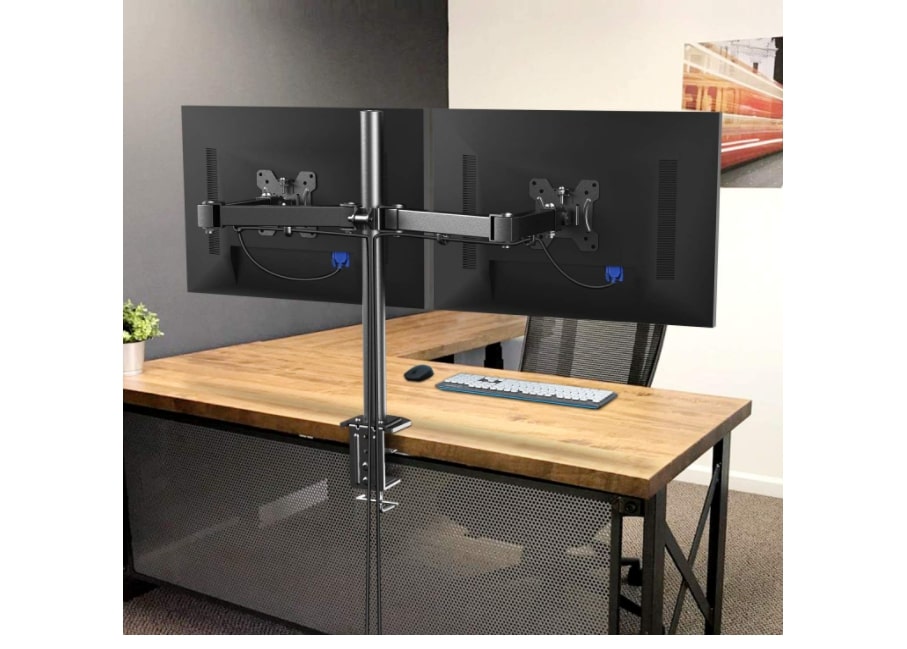 You also have fun assembling the unit because it will only take you about 25 minutes. The unit came in neatly packaged and all the parts were labeled properly. The instructions were also clear and straightforward. Thus, it's faster to install. 
One of the qualms, however, is that the cable management system could be better. It does not do anything to conceal the wires and cables. And this monitor arm might not be compatible with some desks too. 
Overall, if you need more adjustment options, this monitor arm fits the bill. And it does so while looking stylish at the same time. This can hold two monitors without an issue. However, you have to find the sweet spot. If it's tightened too much or screwed too loose, it can be a pain to use. And also ensure that it's compatible with your desk before swiping your card. 
Pros
Can be mounted in two ways

Easy to assemble

Has a lot of adjustments

Solid and well built

Does not wobble
Cons
Not compatible with some desks

Some struggle to adjust the desk because the screws were tightened too much or too loose
Amer mounts – best single monitor arm 
This single monitor arm is ergonomically engineered. And it's quite easy to reposition the monitor since the arms are powered by gas springs. 
The main advantage of this monitor arm is that it's rather flexible and fully adjustable. You can reposition the monitor in a lot of ways. And that could be done easily too. And it's quite versatile as this monitor arm can be mounted on either a thick or thin desk. 
It offers a wide range of height adjustment. You can adjust the arm from 7.6 to 17 inches. So that's a pretty long range that can work for most users. And when coupled with the 180-degree swivel and the 90-degree tilt, you're sure to find the most comfortable angle. Also, you can easily detach the quick-release VESA mount. 
If you're keen on getting this brand, it has a maximum weight capacity of 8 kg and can support monitors measuring 15-32 inches.
Some qualm on the unit is that it has a considerable amount of plastic components. If the unit just had more metal than plastic parts, it could be a heavy-duty monitor arm. And since the adjustable tension knob is made of plastic, you have to be careful when tightening it. Otherwise, too much pressure can break the plastic parts.
Pros
Can be mounted in two ways

Efficient cable management system

Very easy to adjust

User friendly 

Detachable VESA mount

Heavy-duty C clamp

Easy to install
Cons
Has more plastic parts

Limited up and down travel
FLEXIMONTS monitor stand
FLEXIMONTS was named for a reason. This monitor arm can accommodate both small and large LCD. To fit a large monitor to the arm, you have to screw the tension knob in an anticlockwise direction. And for smaller LCDs, turn the knob clockwise to tighten the mount.
It''s flexible and versatile. This monitor arm is also compatible with a large range of monitors and LCD. So the scope is quite impressive. Furthermore, it has a weight capacity of 7.4 pounds.
Moreover, the gas lift arms are fully adjustable. It's easy to move the arm up and down, swivel it to 360 degrees, and tilt it.  
You can also mount it via using a C clamp, but you can also opt to install it via a grommet system.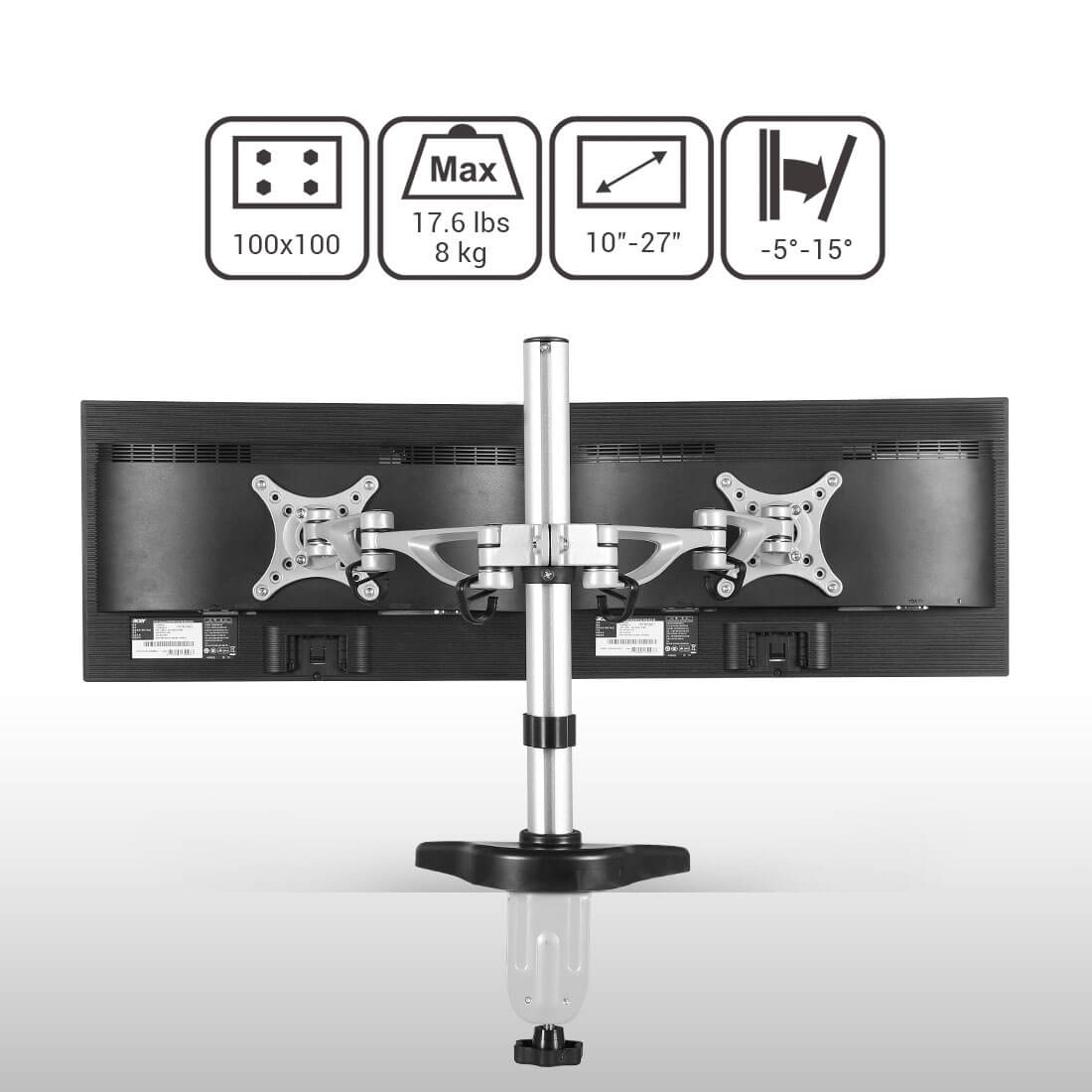 It also offers a wide range of adjustment. Though, you might need to use a bit of force when repositioning the monitor because it can be quite rough. 
Overall, it's a great option if you are looking for an affordable monitor arm that offers a great adjustment range.
Pros
Can be mounted in 2 ways

Great cable management system

Versatile

Very affordable price

Can accommodate a lot of monitor brands

Easy to install

Wide adjustment range
Cons
 Not the easiest to adjust

Not for heavy monitors
Even if you have a budget of 100 bucks, you can still get a reliable and decent monitor arm. Hover through my list to see budget-friendly monitor arm options that function well at the same time.